Mature Content Warning: This manhwa contains content of an adult nature including scenes of sexual content, suggestions of pederasty, and depictions of violence. If you are easily offended or are under the age of 18, please exit now. Reader discretion is advised. 
Writer: Haga
Artist: Kang Jiyoung
Genre: BL
Status: Completed (Season 1)
Introduction
Similar to Wolf in the House, King's Maker was one of the first few BL manhwas that I had the pleasure of reading back when I was first introduced to Lezhin. At first sight, I was attracted to the gorgeous cover art (as seen in the featured image) due to its vibrant colours (especially the gold!) as well as the art style. Honestly speaking, although it has been a while since Season 1 ended, King's Maker remains dear to my heart and is still one of my top favourite BL manhwas of all time. Let's not waste any more time and get to the review!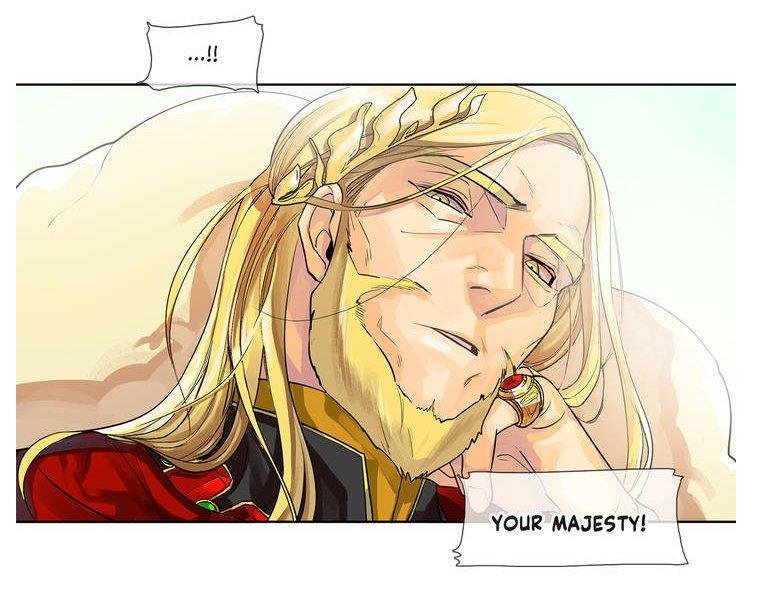 Storyline Premise
'Wolfgang Goldenleonard, the 4th Prince of the kingdom, returns to the palace after years of living in hiding. He rejects everything about his new royal life, but is intrigued by the mysterious and dutiful Shin Soohyuk, a catamite (a boy kept for homosexual practices) of the King. As Wolfgang slowly opens up and learns the ways of the palace, Soohyuk begins to see something special about the wild, unkempt, and stubborn young prince. He might just be the one Soohyuk has been waiting for… the one who could light the flame of rebellion' (Source: Lezhin.com)
Throughout my years as a fujoshi, I've got to say that it's rare for me to find a BL comic that has such an intriguing and complex plot with a tiny emphasis on the romance. I was honestly expecting a much more light-hearted read, but this manhwa definitely brought me on a rollercoaster ride of emotions, and it looks like I'm not getting down any time soon as I have become highly invested emotionally in the characters. Also, if you're weak at heart and cannot tolerate implied pederasty (sexual activity between a man and a boy) or violence, I highly suggest that you do not read this comic. In this manhwa, there's a lot of great dialogue, stunning background, plot twists, scheming and political manoeuvring, and even shocking deaths (sobs).
While the storyline premise is definitely interesting, the pacing of the story can occasionally be too abrupt, particularly during a time leap (which I found to be really unexpected). The romance between our two main leads was mostly put on the back burner, and had nothing explicit throughout the entire first season. However, when the authors do touch upon it, be prepared as each moment they have feels so precious.
Art
Oh my god, the art has to be one of the best I've seen, seriously. In terms of the colour, art style, background, everything in fact, is just absolutely gorgeous and I could stare at it all day as it is rich in details and expressions. To me, the outfits stands out the most to me as it is not only aesthetically pleasing, but it also reflects the personality or status of the wearer. Also, the contrast between our two main characters: gold for Wolfgang and black for Soohyuk is really interesting.

Characterization
As we follow Wolfgang's journey from the slums to royalty, we also witness his growth and how his character develops as he gets used to life in the palace and learns how to survive in an environment full of manipulation and tension. In Season 1, most of the focus is placed on Wolfgang's perspective, and I'm honestly amazed with how much his character develops from the beginning till the end of the first season. As less emphasis was placed on Soohyuk, it is difficult to speak about his character development, but I hope Season 2 will bring more spotlight to him and his background.
Conclusion
Overall, I'd rate this comic to be a 10/10 and a must read to any BL lovers out there! If you're just looking for something with tons of smut, this is not the right one for you, but please do give it a try! You'll definitely find yourself to be immersed in the world beautifully created by Haga and Kang Ji Young. I'm eagerly anticipating Season 2 and I can't wait to see what's in store for us as we continue on from where we left off in Season 1.
Webcomic link: https://www.lezhin.com/en/comic/kingsmaker_en
---
Let us know on your thoughts about King's Maker, and if there are any of your favourites that you'd like to see us review, feel free to leave them in the comments below!
Like what you see so far? Subscribe to our newsletter by entering your email here!