Fortnite Chapter 4 Season 2 is here, and it promises to be MEGA fun. (See what we did there?) The new season brings players to picturesque Japan from the sakura trees and samurai palaces at Steamy Springs, to the bright neon lights of MEGA City. Not to mention the new weapons, vehicles, and battle pass mechanics that will make this season a memorable one.
Let's recap all the major updates from Fortnite Chapter 4 Season 2: MEGA.
---
New Battle Pass: Featuring Eren Jaeger from Attack On Titan!
This season's Battle Pass skins are looking MEGA good, from the artistically outstanding Imani to the elegant yet dangerous Mizuki. Although this season does feature more original characters than major IPs, players will be able to unlock Eren Jaeger from Attack On Titan later this season (including a morbid Basement Key back bling).
New Locations: MEGA City, Steamy Springs, Kenjutsu Crossing & Knotty Nets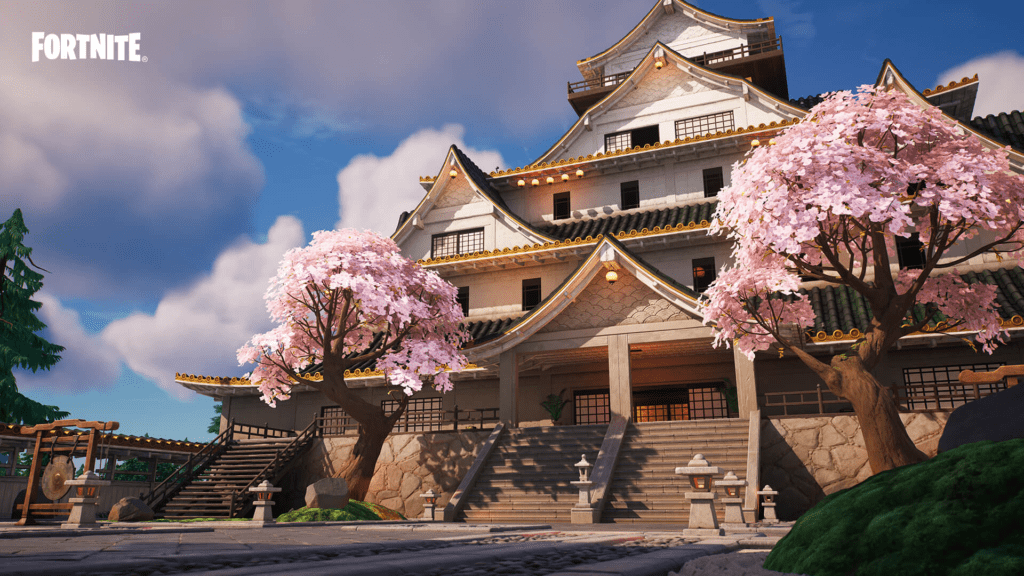 The entire Southeast section of the map has been replaced (bye bye Faulty Splits!) with four Japanese-themed POIs. MEGA City is a Neo-Tokyo inspired city with new grind rails and the boss Highcard; Steamy Springs is a picturesque residential zone with a flag capture zone; Kenjutsu Crossing features a massive palace and Kinetic Blades waiting to be looted; and finally, Knotty Nets is a fishing zone perfect for completing water-related quests.
New Weapons: Kinetic Blade, Havoc Suppressed Assault Rifle & Havoc Pump Shotgun


Replacing the Shockwave Hammer, the Kinetic Blade introduces a Dash Attack with three charges and a Knockback Slash that adds a ton of mobility to the game. Whereas the Havoc Suppressed Assault Rifle and Havoc Pump Shotgun are the newest guns in the game, with Mythic versions available from defeating the boss Highcard and found in Keycard Vaults respectively.

The Overclocked Pulse Rifle is a Mythic weapon that only spawns at a special Loot Island that changes locations every game. The weapon spawns only when there are 10 people left in the lobby, and some players report that only one rifle spawns per match.
If you prefer the classics, the following weapons are also unvaulted for the rest of the season: Heavy Sniper Rifle, Cobra DMR, Dragon's Breath Sniper, Combat Shotgun, Maven Auto Shotgun, Red-Eye Assault Rifle, Twin Mag SMG, Tactical Pistol, and all the Heisted Exotics.
New Vehicles: Victory Crown Rogue & Nitro Drifter


Akira and Fast & Furious called — they want their vehicles back. The Victory Crown Rogue features high acceleration, a boost-ready engine, and a drift animation that references Akira. Meanwhile, the Nitro Drifter lives up to its namesake with its smooth drifting ability. It's also worth noting that the Chonkers Off-Road Tires and Cow Catcher vehicle mods are vaulted for the first time in seasons.
And More: Slurp Juice, Combat Caches, & Reality Augments!

Slurp Juice got an upgrade! The item is now Legendary rarity and restores Health and Shield quickly and simultaneously. Slurp Juice can be found in Keycard Vaults, Loot Island, or Combat Caches; a new type of air drop that takes awhile to unlock but drops enough Legendary loot for the whole squad.


Reality Augments also return this season including some mainstays: Light Fingers, Sniper Surplus, Aerialist, Chug Gunner, Jelly Angler, Blood Hound, Shadow Striker, More Parkour, and Keymaster. This season also introduces seven new Reality Augments:
Dumpster Diving: Loot will spawn nearby when you leave a hiding place. Can occur once per hiding place.
Treasure Hunter: Nearby Chests are marked the first time you enter a POI.
Slap Surplus: Find a Slap Juice in every Chest you open. If the Chest already had a Slap Juice, it'll have an extra one!
Munitions Slide: Gain medium ammo while sliding.
Medium Ammo Amp: Your weapons using medium ammo will have an increased magazine size.
Shotgun Recycle: Weapons using Shotgun ammo have a chance not to consume ammo.
Dignified Finish: Eliminations refresh a cooldown for the Kinetic Blade's Dash Attack.
---
For more news and content like this, follow us on Facebook, Instagram, Twitter, and TikTok.
For more Fortnite content, this writer also streams the game over on Twitch!