If you had asked us at the start of 2020: "Where will THE MAGIC RAIN be at the end of the year?", none of us could have predicted what actually happened — and what happened was a lot of bad, but as it turns out, also a lot of good.
It wouldn't be an understatement to say that the pandemic hit our team like a meteorite. All our physical event plans for the year were shut down in one fell swoop, our team faced challenges both physical and mental, professional and personal, and the hope that we would be able to go outside again waned day by day.
So we did what everybody else did: we turned to the World Wide Web. The result ended up being an extraordinary bunch of projects. Ideas and skills that we'd never even touched before, turned into our bread and butter in 2020 — and it doesn't stop here.
As we look back on this challenging but fulfilling year, we want to share some of our biggest highlights with you:
---
2 – 3 May: Launched our first online event, Cosplay Computer!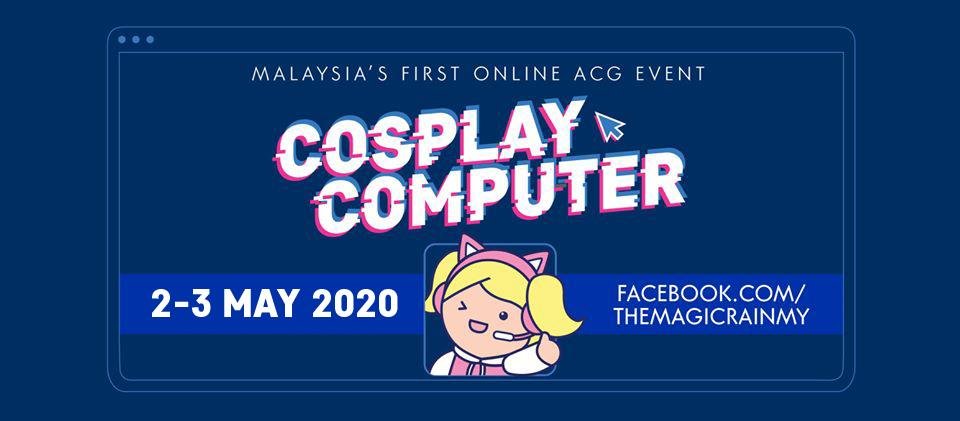 You may not believe this, but the idea for Cosplay Computer began as a pun. While we were bummed about not doing Cosplay Commuter last year, we joked about doing a digital version called "Cosplay Computer". The longer that idea sat in our heads, the more it seemed possible. Hence, the very first online cosplay event in Malaysia was born.
We wanted to make sure Cosplay Computer embodied as many values from the original event as possible, but with an online twist. So we turned to regional, up-and-coming cosplay creators to collaborate with us. From conducting cosplay & photography workshops, to playing co-op video games, we ended up extending our programme to 2 days to accommodate all the wonderful people that were onboard with our idea.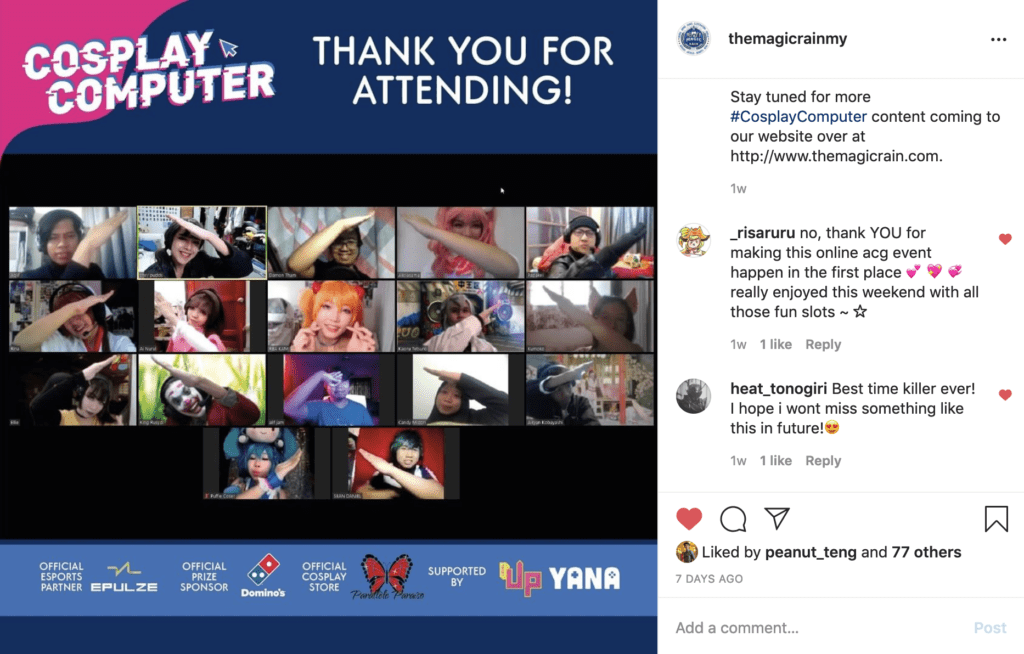 The true heroes of this endeavour were, without a doubt, our tech crew. Despite having no prior knowledge about livestreaming, they managed to build our event from the ground up through weeks of research and testing. Without them, it's safe to say we wouldn't be celebrating this event today.
Read the full event coverage here or check out our post-event reflections here.
13 – 14 May: Content creators for Level Up Play One
With our livestreaming team up and running, we were quickly jumping to our next opportunity — the chance to work with MDEC for their brand new online event, Level Up Play One! Being part of an inaugural event, we knew we wanted to bring something unique to the table, so we busted out two brand new ideas for the occasion.
First up was a major E-Sports Battle of the Sexes where streamers across Southeast Asia duked it out in Mobile Legends: Bang Bang and Legends of Runeterra. Second featured the most popular game at the time, Animal Crossing: New Horizons, in which we hosted a treasure hunt and design challenge in-game!
Read the full event coverage here.
23 May: Launched Road to Runeterra, our first livestream series
Our team was falling in love with Riot Games' newest digital card game, Legends of Runeterra, and we showed off our love with our first ever livestream series. Road To Runeterra followed Pudds' journey to become a better Legends of Runeterra player, with some guidance from NotFamousAmos, our resident Runeterra expert.
This series still remains our longest one yet, happening twice a week for more than a month and culminating in an internal tournament where our founder, CM Char reigned supreme as our Legends of Runeterra champion! Better luck next time, Pudds.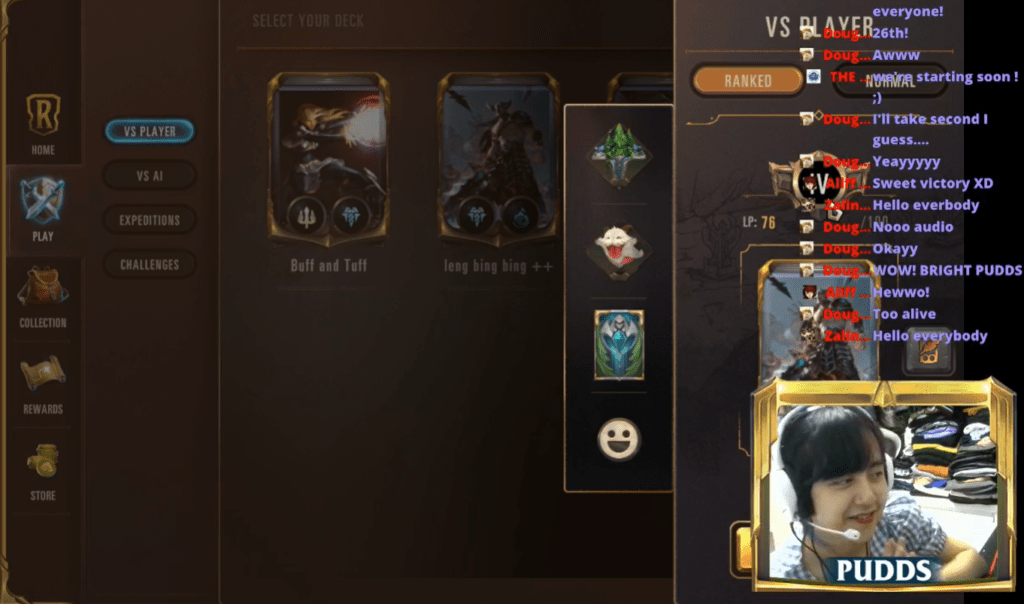 Watch Road To Runeterra on our Facebook page here.
21 Aug: Organised our first Legends of Runeterra tournament at AniManGaki Online
We weren't the only ones to do an online ACG event this year. AniManGaki launched their first ever online event in August, and we were excited to collaborate with them again. Hot on our heels after Road To Runeterra, we collaborated with Riot Games to organise the first Legends of Runeterra tournament in Malaysia!
The final tournament bracket saw a 16 person line-up with a best-of-three format, commentated by Ellemonade and our very own NotFamousAmos. After gruelling rounds of both strategy and quick thinking, our final Legends of Runeterra champion was none other than CrispyPants, or you may know him better as Business Magikarp!
Read the full event coverage here.
4 Oct: Debuted a month-long livestream event, Halloweeb!
During the month of spooks and scares, we launched our first month-long livestream event! Hosted by Pudds, Halloweeb featured weekly horror game livestreams with different TMR members each week. The catch? Those who couldn't hold onto their screams would have to face a punishment, from ghost pepper instant noodles, to wasabi-covered lemon slices.
This was surely one of our most ambitious horror-related projects, going through cult classics like Slender and Five Night's At Freddy's, to viral indie titles like Devotion and Detention, and even games of the meme-ier variety like Baldi's Basics and Night of the Consumers. With all the fun we had doing this, you can expect more projects like this coming your way.
Watch our Halloweeb livestreams on Facebook here.
16 – 29 Nov: Became premium creators at Level Up KL Play 2020!
Ending the year on a high note, we were extremely honoured to be called back as a premium creator for MDEC's annual event, Level Up KL! Throughout the weekend, we hosted 2 full days of content as their Side Stage — a daunting task for the end of the year, but we were up for the challenge.
Some of the highlights of the weekend include our SEA Games Spotlight panel, showmatches for League of Legends: Wild Rift and Legends of Runeterra, and Among Us and Phasmophobia party sessions, featuring streamers from across Southeast Asia. Coincidentally, it summarises most of the activities we've done this year. A perfect end to the year.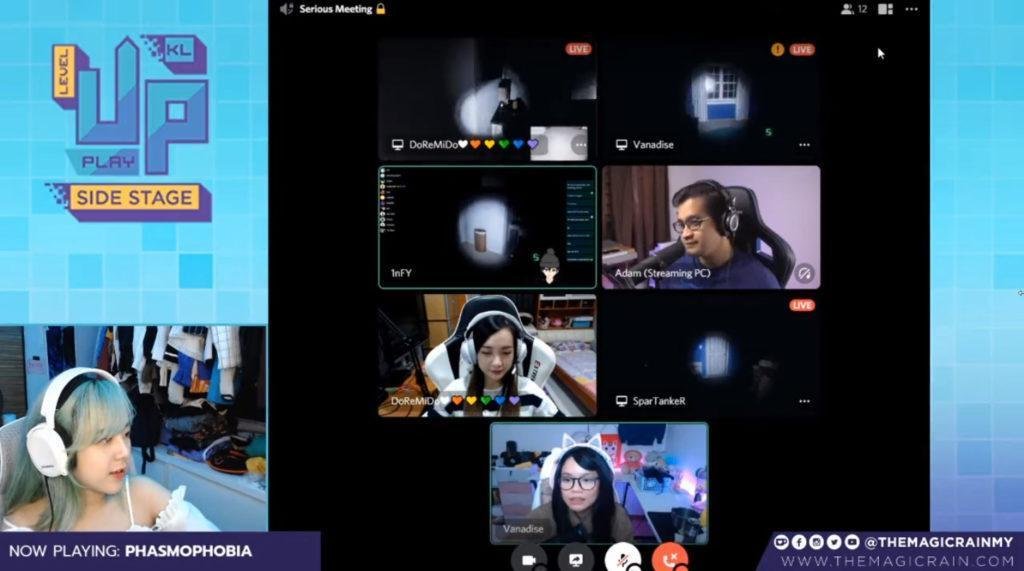 Read the full event coverage here or watch our 2-day livestream here.
1st Dec – Now: Brainstorming ideas for 2021
As the year came to an end, we took the time to look inwards and think of our goals for 2021. With the new year guaranteed to be even more hectic than the previous, you can expect us to come up with, well, just about anything new to try in 2021.
As always, we'll continue to think out-of-the-box and one-up ourselves, while you can drop us a message if you want to collaborate! We're always open to meet new people and work on unorthodox projects (socially distant, of course), this year more than ever.
---
If you want to follow our adventures, follow us on social media to be the first to know when we announce anything new:
Until then, stay safe & have a great 2021!
– From THE MAGIC RAIN team