Studio: Production IG
Episodes: 13 (Finished)
Director: Masako Satou
Genre: Comedy, Sports, Shounen
This review of Haikyuu!! TO THE TOP part 2 was sponsored by our friends at dimsum entertainment. Thank you for the review copy!
Summary
Arguably one of the most popular series in the manga and anime community, Haikyu!! follows the story of Shoyo Hinata, a small guy who dreams of becoming the next big thing in volleyball.
As the nationals approach, Hinata and the Karasuno volleyball team have to prepare for their toughest matches yet. Hinata's fellow first-years – setter Tobio Kageyama and blocker Kei Tsukishima – both receive invitations to special training camps. Afraid to be left in their dust, Hinata sneaks his way into the rookie training camp with Tsukishima as a ball boy. Through trials and tribulations, the team will surely leap their way to the top!
(Summary provided by dimsum entertainment)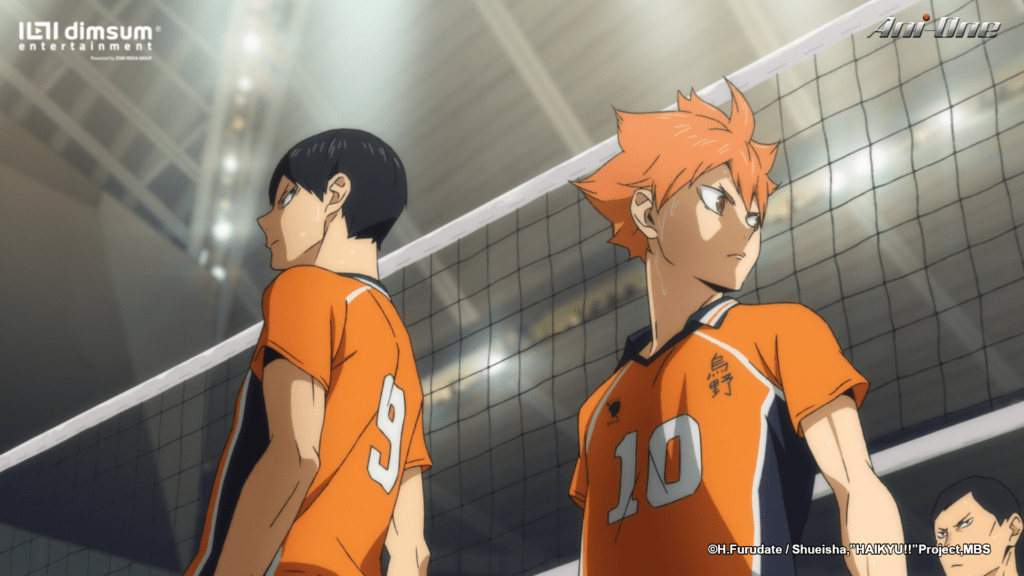 What you need to know about Haikyuu!! TO THE TOP Season 4 Part 2
Character
The best parts of this season are the many great character development moments scattered throughout each episode. We get to see into Tanaka's psyche, learn about Nishinoya's life growing up, and most importantly appreciate Hinata's immense growth compared to when he first started out in Karasuno.
However, the opponents came across as slightly underwhelming to me. While antagonists from previous seasons–such as Oikawa, Ushijima and their respective teams–felt like threats that had to be overcome, the Miya twins and Inarizaki were much more unimpressive in comparison.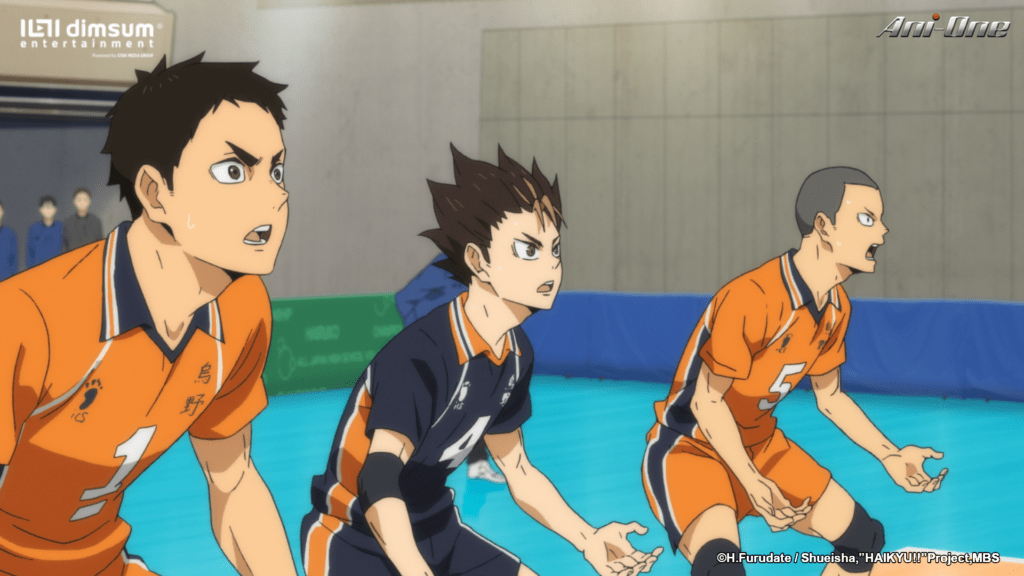 Pacing
Similarly, this season of Haikyuu!! has some strange pacing issues, with the first half of the season feeling draggy and even downright boring at times. Important moments, such as Yamaguchi's serve scene, are glossed over, making it less impactful than its manga counterpart.
Thankfully, the second half manages to bring the season to a beautiful end. The volleyball matches begin to ramp up in intensity, giving the season a drive and focus that it had previously lacked. It's almost enough to make up for the uninspiring visuals–which brings us to our next point.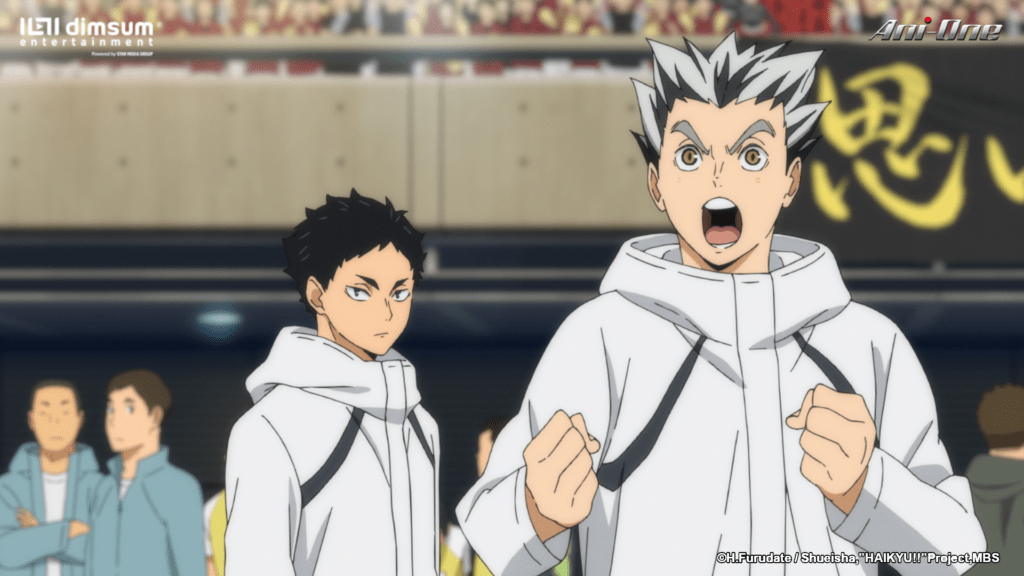 Visuals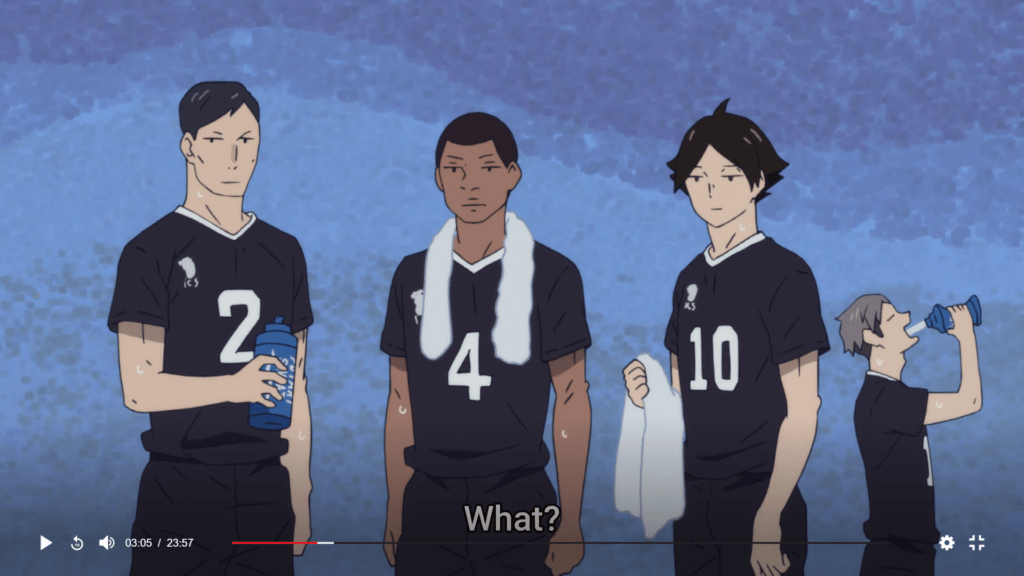 Finally, we come to the visuals, possibly the most infamous aspect of this season. Details like oversimplified lighting and muscle strokes, to distorted-looking anatomy, made it hard for us to immerse ourselves into the series, in stark contrast to the brilliant animation quality from previous seasons.
Visual consistency is another major issue. Episodes two and six are particularly hard to watch, as the characters' body proportions and facial expressions are badly drawn and animated throughout the entire episode. Other times, episodes start off visually okay but then morph into an entirely different quality and style midway.
Verdict: Watch it – but be patient
I had high hopes for this season, but the initial bad pacing and the bland visuals really put a damper on my excitement. Despite that, I still found it impressive that Production IG managed to complete this season for fans under COVID-19 restrictions, such as by outsourcing certain scenes to different studios.
As I kept watching, I was pleasantly surprised to find that the season's quality started to get better after episode seven, with the match really taking the excitement up a notch. It may have had a rough start, but Season 4 of Haikyuu!! is definitely still worth watching, especially for its end-of-season teaser for the long-awaited Battle at the Garbage Dump.
Haikyuu!! TO THE TOP Season 4 Part 2 is now available on dimsum entertainment. Head on over to dimsum.my to check it out now!