At the end of the first Cosplay Commuter in 2017, we promised you that we were just getting started on our journey to change the landscape of ACG events in Malaysia. Three years after launching the first ever ACG event on a train, we took one large step forward on that journey with Cosplay Computer, Malaysia's first online ACG event.
If you're planning to host a virtual event of your own, or you'd just like to take a look at what goes into planning one, here's some of the things we learned from creating Cosplay Computer:
1. Learn from other organisers
As COVID-19 began to sweep the globe earlier this year, we saw major conventions overseas switch to livestreaming their event highlights to comply with their countries' safety regulations. At the same time, we also observed a rise in original online-only events like Craftchella, which inspired us to replicate that experience for the Malaysian ACG community.
Learning from other events meant that we were able to identify activities that resonated with ACG fans, such as workshops, panels and games. At the same time, we also had to keep local sensibilities in mind when planning for the event, such as using Facebook as our main streaming platform over Twitch or Discord.
2. Streaming is a lot harder than you'd think
One of the biggest challenges we faced with Cosplay Computer was with coordinating over twenty unique guests, all of whom had vastly different devices, Internet speeds, and levels of experience with streaming. Some of our guests were established streamers with top-of-the-line gear, while others had never streamed before, and were even restricted to only using their phones as a makeshift webcam.
To overcome this hurdle, we worked closely with each guest to design and extensively test the best possible setup for their segment, while also being open to their suggestions and input. For example, when we had trouble playing music to accompany Huei Chan's vocal performance, she came up with a low-tech but ingenious solution: playing the piano.
3. Be prepared for technical difficulties!
Though we'd done our best to get each guest's segment up and running, our biggest test was still yet to come–two full days of streams on the 2nd and 3rd of May. Despite our efforts, we still ran into unexpected technical difficulties that delayed or even crashed the stream, forcing us to scramble to fix bugs while also keeping attendees entertained during the downtime.
After compiling feedback from the first day of Cosplay Computer, we came up with the idea to play clips from ACG events we had attended in the past between delayed segments. This not only gave us more time to debug issues behind the scenes, but also gave our attendees something to talk about and reminisce upon while they waited.
4. Be open to new opportunities
As planning for Cosplay Computer kicked into full swing, we were presented with the unexpected opportunity to be one of Level Up KL and YANA's external content providers. We teamed up with our regional e-sports partner, Epulze, to put together a unique 1v1 DOTA2 tournament for YANA's international day of gaming on the 2nd of May.
Although this meant putting even more time and effort into the event, as we had to commit to additional test runs and bug fixes, it was a success and an honour to be a part of YANA, as their mission to bring the world together through gaming perfectly aligned with our goals to uplift the community with cosplay.
5. The hard work pays off in the end
When we first announced Cosplay Computer, we weren't sure how the local ACG community would react to it. Was it a good idea? Would they be willing to watch a two-day-long livestream? Thankfully, our fears were quickly put to rest as fans from all over Malaysia–and even a few curious viewers from neighbouring countries–tuned in for the show.
Perhaps the most valuable lesson we learned from Cosplay Computer was that while virtual conventions can never quite replace the fun and excitement of a live event, they're still able to give fans a sense of community and belonging during these trying times.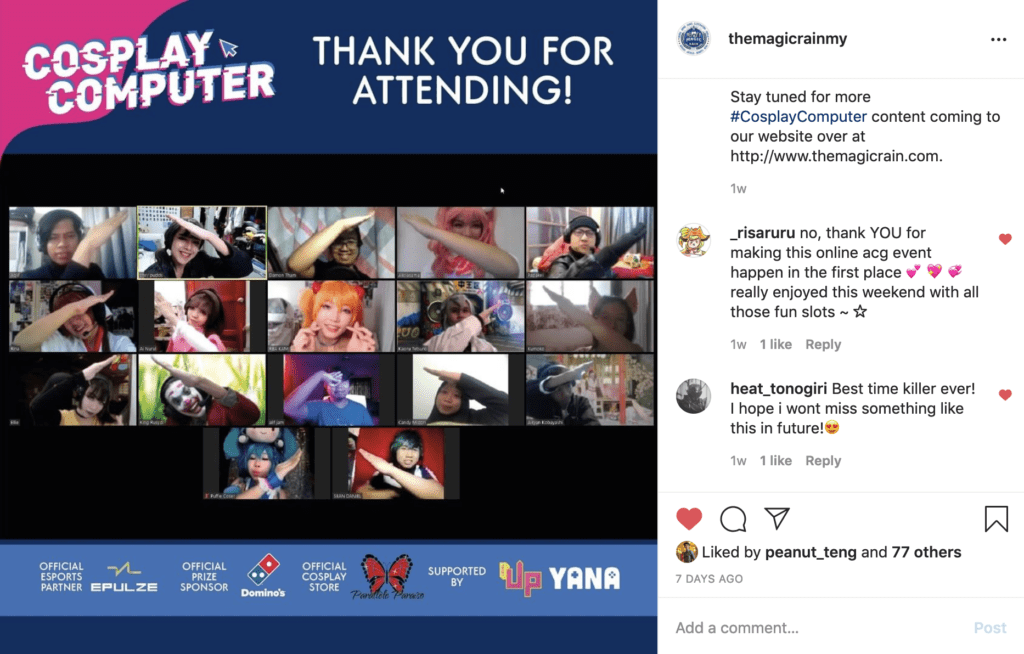 If you've learned a thing or two from our journey and you're feeling inspired to run your own virtual event, why not give it a go? We just might come along for the ride!