Episodes: 7/12
Genre(s):  School, Slice of Life, Comedy, Shoujo
Studio: Brain's Base
Introduction
I've been a huge fan of Gakuen Babysitters since I first discovered the manga (which I've written a review here) a few years back. Since the announcement of the anime adaptation last spring, I've been eagerly anticipating the release with high hopes and it's finally here! As much as I love the manga, I was initially worried that the anime would not be able to live up to my expectations as with what I've experienced with several other anime, but after watching the first three episodes, it seems like I have nothing to fear so far. So is this anime worth watching? Read on to find out what I thought about this series based on the first three episodes!

Thoughts
'After their parents are killed in a plane crash, Ryuuichi and his younger brother Kotarou are taken in by the chairman, who they never met before, of an elite academy. Ryuuichi becomes the school daycare's new babysitter.' (Source: MU)
As expected from a slice of life story, the anime does exactly what it is set to do which is to be a relaxing, laidback animation focusing on adorable children doing adorable things. Putting the cute factor aside, the plot is very easy to follow and consistent. Thus far, each episode that I've watched has been very heart-warming with the occasional humor, and has not failed in brightening up my day.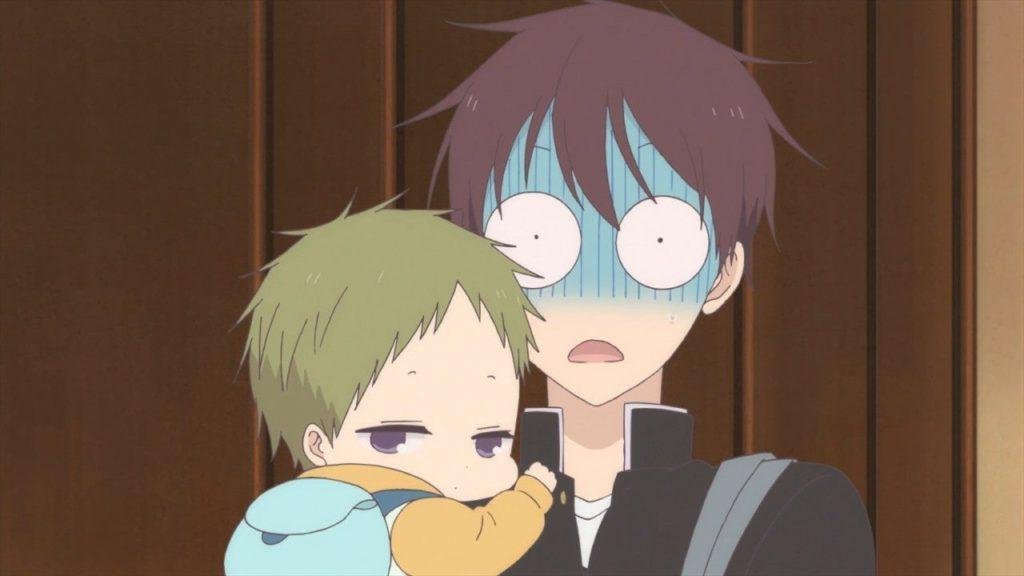 As for the art and animation, it definitely isn't the best within the Winter 2018 lineup, but its simplicity suits the overall atmosphere of the show. While the art may be odd at times (for example, legs appearing thinner than it should be), the facial expressions on the contrary are well done and the adorableness of the children are on point.
As I've mentioned earlier, what I really like about Gakuen Babysitters are the fact that each child has their own distinct personalities which make them really memorable. Not only that, all the characters in Gakuen Babysitters are easily distinguishable and in the first episode itself, we are introduced to the children via the 'Naming Train' song! It really made it easier for us to remember the children's names.As the anime progresses, we will be introduced to more and more new side characters and the series takes the effort to introduce them, for example, in the later half of Episode 3, we're introduced to the twins' parents, giving us a chance to learn more about the children and their family.
Verdict
Cute babies and adorable interactions, what more can we ask for?? Gakuen Babysitters is a really enjoyable watch especially if you're looking for something relaxing. Do give it a try and if you find yourself enjoying it, why not check out the manga too?
Like what you see so far? Subscribe to our newsletter by entering your email here!