It's time to bundle up and get cozy, 'cause Genshin Impact will be recieving a winter-themed content update just in time for the holidays! Version 1.2 will see the addition of a brand-new area known as Dragonspine, along with many other exciting new features and rewards. Keep reading to learn all about it!
Sheer Cold
Dragonspine will introduce a new environmental mechanic to Genshin Impact, called "Subzero Climate". Players who venture into Dragonspine will continuously accumulate Sheer Cold, which can be tracked using an on-screen meter. You'll want to keep an eye on your Sheer Cold meter, as your character will start running out of HP once it reaches its limit.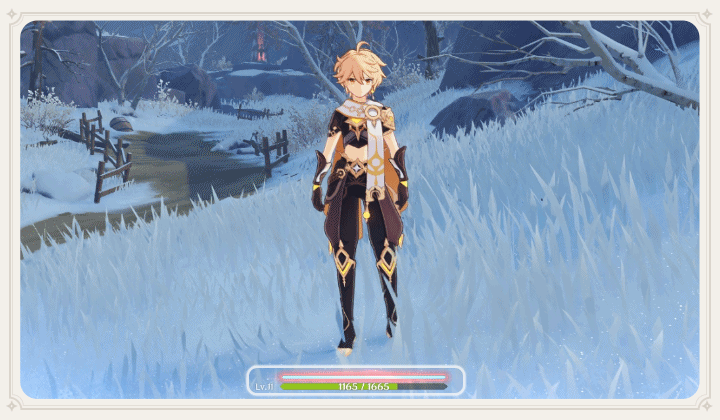 To negate this, players can keep themselves warm by lighting fires, seeking refuge near Waypoints and Statues, or by using the new items Goulash, Warming Bottle and Scarlet Quartz.
Frostbearing Tree
The Frostbearing Tree is Dragonspine's twist on the Statues of the Seven. By offering Crimson Agate to the Tree, players will be able to unlock various rewards, including blueprints for the Warming Bottle and a new 4-star Catalyst weapon called Frostbearer.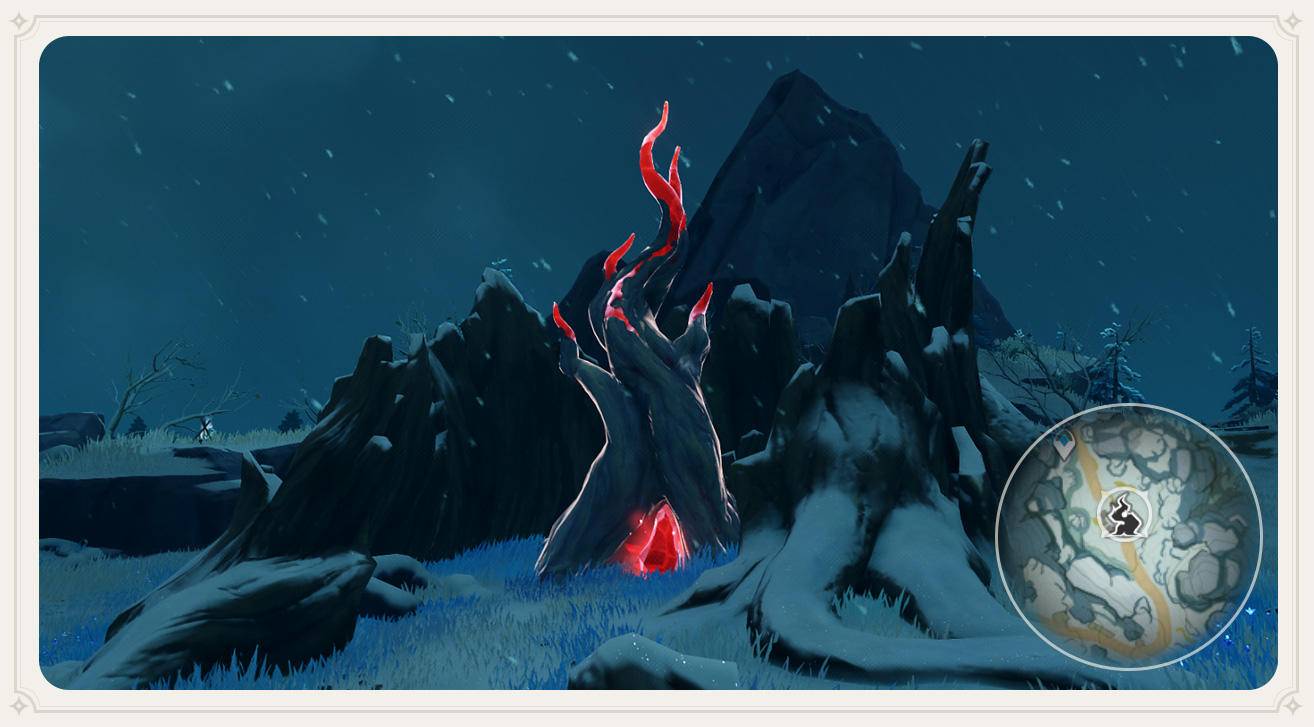 Players can easily level up the Frostbearing Tree by completing its Crimson Wish quest series, which are automatically unlocked once the Tree reaches level 8. Completing these quests grants you more Crimson Agate, which can in turn be offered to the Tree.
Peak of Vindagnyr
By completing the "In the Mountains" quest, players will unlock the Peak of Vindagnyr, a new domain located at Dragonspine's highest point. Challenging this domain will grant you access to two new artifact sets: a Cyro set named Blizzard Strayer, and a Hydro set titled Heart of Depth.
New Friends… and Foes
As always, the 1.2 update will introduce three new characters to the Genshin Impact gacha pool: Ganyu, a Cyro archer; Albedo, a Geo swordsman, and Rosaria, whose abilities are currently unknown.
While Ganyu and Albedo look like promising new 5-stars, you'll probably want to pay more attention to your Pyro and Electro units during this update. Dragonspine will be infested with a whole host of Cyro-themed enemies, such as Cyro Hilichurls, Cyro Cicin Mages, and a new creature called the Frost Yeti. Not to mention a new type of Ruin Guard that shoots lasers instead of missiles!
Three New Events
The main event for the 1.2 update is known as "The Chalk Prince and the Dragon". It can be unlocked by completing Albedo's story quest. The ultimate prize from this event is a new 4-star sword, Festering Desire, which grants players certain buffs when used in Dragonspine.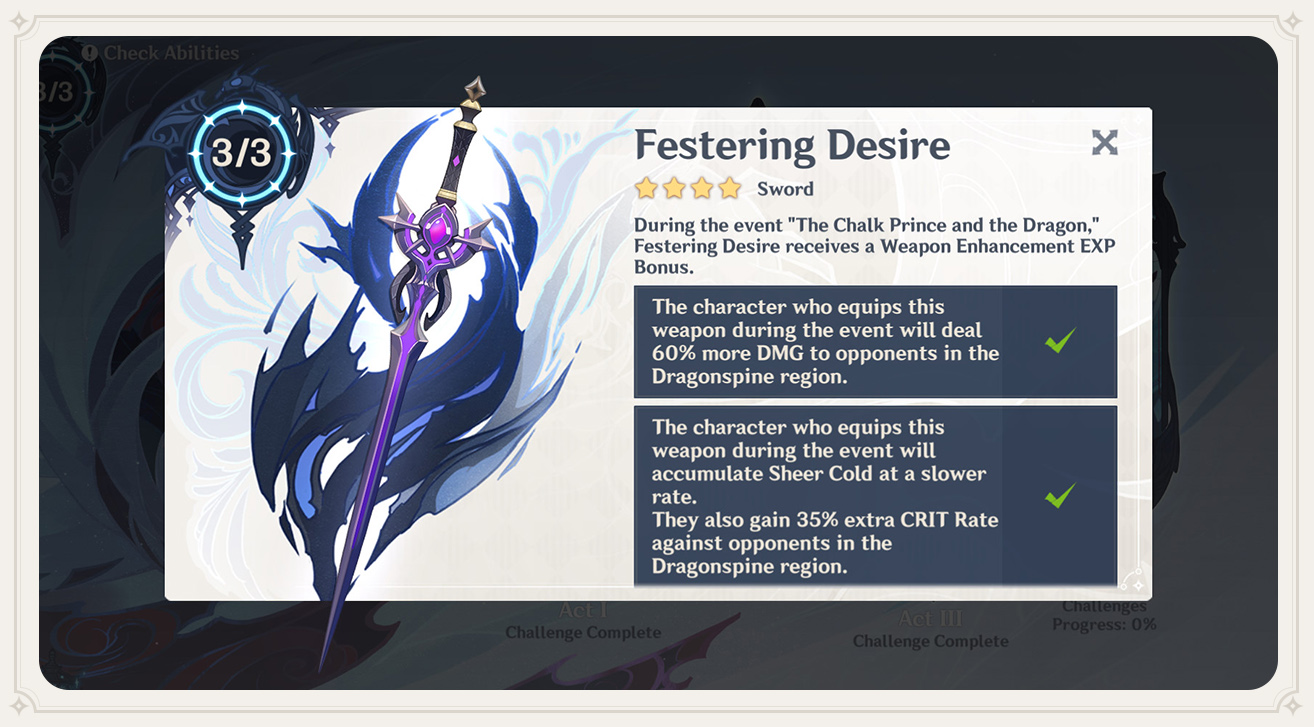 Besides that, players can also choose to tackle two new events, "Hypostatic Symphony" and "Lost Riches". In "Hypostatic Symphony", players can go up against Hypotases that are stronger than the ones currently available in-game, while "Lost Riches" will send players on a treasure hunt to earn Iron Coins.
Iron Coins can be exchanged for a variety of rewards, including a new pet called the Mini Seelie. Much like the Seelies roaming around Teyvat, the Mini Seelie will be able to guide the player to hidden treasures!
Quality-of-Life Updates
Events aside, the update will also add a few highly-requested features to the game, such as the ability to nickname your friends. An improved screenshotting mechanic can also be accessed through the new Kamera item.
Domains have also recieved a few tweaks, namely the ability to challenge the domain again without having to exit the area. Plus, rewards from completing domains will now be automatically added to your inventory, which will definitely save players more than a few clicks while farming for artifacts.
Lastly, you'll now be able to earn one Acquaint Fate for every time you ascend your character to Level 20, 50 and 70. This change will also apply to characters that were ascended prior to the 1.2 update.
---
That's all the news we have for the upcoming Genshin Impact 1.2 update! If you want to see how we get on with these brand-new features, be sure to check out our livestream in the link below.
A cold adventure has arrived in Genshin Impact right before Christmas! Will Tsubaki and Matrix survive the torture of the frozen land, Dragonspine? Stay tuned to find out!

Posted by THE MAGIC RAIN on Sunday, December 20, 2020