What is Comic Fiesta? Is it the biggest ACG event in Malaysia? Is it the biggest gathering of fans from anime to games and comics? Is it the event to meet your favorite cosplayers and illustrators? Yes. The answer is yes to all of the above.
Every year, Comic Fiesta attracts bigger and bigger crowds, and this year was no different. Suddenly it felt like every fan of anything close to anime were jammed packed into the KL Convention Centre. Even the park outside of the convention centre was suffocatingly full of cosplayers eager to showcase their latest portrayal of their favourite characters.
Despite the attraction of the beautiful people outside the convention centre, however, that is not why we are here. We are here to give you the rundown of what happened within the confines of the KL Convention Center. Let's get on with it!
---
Stage Performances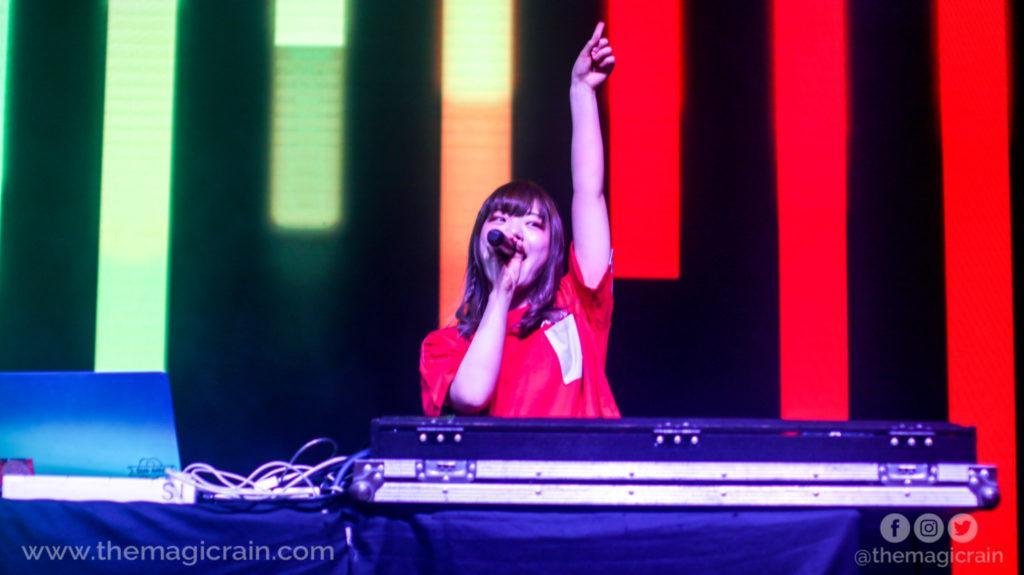 Comic Fiesta's stage performances are some of the best ACG performances you can get in this country. Being in a dedicated hall of its own, it was isolated from the rest of the convention but for good reason. From the amazing Opening Ensemble and DJ Sunamori of Day 1 to Your Highness and Myth & Roid of Day 2, even the large hall would surely be insufficient. And this year, it really wasn't.
It all started with the Opening Ensemble of Ship Sails and with an iconic song that many of us can fondly remember, the opening of "Doraemon". Not only did this hit the entire audience right on the nostalgia bone, but it set up the entire performance, perfectly blending into the next song and the next without stopping a single beat.
The entire hour's performances featured classics such as "My Neighbor Totoro" and "Gundam Seed Destiny" to a more modern opening from "Your Lie in April" and even the virally popular "K/DA – Popstars".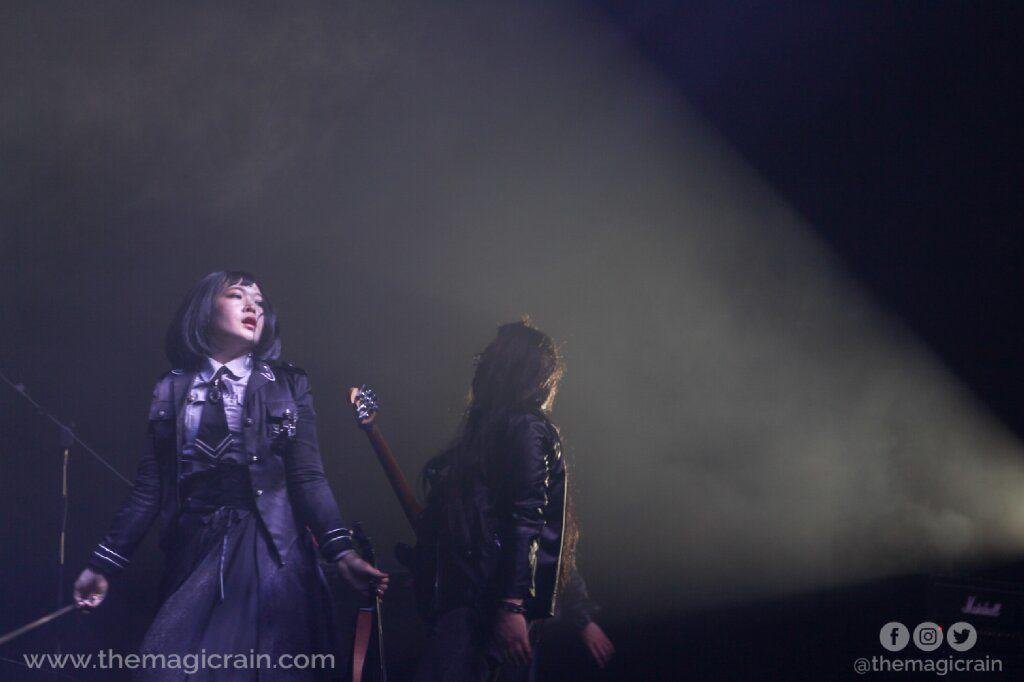 Day 2 started off with a rare treat and a rising star in the ACG community – the instrumental band "Your Highness" starring Luna Lorrain, a skilled violinist that performs music covers who is now being invited to many events throughout Malaysia. Her skills were apparent from the Attack On Titan Opening – Gurne No Yumiya. Since Luna doesn't sing and her band is purely instrumental, the band quickly become the instruments and the crowd became the voice.
Comic Fiesta kept the best for last. Myth & Roid. There is no doubt that Myth & Roid was the group everyone was waiting for. The ones who were there can testify the amount of effort and difficulty getting into the hall for their concert on Day 2. The hall could not fit even all of the attendees and some, unfortunately, had to be turned away.
For those who were lucky enough to make it in, Myth & Roid brought out all the stops, from their recent single HYDRA to Tragedy: Eternity. Their performance was nothing short of electrifying and the amount of energy in that hall was insane.
---
Cosplay
Even more so than ever, cosplay took centre stage at Comic Fiesta this year. Besides the aforementioned packed corridors of wigs and face paint, the event saw a line-up of prestigious international guests and cosplayers visiting the event from all around the world (most notably "not a cosplay guest but might as well have been", A.K. Wirru). Some of this year's guest list included Hane Ame, Pion, and Isis Vasconcellos.
These guests were one of the contributing factors for the event's long queues, some taking up entire corridors worth of space and an entire section in the Creative Art Marketplace. There, cosplayers gathered to sell their own photobooks, exclusive polaroids with their fans, and support other cosplayers around them.
For more popular cosplayers, they had fans queuing up from morning til evening just for the chance to meet their favourite cosplayer; and while the queues were much better managed compared to last year, it still resulted in huge congestions within the hall. It just goes to show how dedicated the fans in Malaysia can be.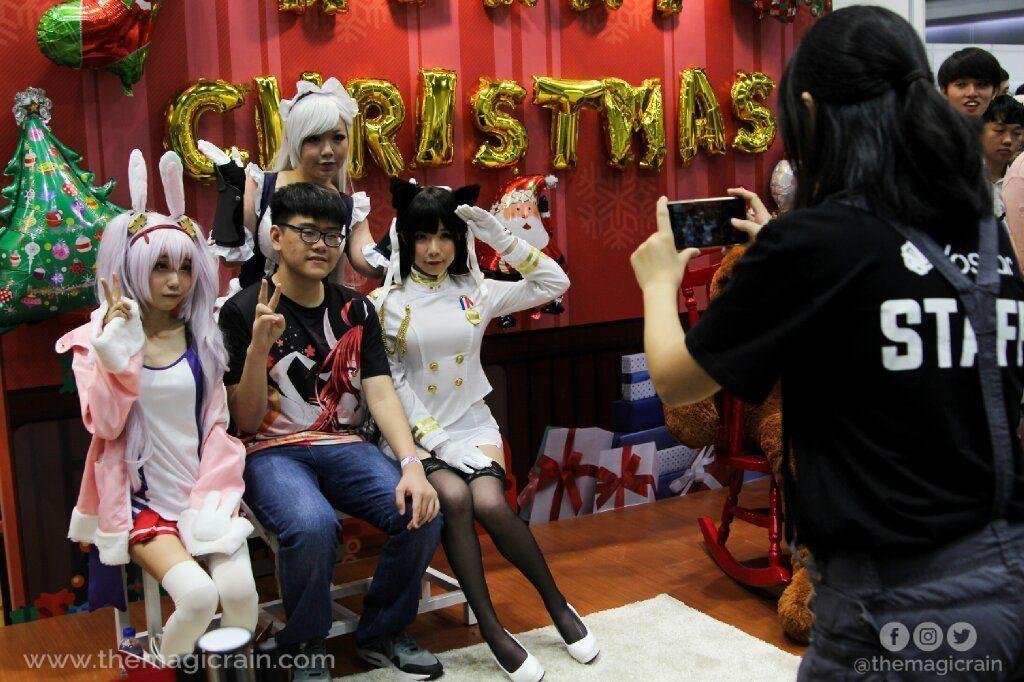 Meanwhile at the stage, Comic Fiesta's three annual cosplay exhibitions were under the spotlight – Cosplay Crossover, Cosplay Invitational and 60 Seconds of Anything. It was a stark difference from the musical performances; each cosplay performance was a splendid and unique performance in their own right.
Some were so hilarious that I was on the floor laughing my stitches off, while some were very impressive and well thought out. The crowd was definitely entertained and the judges were very impressed by some of the performances.
One of the highlights was the winning cosplay performance for 60s Seconds of Anything by Waninoko, who cosplayed the K/DA version of Akali from League of Legends. We saw a lot of Akali's that weekend, but this was the only one actually lit up the stage – literally! At the climax of her performance, it was revealed that she had rigged her costume with neon light strips, causing her entire cosplay to light up just like in the music video.
One thing's for sure – people who cosplay are sure creative, and their passion for the craft was very apparent in the atmosphere throughout the event.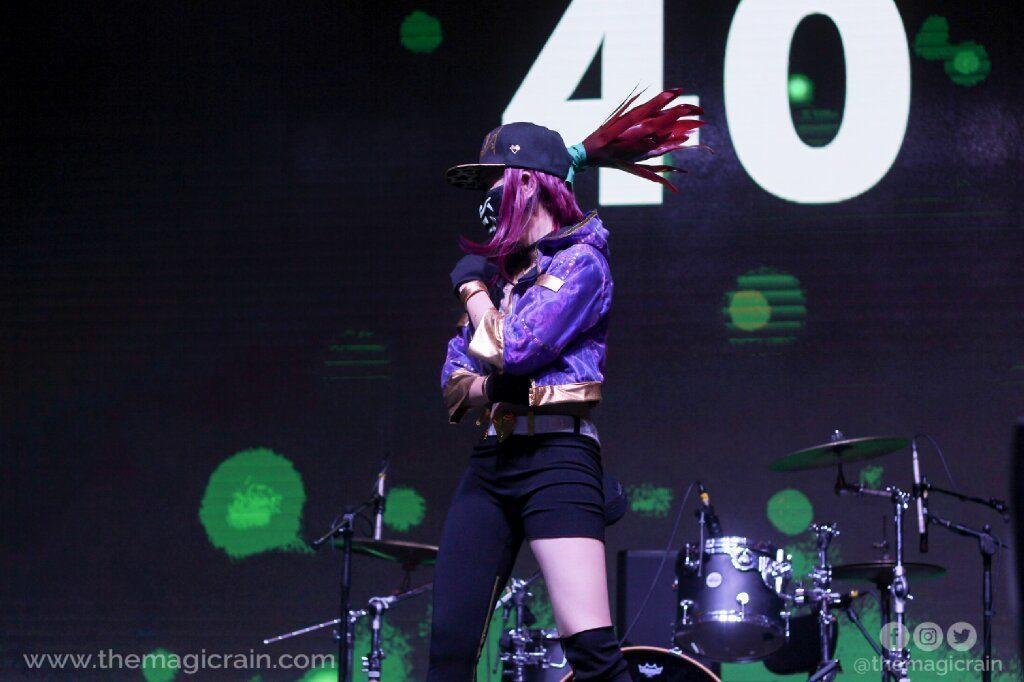 ---
Panels
While all the stage performances were happening, two floors below the stage lies the panel room and merchandise floor. Panels were placed around the same time as some of the stage performances, and if you were the kind of person who wanted to see everything, it would have been literally impossible.
Various panels were conducted throughout the two days in a cool, quiet room. I found myself finding refuge here from the horde of humans below once or twice. Each panel provided insight into each of their panelist's experiences, their thought process behind their hobby, and what makes it more than a hobby. Their passions and how they translated that passion into something they could be proud of – to show to the world, "Hey, I made a thing" – was truly admirable.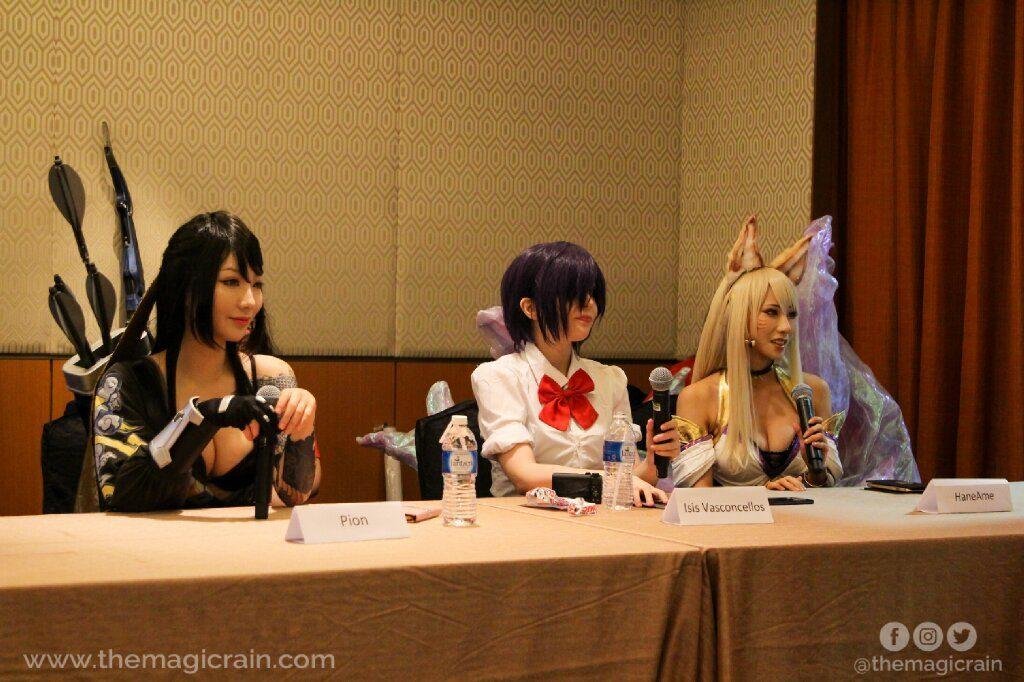 Popular names such as Cheeming Boey, Terumi Nishii and Studio Trigger had the largest receptions for their panels and the room was packed with fans each time. There was also a huge focus on comic artists this year, with artists like Shiin, Kristina Nguyen, and Kazeo giving talks on how to work with various comics styles.
Of course, there have to be cosplay panels with the guests Pion, Isis Vasconcellos and HaneAme. They gave tips on cosplaying along with making props and armor that's practical for cosplaying.
---
Creative Art Marketplace
Last but not least, the sea of humans and stuff. If you buy everything Comic Fiesta has to offer, a million dollars might not be enough. With a large portion of the ground floor dedicated to booths of vendors selling their products. There is a plethora of merchandise that you can bring home with you. An art lover would just stay on the floor and be amazed at all the art that others are making in the form of posters, pins, books, and figurines. There are probably many more but listing it would take too much time.
This was also where other creators like cosplayers and the event's special guests had their own booths to sell merchandise and meet and greet sessions. The lines for signatures with guests were especially long with them trying to sign merchandise for as many people as they could. Some of the lucky ones only waited less than an hour for their turn and it was definitely worth it as some of them do not host a signings often.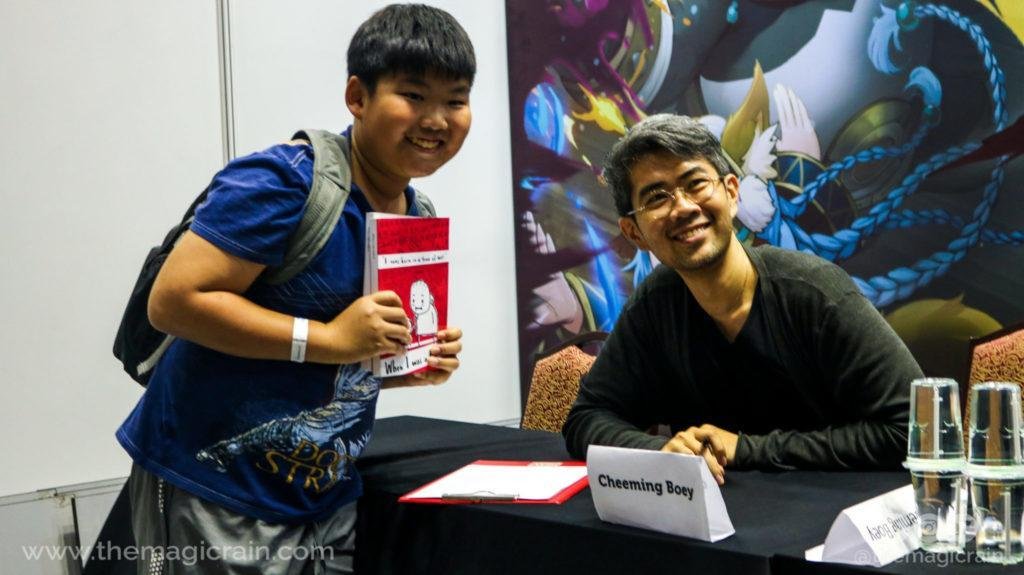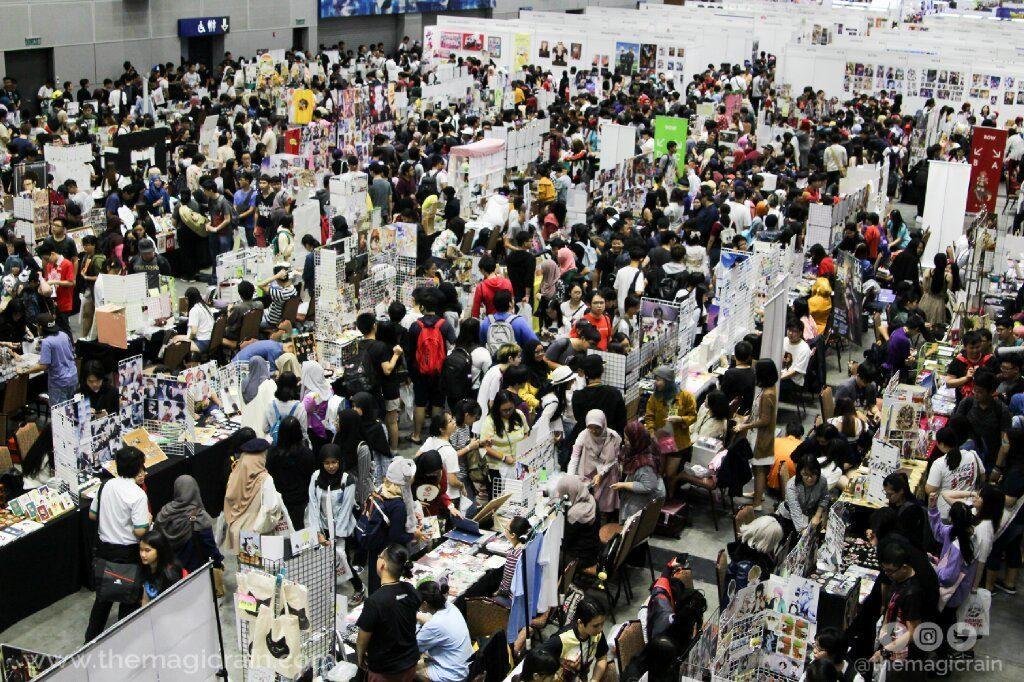 Overall, Comic Fiesta was definitely the ACG event to beat, and with these amazing highlights, the bar is set pretty high. How was your experience at Comic Fiesta? Do you agree with me? Comment below!