Rooster Teeth Expo or RTX was just held earlier this month. For the uninitiated, Rooster Teeth is a media and entertainment company that created the immensely popular Red Vs Blue and RWBY. Highlights for a convention of this size would take a massive post and as such, this post will focus mainly on some of the animation news. Cooh? Leggo!  
---
Rooster Teeth Animation Fund
This is a feat much appreciated by all the animation artists on youtube. All artists knows how hard it can be to be a struggling artist trying to make ends meet. Rooster Teeth who has probably have gone through the exact scenario have created an animation fund to help animation creators make money online.
"We're looking for like-minded creators who have a good track record of producing consistently." – Matt Hullum, CEO of Rooster Teeth
The development fund which consists of $2.5 million will help animation creators on YouTube or other platforms to develop new video projects. They will also bring in the creators into their digital network which helps them make extra money through advertising, subscription, merchandising and the like.
---
gen:Lock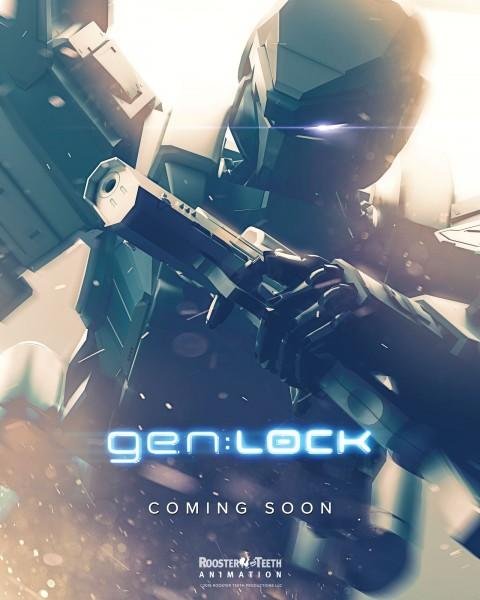 An animated style series that is set to premiere in January 2019 have announced more cast members coming from various of Rooster Teeth's own series. These new cast members will join the previously revealed star-studded cast with the likes of David Tennant voicing Dr Rufus Weller who is the inventor fo the gen:Lock technology; Dakora Fanning voicing Miranda Worth who is the main character's love interest; Koichi Yamadera voicing Kazu Iida, a new recruit of the main character's team and Michael B. Jordan who will voice Julian Chase, the main character of the series.
The newly revealed cast members are recognizable faces by Rooster Teeth fans such as Lindsay Jones (RWBY – Ruby Rose) voices Razzle, Chase's squad leader; Miles Luna (RWBY – Jaune Arc) voices Miguel "Migas" Garza, Chases's best friend; Blaine Gibson (Camp Camp – Nerf) voices Sinclair, an experienced ranger recruited to gen:Lock program; Haddock (RWBY – Roman Torchwick) voices Leon, a mech unit leader and Chad James (Death Battle – Boomstick) voices Jodie, close friend of Miranda.
Here is the first reveal of "Doc", a character voiced by David Tennant.
---
RWBY
Leaving the best for last, RWBY have a couple of notable news. First off, RWBY volume 6 will be airing October 27th! For those who are lucky enough to be attending Rooter Teeth Expo, a short was premiered exclusively for them. The rest of us just have to start counting the days till October 27th.
#RWBY Vol 6 will be premiering October 27! pic.twitter.com/neHS7O8G88

— Rooster Teeth? (@RoosterTeeth) August 3, 2018
Time to get your rock band set out of the closet as the RWBY Volume 1 theme song as well as two other songs will be added to the game Rock Band. Rooster Teeth has also partnered with Scholastic to develop a RWBY book series which is set to be released at 2019. The book series will follow Team CFVY.
Furthermore, a new trailer and game demo were released for the RWBY mobile game, Amity Arena. It looks like a champion based tower defense game and. I can't wait to give it a try.
Pre-register today for RWBY: Amity Arena to receive a special Ruby Emoticon Set & Pajama Costume when the game launches globally! Start your journey to the Vytal Festival Tournament with the new gameplay trailer! ==> https://t.co/Rkne3rNYgn #RWBY @RWBYAmityArena pic.twitter.com/42HNHkwini

— Rooster Teeth? (@RoosterTeeth) August 3, 2018
During RTX, cool RWBY figurines were also on display. The figurine was made by McFarlane Toys and I am absolutely impressed at the amount of detail put into it. There are only 950 of these available so better visit the official Rooster Teeth Store if you want one of these puppies. See what I did there? 
---
What did you think of our animation highlights from Rooster Teeth Expo? Let us know in the comments section below!