After hosting their very first digital event a few months ago, LEVEL UP KL is bringing their annual event into the virtual world! LEVEL UP KL 2020: PLAY DAY is being held from 16 – 29 November 2020, featuring tons of exciting programs and even a virtual event. Keep reading to learn more!
But First, What Is LEVEL UP KL?
LEVEL UP KL has become Southeast Asia's premier industry event for game developers in just 5 years time. It serves as a platform for people from the gaming industry, be it local or international to interact, learn and share knowledge. This year, the event is bigger and better, with the aim of celebrating everything that makes video games awesome!
Virtual Event Hall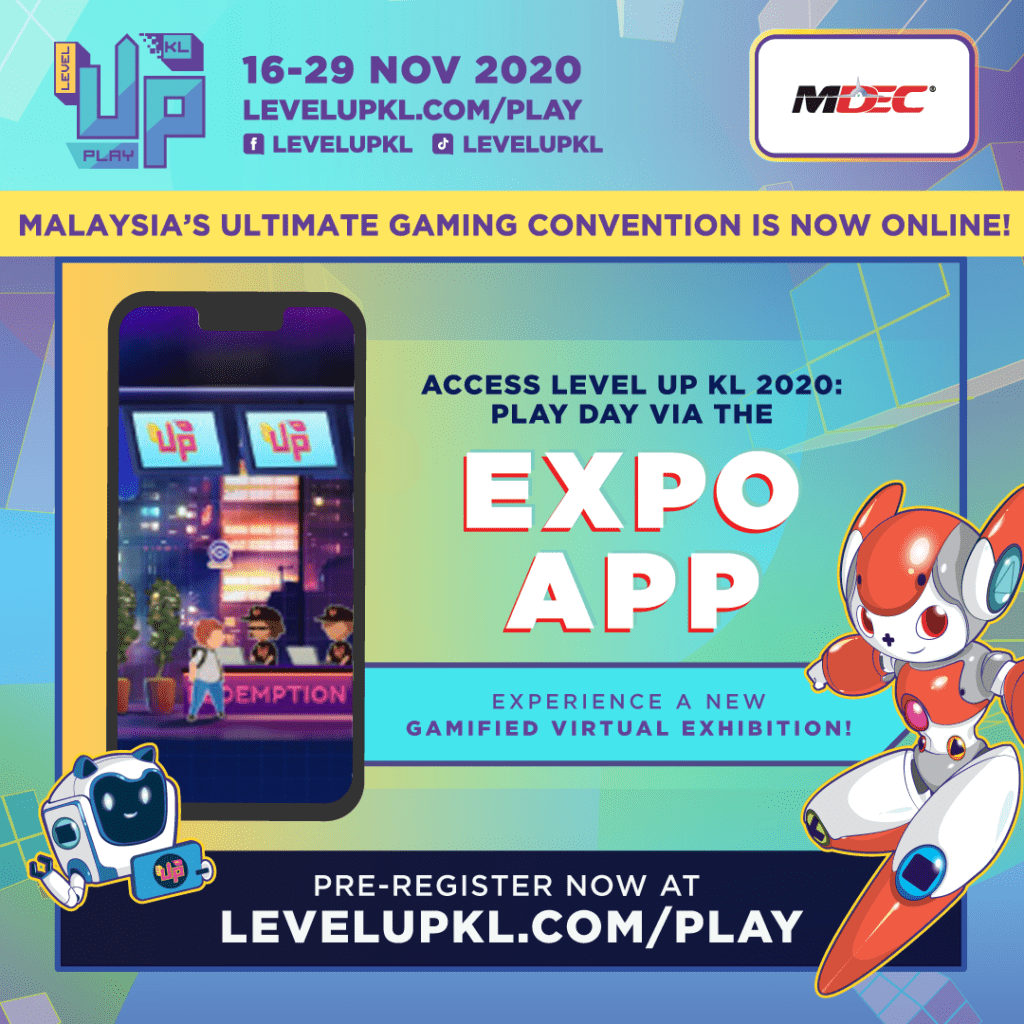 Being a virtual event, LEVEL UP KL takes it one step further by launching their Expo App! It is just like a event hall, but virtual. The best thing is, you can access it from the comfort of your own home! The app is accessible from desktop via browser and on mobile via the Google Play Store.
Featured Programs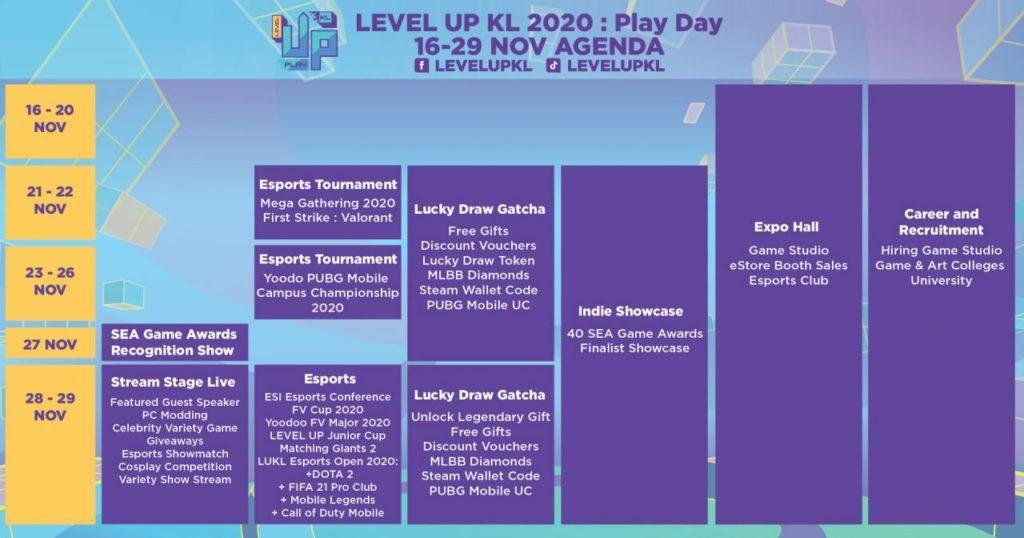 During this two-week period, there are many activities planned for your entertainment including game showcases, workshops, panels and many more! Here are some of the programs that you might want to check out.
First is the SEA Game Awards, where game studios from Malaysia and Southeast Asia are awarded for their efforts in 10 different categories, including Best Storytelling, Best Student Game and Audience Choice Award. Stay tuned on 27 November for the final reveal!
Next, e-Sports tournaments are held between 22 – 29 November which features a variety of games like Valorant, PUBG Mobile, Mobile Legends and Call of Duty. Come watch your favourite players compete in matches to prove their strength and win prizes of up to RM100,000!
Last but not least, happening on 28 – 29 November, the LEVEL UP KL 2020: PLAY DAY main stream features esteemed guests from the game industry, performances, tournaments and more! It's completely free to watch, so just head to the Expo App to enjoy the full experience.
LEVEL UP KL Play Side Stage
Aside from the main stream, there will be a number of side streams going on simultaneously. THE MAGIC RAIN will also be hosting various activities as a part of the event:
SEA Games Spotlight featuring Flava;
Legends of Runeterra Showcase Match featuring Master-ranked players from the SEA region;
Bincangkan Impostor & Phasmophobia featuring local streamers;
League of Legends: Wild Rift Showcase Match featuring well-known streamers;
Esports Call of Duty Warzone hosted by Raja Rusydi and PublicBear
Check out our Facebook and Instagram for further details!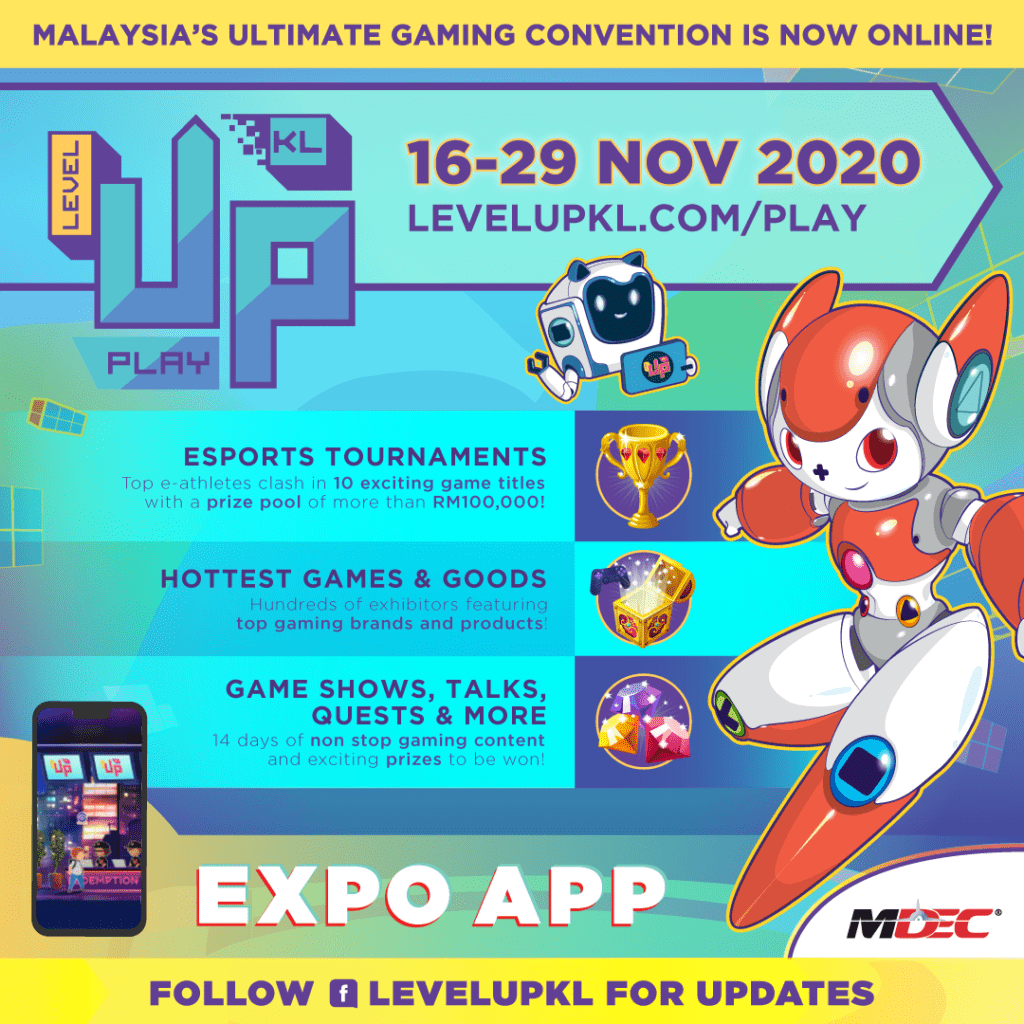 With all that being said, what are you waiting for? Mark it down on your calendars to not to miss out in any of the fun!
For more information, check out the LEVEL UP KL website or visit them on Facebook, Instagram and Tiktok!