In commemoration of the 60th Anniversary of Diplomatic Relationships between Malaysia and Japan and the 6th Anniversary Celebration of Pavilion Kuala Lumpur's Tokyo Street, Japan Expo Malaysia 2017 was held at Pavilion and Fahrenheit88, Kuala Lumpur from the 28th to the 30th of July 2017.
The MAGIC RAIN team had the opportunity to attend the event on the 29th July 2017 where Pikotaro, well-known for his PPAP song, was slated to appear. Without further ado, let's get on into the main highlights of Japan Expo Malaysia 2017!
---
Venue
As the event was held in Pavilion and Fahrenheit88, it was open to public and anyone could attend if they wanted to. Location-wise, it was very convenient as it is accessible by public transport (Monorail and MRT) and there's plenty of food and drinks available if you're ever in need of sustenance.
The stage was located at the Centre Court of Pavilion, and with the addition of booths positioned around the area, it was slightly hard to navigate around. It didn't help that the seats were extremely limited as well. It got even worse during the evening where everyone started to gather due to Pikotaro's appearance. Space was definitely an issue that needed to be considered properly.
There were also booths located at Fahrenheit88 which I feel most people didn't know about. They offered Japanese food, drinks and also more interactive activities such as a yukata experience, free origami workshop and others. This is great as it allows the public to try out things they may or may not have tried before. However, it would be better if there were more signage so that more people will be aware that such a thing is going on.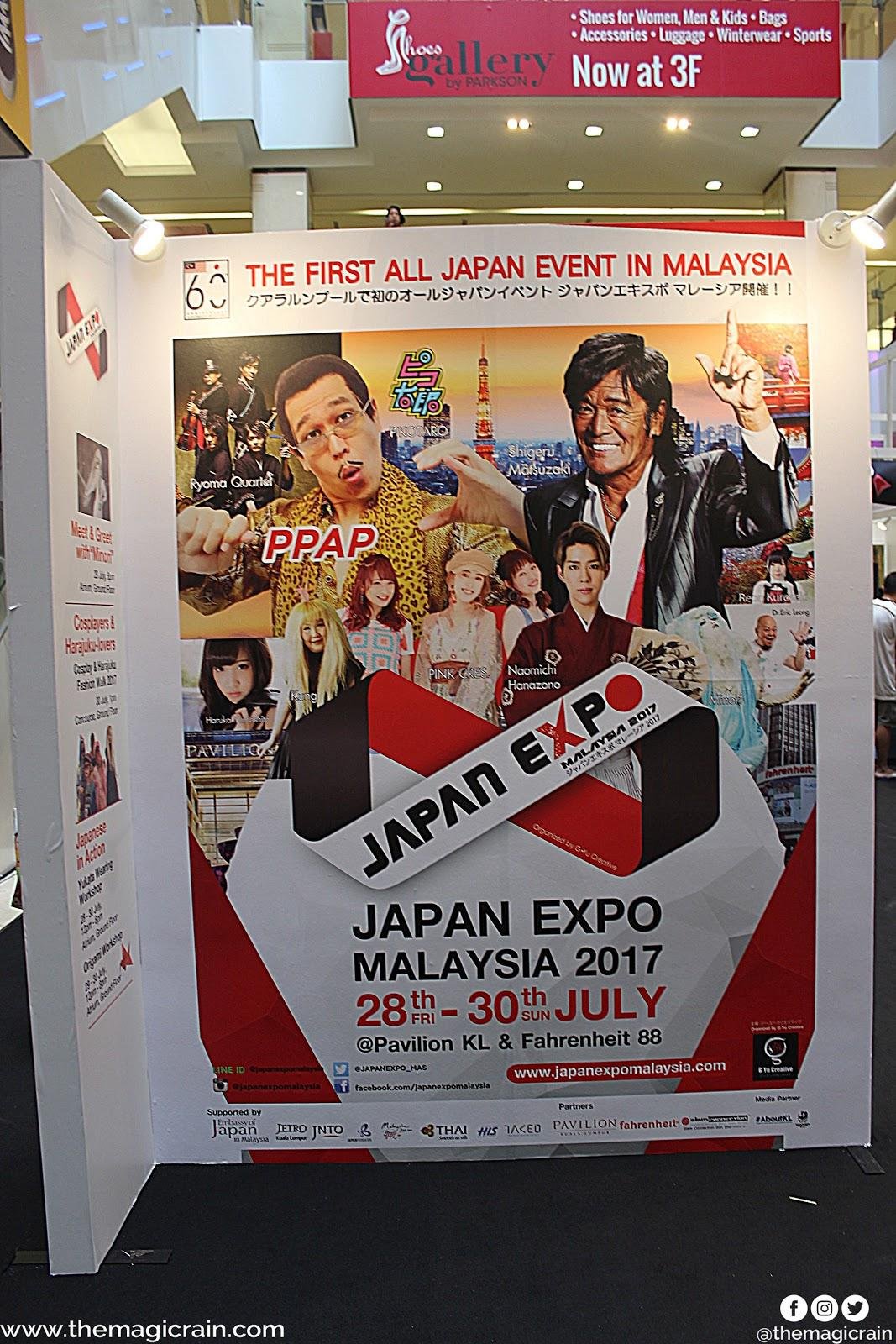 ---
Stage Activities
As the event was held from 12pm to 8pm for all 3 days, the stage was bustling with various activities such as dancing performances, singing performances and even traditional performances. The quality of the performances were definitely top-notch and I feel that the performances definitely serve the purpose of educating the audience in terms of the culture.
Not only that, the emcees did an impressive job by being really engaging with the audience and the emcee in charge of translating was awesome as she made it straight to the point and understandable.The traditional performances included traditional dancing by both males and females respectively. You can witness the culture of a traditional Japan as well as compare the differences between the genders (in terms of the dance) and also compare it to Malaysia's.
As for the singing performances, they were really good and it highlighted some talents that were unknown to me before. The audience also had the chance to meet and greet the artists right after their performances. It was definitely a worthy experience.
---
Booths
There were nothing too impressive about the booths in both shopping malls as they had the usual Japanese festival-ish booths in Fahrenheit88 which includes Oishi, and also booths promoting their language classes and study abroad programmes. As mentioned earlier, interactive activities such as the free origami workshop and yukata experience were also provided which I'm sure most people enjoyed.  
---
Other Highlights: Pikotaro
How could I not mention the main highlight of the event, Pikotaro? Known for his viral hit 'PPAP' (Pen-Pineapple-Apple-Pen), Pikotaro had finally made his first appearance in Malaysia and a total amount of 20,000 people turned up just for him alone.
He sang PPAP (of course), 'I Like Orange Juice' and also his latest song, 'Neo Sunglasses'. Due to his songs' short length, he interacted with the crowd via a Q&A session and also invited 20 lucky fans to dance along for a second round of PPAP.
Pikotaro definitely knew how to hype the crowd up and his interactions with the emcees and lucky fans showcased his great sense of humor. If you missed out, you can check out his performance here: https://www.facebook.com/pikotaro.official/videos/1909274442622641/
However, there are a few complaints that I'd like to bring up in regards to Pikotaro. Due to the massive turnout, it was evident that the organizers had terrible crowd control as they couldn't stop the crowd from swarming the stage due to the lack of manpower.
Not only that, the entire day before Pikotaro's slot, the emcees kept announcing on how if you want to get front row seats to Pikotaro's stage, you'd have to book them (by basically standing around there). However, those seats were actually just for the VIPs and not available for the public. This miscommunication led to people being overhyped and caused a lot of dissatisfaction among the crowd. I feel that this could have been handled better that it actually was.
---
Conclusion
Overall, I'd say that Japan Expo Malaysia 2017 is actually a pretty good event in terms of the content and quality. However, there are many things that can be improved on such as the scheduling, crowd control and many more. Despite that, I had an enjoyable time and I hope to see Japan Expo Malaysia again in the near future, hopefully next year!