Harley Quinn has been through a massive glow-up in the last two decades since her character was created. Initially written as a supporting character for the critically acclaimed Batman: The Animated Series, Harley has since made the jump from animation to comic books, video games, and even blockbuster movies, becoming the breakout star of 2016's Suicide Squad and headlining the recently released Birds of Prey.
Harley's popularity has also come with a fair share of controversy, as her relationship with the Joker is often seen as romanticising abuse. It's this controversy that Stjepan Sejic's Harleen dives into, retelling Harley's tragic backstory and fleshing out how she came to fall for the Crown Prince of Crime.

---
Harleen tells the story of Dr. Harleen "Harley" Quinzel, a brilliant psychologist who arrives at Arkham Asylum hoping to cure Gotham's supervillains. Over the course of the three-part miniseries, Harley falls in love with Arkham's most dangerous inmate, going from being terrified but fascinated by the Joker, to believing that she alone can save him. It's essentially her origin story from Mad Love, the 21st episode of Batman: The Animated Series, but with added details and nuance longtime fans of the character are sure to appreciate.
Harley makes for a likable protagonist in this series, mainly due to its much more down-to-earth take on her character. She's flawed – she's a burnt-out alcoholic who isolates herself from the people around her – but she's fiercely determined to prove herself, no matter what it takes. By contrast, Sejic keeps the Joker's true motivations a mystery, and we're never let in on what the Joker truly thinks of his new psychologist.
The series' compelling writing is elevated further by its beautiful artwork. Sejic illustrates Harley's fall from grace with his trademark expressive characters and creative page layouts, and he also employs clever moments of visual foreshadowing.
One such moment comes at the end of the first issue, where Harley has her first interview with the Joker. He's physically separated from her by a glass wall, but his shadow looms over hers–a subtle way of showing the reader how the Joker has begun to take control of Harley's mind.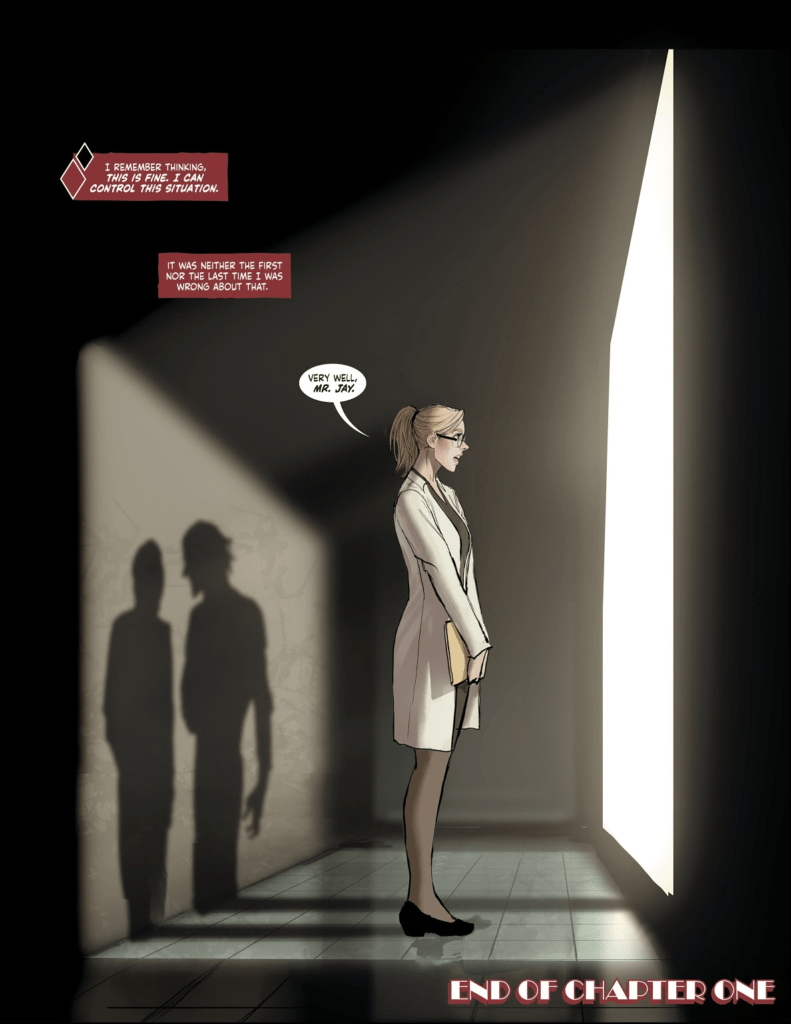 All in all, if you're as intrigued by Batman's rogues' gallery as our titular protagonist is, then Harleen is definitely a worthy addition to your collection. It's a beautifully written and drawn cautionary tale that uses two well-known characters to tell the story of how someone can fall into an abusive relationship without realizing it.
Sejic has also shown interest in developing a similar title exploring the life of Poison Ivy, with early development sketches available on his social media accounts. If Harleen is any indication, his take on Ivy is bound to be an interesting one, and we can't wait to see how it turns out.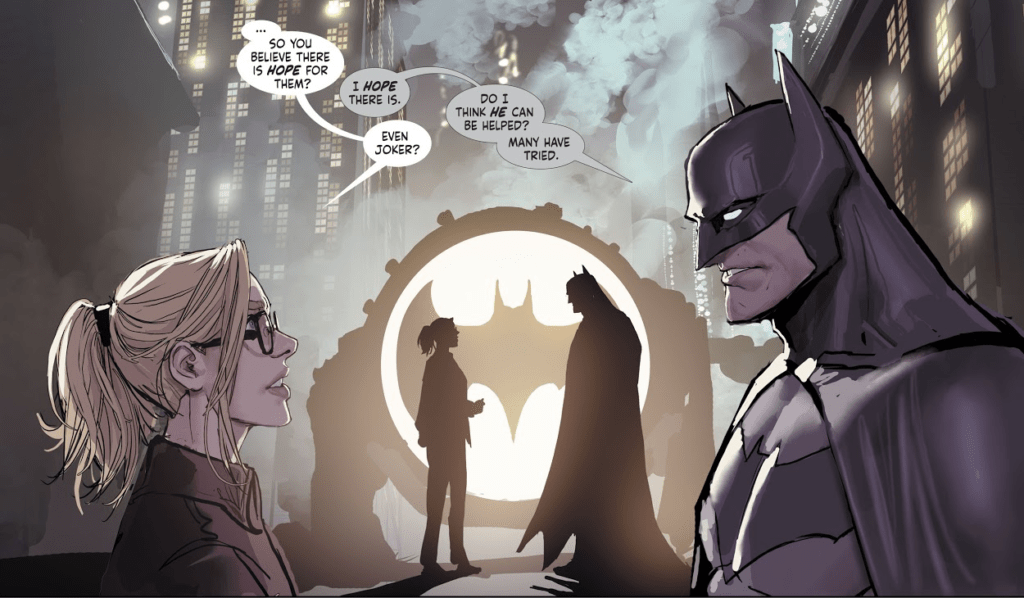 ---
'Harleen' is available for mature readers in stores and online on the DC Comics official website.