Source: pinterest.com
If you're a new fujoshi and clueless on what other mangas to check out, here's a new recommendation by authors series that I'll be doing, starting off with one my favourite mangakas: Natsume Isaku! Here are my three favourite mangas from sensei:
---
Ameiro Paradox (2010)
'A change in the stakeout team throws Onoe, reporter for a weekly magazine, together with his contemporary, Kaburagi, a photographer. Onoe secretly considers Kaburagi his rival, and Kaburagi's haphazard way of doing things goes against Onoe's strong sense of ethics—there's nothing but conflict between them. But, in joint pursuit of a scandal, the two of them begin to care about each other…?' (Source: Nakama)
It'd be a surprise if long-time fujoshis do not know this work as it is one of sensei's most popular work to date. Constantly bickering with each other, our main characters bring us for a comedic yet romantic ride. While the comedy may occasionally be a little forced, this manga is still an enjoyable read as it not only focuses on the characters' relationship, but also the storyline. P.S. If you like tsundere ukes, you'll definitely like this manga too!
---
Heart no Kakurega (2012)
'Robbed nearly blind, Izumi is forced to move out of his apartment into more…"affordable" housing—which means shacking up in a run-down tenement complex with five quirky neighbors, including Haruto—the weirdest, most seemingly unsociable landlord he's ever met. Izumi's convinced all he has to do is buckle down at work and put up with this miserable situation for the time being until he saves up enough to move, but then they all kind of start to grow on him—especially (and perhaps most unexpectedly) Haruto.' (Source: MangaHere)
Featuring a myriad of unique characters, it is difficult to get bored of Heart no Kakurega as each character is just so quirky and different. I enjoy the fact that each character's backstory (well, at least the main characters) are told to us readers, which helps us connect emotionally with them. This manga focuses on two different pairings who are total opposites, and I find that really refreshing to read! Though there are times where I get the characters mixed up due to the mangaka's art style, it is not a major problem and you should definitely put this in your to-read if you haven't already.
---
Hanakoi Tsurane (2015)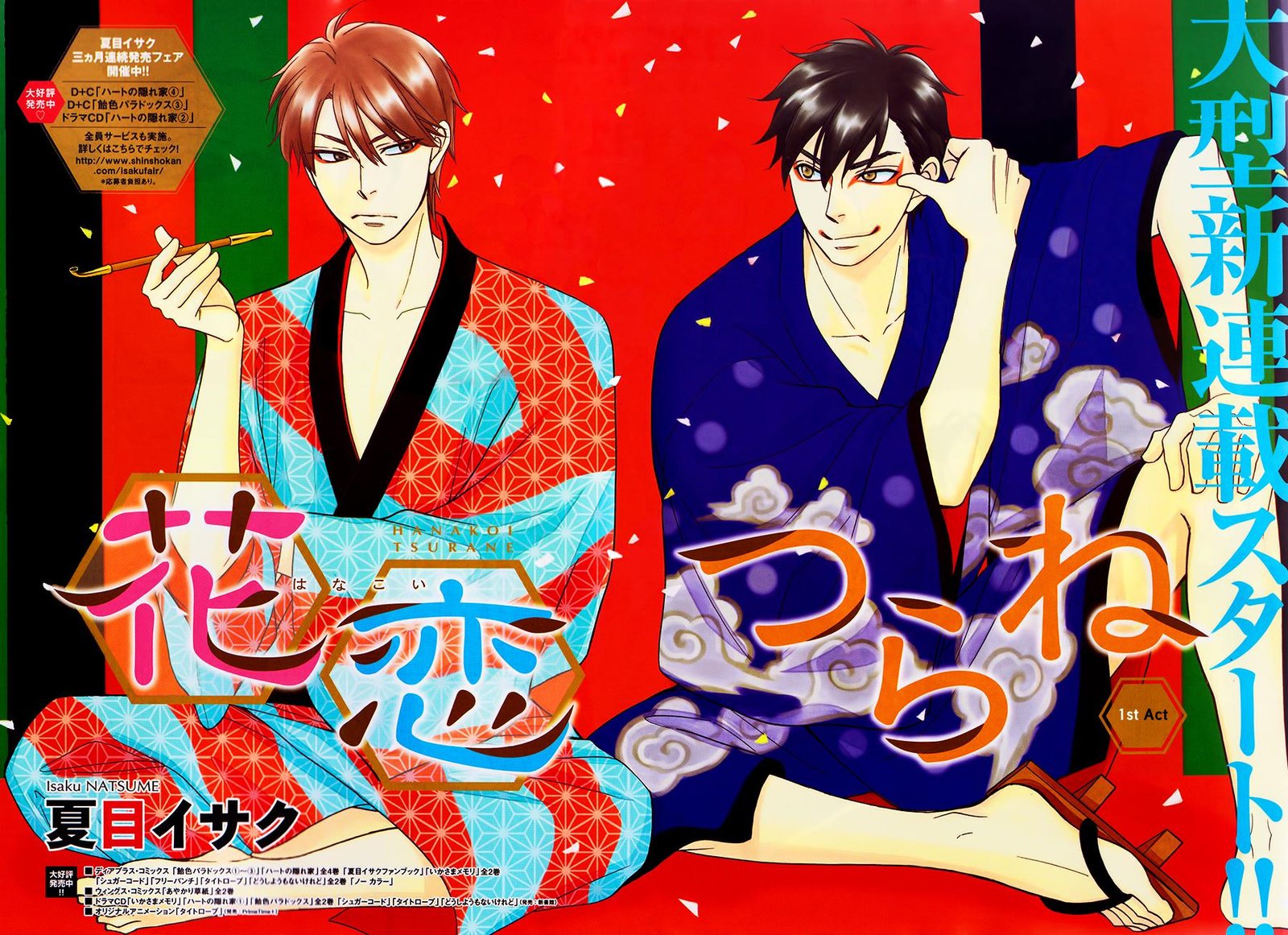 'The self-destructive type, Sougorou is the heir of one of the well-known families in Kabuki world. He has no interests in other actors his age with the exception of Gensuke who he recognizes as his rival and never wants to lose to no matter what. However, fate plays a cruel trick on him and the two of them end up as classmates…' (Source: Canis Major Scanlations)
With this being the latest work from Natsume Isaku, the art style has definitely improved more compared to her previous works. The storyline premise is something quite rare too, with a focus on the Kabuki world, which I find to be extremely fascinating as it's rarely used in the BL scene. Unlike most yaoi manga however, the relationship between our two male leads develops really slowly which might be unbearable for some, but personally, I really enjoy the focus on the story development and I can't wait to see how much further their relationship will go.
---
Others: Doushiyoumo nai Keredo, Tight Rope, Sugar Code
---
With that, I hope you'll enjoy reading these series as much as I did. What did you think of the recommendations given above? Are there any hidden gems that I might have missed out? Let us know in the comments section below!