As you may already know, THE MAGIC RAIN team has another event underway! Officially supported by e-Sports Malaysia and organized in partnership with Games Fusion, MVP Mobile Arena, as well as yours truly; Ctrl+Alt Gaming will be held from the 31st of March to the 1st of April 2018, at the Jeffrey Cheah Hall, Sunway University!
The two-day event will take place from 10AM – 6PM on both days, with an entry fee of RM15 (for two days!).
With just one more week to go, here are some highlights of the event to show you why Ctrl+Alt Gaming is the place to be at next weekend! #CAG2018
---
Her Majesty's Mansion: Save Point
Brought to you by Her Majesty's Mansion, take a break and chill at Save Point, a gaming-themed maid and butler café! Situated nearby the event hall, it'll be open for three slots at 10.30am-12.30pm, 1.00pm-3.00pm, 3.30pm-5.30pm on both days. The entry fee of RM25 includes a home-made dessert and drink, and also comes along with a complimentary HMM badge! For more information, visit their Official Event Page.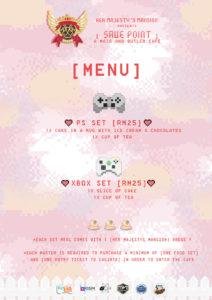 ---
Community Showcases & Tournaments
With a total of 7 local gaming communities present at the event including Fighting Games community, Nintendo communities, Touhou community, Mobile Legends: Bang Bang community, Monster Hunter community, and Hearthstone community, there are tons of activities in store for you! More information on each activity is available on the Official Event Page.
Join our Fighting Games tournament consisting of Tekken 7 & Naruto Shippuden Ultimate Ninja Storm 4 (Day 1), and Guilty Gear XRD Rev 2 & Dragon Ball FighterZ (Day 2)! Inclusive of entry fees, the first tournament fee is priced at RM20 and for the next tournament, it'll be an additional RM5! If you're interested, you can register here: https://goo.gl/FY3cSW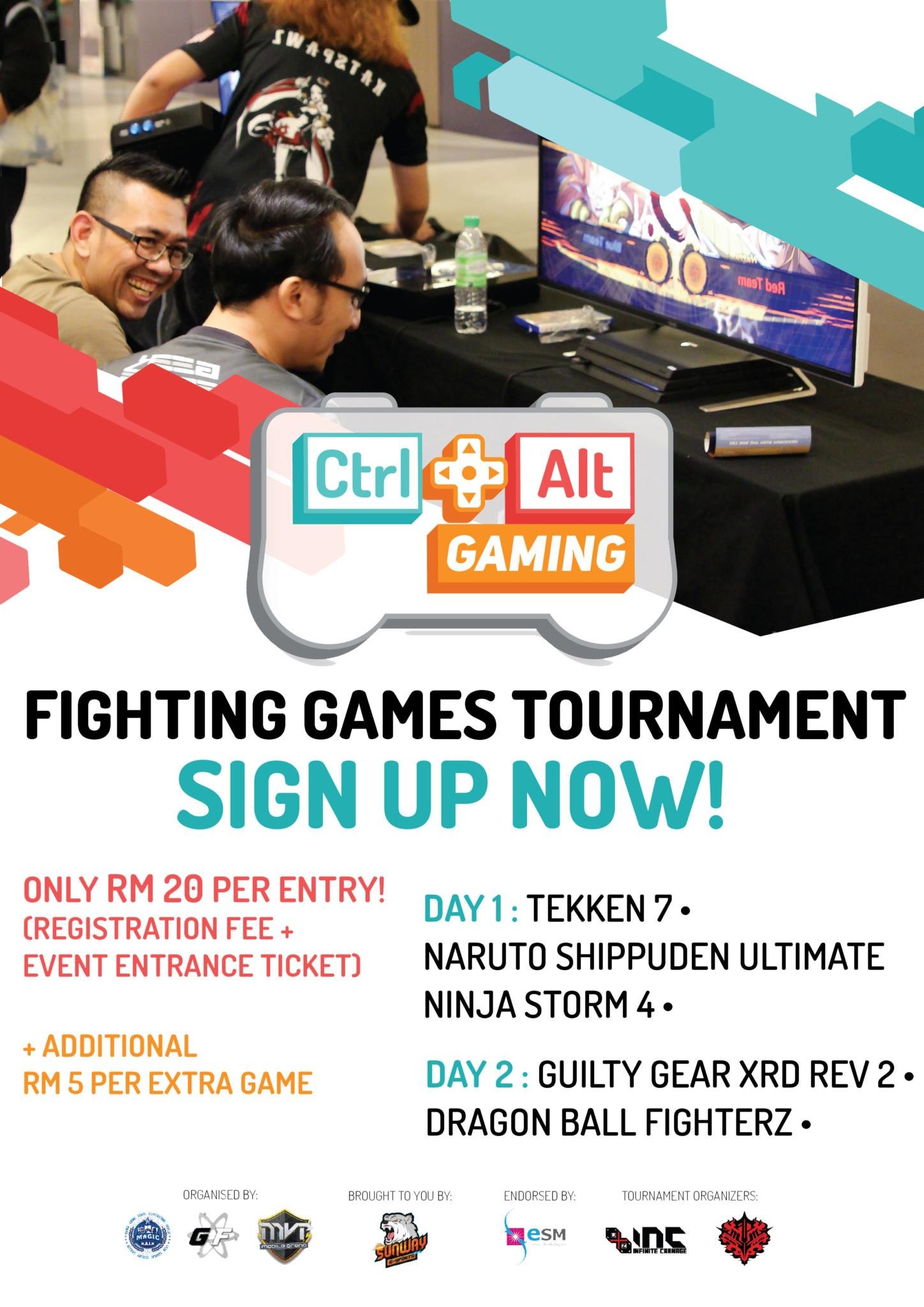 ---
Event Livestream on Facebook
Organised by MVP Mobile Arena, a simultaneous "online convention" will be happening across both days of Ctrl+Alt Gaming 2018. Stage activities, gaming competitions, and other highlights will be livestreamed on the MVP Mobile Arena Facebook page. For those who can't make it to the actual event, here's a way to join the fun! So keep an eye out for the livestreams on the event day itself!
---
Solo Cosplay Competition, hosted by AniManGaki
Witness your favourite game characters come to life during the Solo Cosplay Competition hosted by AniManGaki. The competition will be held on Day 2 (Sunday) and judged by Dora, Version Fenrir, and Rozen Hamanasu. It will also be live streamed by MVP Mobile Arena. For more information about the competition, visit this link.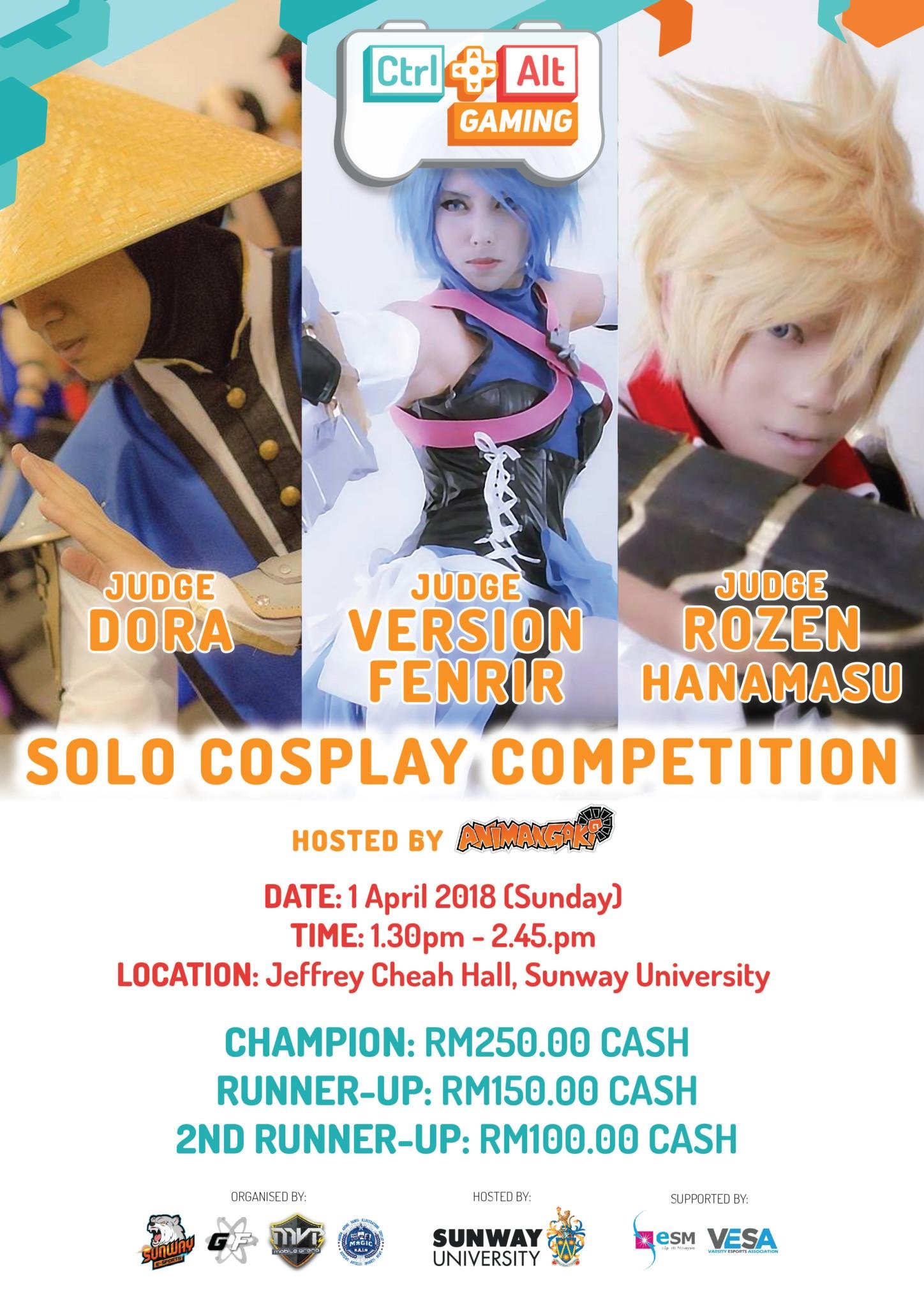 ---
So, which activity are you looking forward to? Let us know on Facebook by participating in our Ctrl+Alt Gaming Giveaway Event!
All you have to do is:
Like 

The Magic Rain

 on Facebook
Comment in the post on which activity you're looking forward to with the hashtags #themagicrain and #CAG2018
Stand a chance to win a pair of tickets to Ctrl+Alt Gaming!
We'll be announcing the winners on 28 March 2018. Best of luck!