Creator: Leehama
Genre: Drama, Comedy, Romance
Chapters: 24 (as of now)
Status: Ongoing
Introduction
Ever since I got hooked on LINE Webtoons, I never looked back. There are many masterpieces on this platform, some not receiving nearly as much praise and credit as they deserve. Gourmet Hound by Leehama is one of my top picks on Webtoons, and while it is already on the Featured platform, I believe it deserves so much more recognition for its blend of plot, drama, colourful art and comedy. Did I mention it also has lots of food and doggos?
Yes, Gourmet Hound is quite literally about food, and lots of dogs. The dogs aren't exactly the main focus but they're important plot pieces that drive the story forward. What would we possibly do without cute dogs, or cute main characters who attract those cute dogs?
Storyline Premise
Lucy has an extraordinary sense of taste and smell, and one day finds that her favorite restaurant, Dimanche, has changed their kitchen staff, and the food she once loved had changed its taste. However, she doesn't know the identity of the chef who cooked her favorite meals there, and by sheer coincidence of smelling burnt eggs and breaking down a stranger's door, she runs into two former chefs of Dimanche and is determined to track down the people from Dimanche who produced "the perfect taste".
Lucy starts to work at Brie and Graham's café, Gourmet Hound, to pay for the door she broke from smelling Graham's burnt eggs, and everything just keeps rolling from there. I like how there's an underlying mystery and hidden character backstories that we have yet to discover, but the tone of the plot is so light-hearted and cheerful that we just allow ourselves to get carried away by it.
The characters of Gourmet Hound serenade and appreciate food like no other, and it probably resonates very well with many of us. Good food brings us all close together no matter our differences, and using the theme of food and memorable tastes, this webtoon explores diversity among people, culture, backgrounds and types of food, all served together on a shimmering plate of goodness.
The plot itself is engaging, and creates some sort of adventure for Lucy to embark on to find the former chefs of Dimanche who all quit due to some unexplained conflict. I enjoyed Lucy's first meeting with Graham especially, but she always has a memorable first meeting with most of the characters in the story which are generally either food-related or dog-related (in Graham's case it was both).
The episodes always end with some sort of cliffhanger that isn't terribly painful to wait for, since this webtoon updates twice a week, but is still engaging enough to keep us excited for the next episode.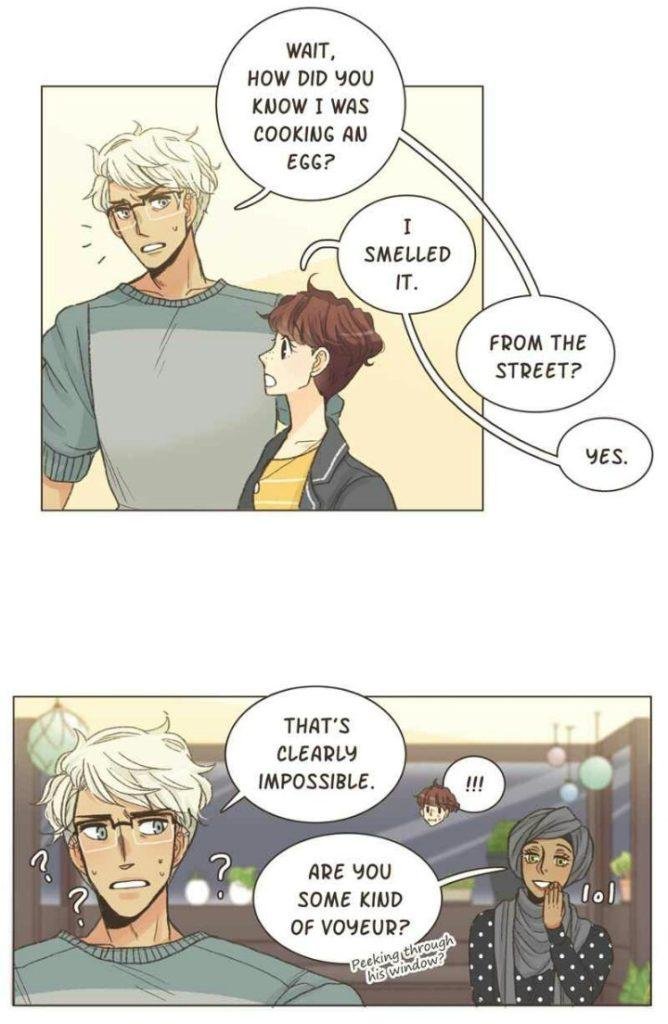 Art
The art of Gourmet Hound is absolutely adorable. It has a bright and refreshing colour scheme and the character designs are very unique and diverse. The foods featured are always drawn so beautifully that one would get hungry from just looking at it. I really like the creator's unique style which gives off such a fun vibe and is super pleasing to look at.
I also appreciate the creator's effort of making Lucy and Graham's young and current appearances notably different – Lucy with her hair length and Graham with his hair colour. It gives off a sense that things have changed between then and now, and somehow we can feel that growth in them just by looking at the difference in their appearances. The dogs are drawn so adorably that looking at them makes me feel like I'm watching a dog video on Instagram. These dogs always have sparkles around them, and they even have their own reactions to certain scenes!

Characterization
Lucy is such a dear that it is hard not to cheer on for her. She is honest and passionate about food, and keeps the taste of Dimanche dear to her heart as she shared precious memories of Dimanche's food with her grandmother. Her single-minded determination of going forward with her sense of smell and taste is astounding and creates light-hearted humour throughout her journey. I love all the moments when we see her abilities compared to that of a dog's, and even when her personality resembles one.
Graham is a former chef at Dimanche who lost his sense of smell from a car accident. For a chef, that practically means he has lost his ability to work in the kitchen. We quickly sympathize with his character, and in addition to his lovable personality, dashing white hair and natural attraction for dogs, he has instantly become a beloved male lead to cheer for.
I appreciate the subtle progress of Lucy and Graham's relationship. Although it seems like fans are trying to push the ship forward a little too quickly, I enjoyed how the creator is taking it slow and allowing things to unfold as they go. One memorable scene is when Graham offers to tie Lucy's tie for her, and fans jumped on the expectation that a romantic moment was going to happen. It didn't exactly turn out like how most of us thought it would, but I loved the moment regardless. I also loved how the creator explained her decision of not making Graham tie the tie around Lucy's neck on her social media, attributing it to Graham's apparent lack of spatial reasoning and the characters' official workplace relationship. It made the characters who they are, and it was still subtle but present – good enough of a squeal moment for me.
I have yet to come across a character I dislike on Gourmet Hound. Perhaps Quincy, but only because his cologne is so strong that it physicalized visually as a huge pink cloud around him. All the characters are very real and relatable, and they each have their personal goals and troubles that adds layers to the story. It was a pleasant surprise to find character sheets for some of the main characters in the series with pretty detailed information on their likes and dislikes. It really paints a clearer picture to who these characters are, making them feel so much more relatable.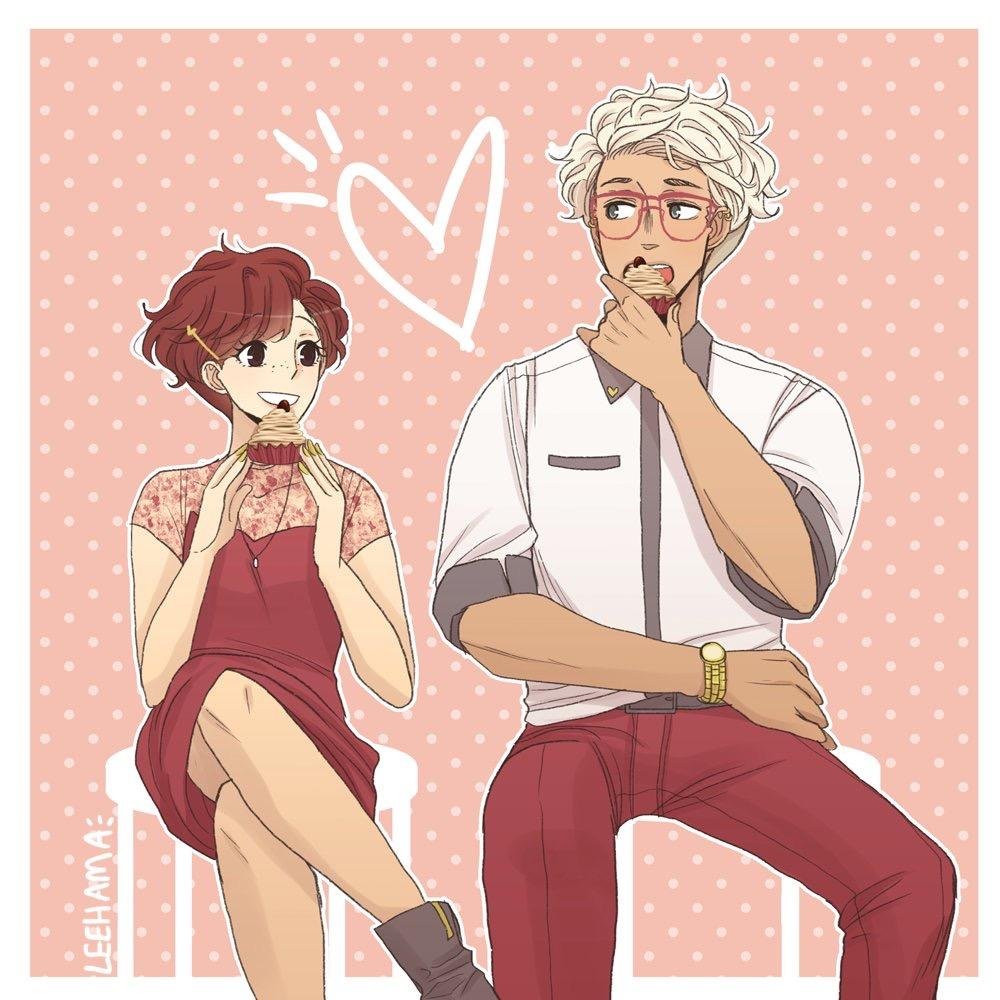 Conclusion
Gourmet Hound is one of those webtoons that I expect to be a chart-topper. It is so much fun to read every update, perhaps even as much fun as Lucy has when enjoying her food. I am excited to see where the series will go from here. Its promising premise and well-established characters make this one of the best series on Webtoons in my opinion. I would rate it 10/10 just for the plot, humour, art style and characters, but with the incredible emphasis on food and dogs, it would be underrated no matter what number I give it.
Gourmet Hound updates on LINE Webtoon every Wednesday and Sunday.
Please follow the creator, Leehama on Twitter here!
---
Like what you see so far? Subscribe to our newsletter by entering your email here!