The Ruination is finally coming to Runeterra and beyond in Sentinels of Light, Riot Games' latest multi-game event. The event centers around a classic battle between light and dark, with the Sentinels, a band of Runeterra's finest warriors, facing off against the evil Ruined King of the Shadow Isles, Viego.
Starting from July 9, all of Riot's titles will be seeing new content updates related to Sentinels of Light. Keep reading to learn more!
League of Legends
Much like last year's Spirit Blossom event, players logging into the game will be given the opportunity to accept missions in order to unlock rewards and story details. While the story will mainly center around the Sentinels' quest to recruit more allies in the fight against Viego, it's also expected to introduce us to two upcoming champions: the new midlaner Akshan, and an as-of-yet unreleased Yordle mage.
The skins featured in this event will also be up for purchase, with shiny new Sentinel skins available for Diana, Irelia, Olaf, Riven, Vayne, Graves, Pyke and Rengar; while Pantheon and Miss Fortune will be joining the Ruined lineup released earlier this year.
Sentinels of Light will also see the addition of a new game mode, Ultimate Spellbook, which allows every player to steal another champion's ultimate for the entire duration of the game. The mode also transforms Summoner's Rift into a spooky, mist-filled map that's perfect for the occasion.
League of Legends: Wild Rift
Wild Rift is marking the occasion with a similar event known as Sentinel Bonds, where players will be able to unlock new emotes and cutscenes by completing a set list of objectives. A select number of Ruined and Sentinel skins will also be making the jump from League PC to mobile on the 28th of July, so you'll want to keep an eye out for their release.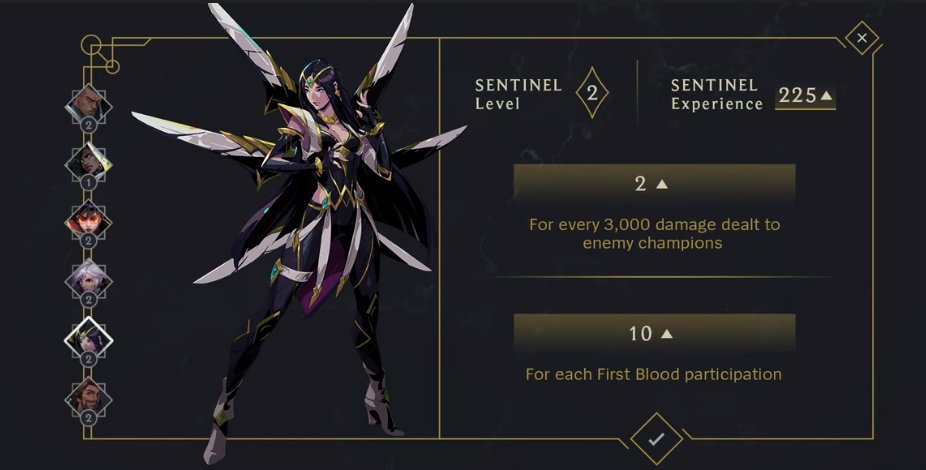 Teamfight Tactics
Teamfight Tactics will be introducing Dawn of Heroes, a mid-set expansion to the current Reckoning set. The update switches out the game's current Shadow items mechanic for new Radiant items, while also adding 12 new champions with their own unique traits and abilities to the game board. You'll also be able to add some new Little Legends to your roster, such as the adorable Victorious Featherknight.
Legends of Runeterra
Legends of Runeterra is set to kick off a massive in-game event on July 14, with new cards being revealed every day leading up to the event. At the time of writing, we've been given our first look at over 28 new cards coming to the game, including two new champions in the form of Viego and Akshan. A full list is available here.
Based on the teasers released so far, it seems like fans will also be able to purchase Ruined and Sentinel skins for champions like Shyvana and Riven, along with the usual goodies such as Guardians and card backs.
Valorant
Despite not being connected to the main League universe, Valorant will also be joining in on the festivities with the Ruination skin bundle. The bundle includes a new gun buddy, player card, skins for Ghost, Guardian, Spectre, and Phantom, and a new League-inspired melee weapon called Blade of the Ruined King.
---
That's all the news we have so far! If any of the cosmetics for Wild Rift, Legends of Runeterra, or Valorant caught your eye, be sure to head on over to Codashop to top up your account before making your purchase.
Are you looking forward to the Sentinels of Light update? Let us know what you think in the comments!