The main story
E3, short for Electronic Entertainment Expo, has just concluded and the dust hasn't settled yet. Fans are clamouring over the new titles that has been teased and some of the most anticipated games have been given a definitive release date. Despite having over hundreds of announcements over the course of 4 days, we have endeavoured to compile the 30 must know announcements just for you, including mega blockbuster titles, sleeper hits and even our personal favourites.
What you should know…
E3 is the world's biggest annual gaming expo in the history of the gaming industry. Some of the biggest software and hardware reveal has always been done on the stage of E3 due to its popularity and its ever changing nature in how it chooses to promote the latest news regarding gaming technology.
Crux of the matter
Here are the announcements that literally and figuratively incited the hype in all of us at the TMR Gaming Panel.
---
1. The first person shooter, Metro Exodus, which is a technical sequel to Metro: Last Light and Metro 2035 looks astonishingly great and is coming to you in 2018.
2. Anthem, a surprise announcement by EA, is a new IP that combines elements of Attack on Titans (the human colony resides within the safety of a giant wall) and Lost Planet (savage monsters lurking in the wild that can only be taken down by superior tech and firepower) which is slated for a 2018 release.
3. Kratos has matured and has taken on a very different personality as he trains his son to fend for himself in the soft reboot of the famous God of War franchise. Norse mythology plays a big role in this 2018 installment as the giant white snake is rumored to be Jormungandr.
4. Spider Man for the PS4 looks solid as it has incorporated gameplay features of Batman: Arkham Asylum with Spidey's own unique powers and humour. With a cameo by Miles Morales, finally a great game with our friendly neighbourhood wall crawler in it is looming on the horizon in 2018.
5. Monster Hunter World has finally come back to the land of graphical brilliance as Sony has wrestled away the franchise away from the exclusive grasp of Nintendo. Sporting more detail than ever, this new game comes to fans in 2018.
6. Shadow of the Colossus is a cult classic that made the PlayStation 2 the content powerhouse at the height of its heyday. Following a remastered version on the PS3, this is a full on remake that will abuse the visual capacity of the PS4 in 2018.
7. Shadow of War, sequel to Shadow of Mordor, is set to expand upon the lore of Middle Earth when it comes out on 10th October 2017.
8. Detroit: Become Human has some of the best facial expressions on a rendered character we have seen to date. Boasting complex societal issues, expect this game in 2018 or… 2019.
9. After taking an immense amount of criticism, Star Wars Battlefront 2 is out to set all the wrongdoings of the first edition of the game. New characters, a variety of powers and a new reward system has revamped the entire game which will be out in November this year.
10. Days Gone is an open world horror action game that focuses on zombies and how to survive a horde of them running straight at you. While no release date was given, it looks to be an interesting take on the genre.
11. Destiny 2 is the sequel of Destiny that did rather pretty well after the patching of its various issues. Hitting stores on the 6th of September 2017, expect third person purists and fanboys to be lining up for this title when it launches.
12. Beyond Good and Evil 2 was under speculation for a long time but knowing that the first game was a commercial failure, it had to be a hard decision for the developers to push this game trailer out. However, if the reactions are anything to go by, the game looks fresh and ridiculously fun.
13. After critical acclaim for its storytelling and its frustrating gameplay of the prequel, The Evil Within 2 rears its psychological head on Friday, 13th October 2017.
14. Unchartered: The Lost Legacy is the first standalone series of the franchise that focuses on the fan favourite character Chloe Frazer, who is searching for a mystical artifact. Help her search for her McGuffin come this 22nd August 2017.
15. Skull & Bones is an upcoming multiplayer pirate themed multiplayer that combines ship building and tactical maneuvering in the open seas. When the game hits the shores in late 2018, there will be only one MO, and that will be to see who can plunder the most loot.
16. Who doesn't love Mario? Super Mario Odyssey is the 16th title in this long loved franchise and it continues to push the boundaries of innovation with the addition of a living cap! Expect great things from this series that never disappoints on 27th October 2017.
17. Assassin's Creed Origins is another title to be released on the 27th of October this year. Due to the fervent demand of its fans, the story is set in Egypt and looks to be a breath of fresh air from the stale mechanics that has made this once great game lackluster.
18. Sea of Thieves is set to sail in early 2018 and looks to be a fun multiplayer action game set in the realm of gruff seafaring pirates played from a first person's perspective.
19. Wolfenstein 2: The New Colossus is set in an America which has been taken over by the Nazi regime. It is surreal, gritty and not for the faint of heart as the graphics and gameplay seems preposterously beautiful.
20. Hidden Agenda is a brilliant new game from the creators of Until Dawn that utilizes PlayStation PlayLink to interact with friends. PlayLink brings gaming and mobile technology together for endless possibilities and in Hidden Agenda, it really matters.
21. Metroid Prime 4 was an announcement no one saw coming, as the franchise has been quiet for quite some time. Nothing else has been spoiled save a slate with the title on it, so expect a few years of development before we see a functional trailer.
22. Total Warhammer 2 arrives on the 28th of September later this year and it begs you to take control of its new factions namely Lizardmen, Dark Elves, High elves and a mystery race that is yet to be revealed. Expect more chaos and mayhem than the first game as controls are tighter and faster as the emphasis on the unique disposition of each race is highlighted.
23. Featuring a crazy Terry Crews as its game ambassador, Crackdown 3 centers around the cloud powered real time destruction of its surroundings. No release date as of yet, but hopefully 2018 will be the year it comes out.
24. Age of Empire: Definitive Edition marks the 20th year anniversary of the series and I must admit it was one of the first PC games I played (I was addicted to it). The Beta version of this classic fan favourite will be out later this year, so the game shouldn't be too far off.
25. LawBreakers is a new IP that comes from the developers of Gears of War. It is an arena shooter that has a unique twist via its gravity defying movements. Though there is a lot of glitches and bugs in the game, it looks revolutionary… Just hope they get it right in time before its launch, hopefully, 2018.
26. Ni No Kuni 2: Revenant Kingdom is heavily inspired by the animations from Studio Ghibli, sporting smooth animation with interesting gameplay enveloped with a riveting storyline. Trust this game to cure the JRPG itch you have this 10th November.
27. Based on the classic tabletop game of the same name, BattleTech is an upcoming turn-based strategy game which successfully funded its development through Kickstarter and it plays very similar to that of the popular Armored Core series. No launch date as of yet, but it has been a long time since a mecha game was highlighted at E3.
28. Skyrim VR was announced for the Switch console and while we feel that this franchise has been milked to death, there is a strange satisfying feeling of plunging a sword into the heart of a dragon…in VR.
29. A mainline Pokemon RPG was confirmed in development for Switch, breaking the Nintendo home console curse. This is the second biggest announcement of E3 as Nintendo has decided to breakaway from norms and place its faith in the Switch with the world's most popular game franchise, Pokemon!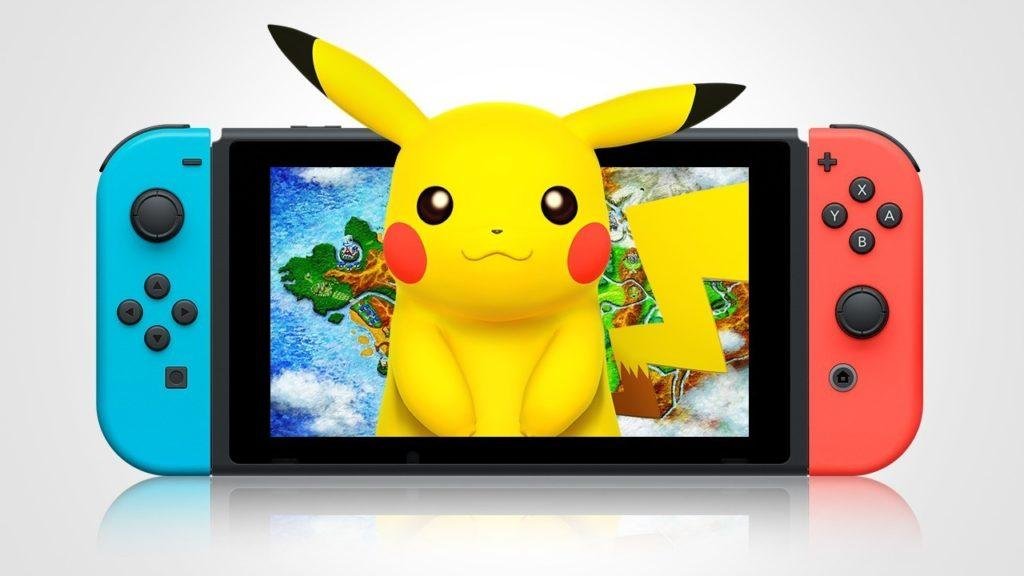 30. We have saved the best for last. Without a shadow of a doubt, Xbox One X, the official name for Project Scorpio, is the showstopper of E3 2017.
With some truly remarkable specs – like a 6 TFlop GPU, 12GB GDDR5 memory, and 326GB/s memory bandwidth – plus support for original Xbox games thanks to backwards compatibility, the Xbox One X is sure to be one of the holiday's most sought-after gifts, at least in America. While the platform is impressive, a console is only as great as the games it has on it and to that degree, it will be a great war to watch as exclusive titles fly left and right soon.
---
The TMR Games Panel's take on this
Each of us has a different favourite pick of E3 and we explain why below.
Nathan's Pick: Wolfenstein II: The New Colossus
2014's Wolfenstein: The New Order gave us something quite unimaginable: a compelling, character-driven story in a game about running around, guns akimbo, killing the ever living crap out of Nazis. Now the series returns with a trailer for a sequel that showcases an even more interesting continuation on the Nazi World Order setting – a Nazi-twist on 1940's America that promises even more interesting characters and scenarios, backed by beautiful visuals and an even punchier gunplay. Plus, the trailers are just so charmingly made – so entertaining to watch even for those uninterested in shooting big guns.
Douglas's Pick: Hidden Agenda
Having played Until Dawn multiple times, I'm keen to see what Supermassive has in store for us in this latest IP. From what is shown so far, Hidden Agenda is a crime thriller party game with a brand new feature called PlayLink. It is shown in its trailer on how players can use their android or iOS mobiles to play the game.
Nicholas's Pick: Monster Hunter World
After being exclusive to Nintendo's hardware for the longest time, Capcom dropped a bomb during Sony's press conference by announcing Monster Hunter World for both the PS4 and XBox One. This is huge news for many fans of the series, as the franchise while still extremely fun on Nintendo's systems, has always hungered for more power to tap into higher potential. It would seem that Capcom is truly seizing this chance and running with it as they're already touting the game's new features such as drop-in, drop-out online multiplayer and seamless area transitions, all with a fresh new coat of high-res paint. With the series' track record of amazing games, Monster Hunter World is truly a title to be watching out for.
Char's Pick: Shadow of the Colossus
Call me a sucker for nostalgia, this game redefined many things about the RPG genre. Widely acclaimed to be one of the greatest games made of all time, the game is unusual within the action-adventure genre in that there are no towns or dungeons to explore, no characters with which to interact, and no enemies to defeat other than the 16 colossi themselves. It also combines puzzle solving and platforming, as the colossi must be scaled and weakened before it can be slain. Often cited as an influential title due to its minimalist landscape design, immersive gameplay and emotional storyline journey, this game has garnered many awards for its audio, graphics and storytelling quality. If you are a true gamer, you have to play this game at least once before you die. Nuff said.
Thought we missed out on a big announcement? Tell us what you think in the comments section below!
Till then, stay gold!