Recently, we had the honour of interviewing Lyn-Hui Ong, a talented children's illustrator and graphic designer based in Penang who caught our attention with her colourful art. Today, we'll be exploring her journey as an artist and sharing her story with you. Let's go ahead and dive right in!
Disclaimer: Answers may be edited for clarity of reading and comprehension.
---
Tell us about yourself.
I'm Lyn-Hui Ong, you can call me Lyn. I'm a children's illustrator, and co-founder of ForReal Studio. I love spending time watching and studying movies and cartoons, and drawing fanart. I'm a very crazy cat lady and a proud cat mom to three: Oreo, Cookie and Mochi!
Describe your art style and how you came to develop it.
My current illustration style is very simple, yet intricate. In my early days as a design and illustration student, I always wanted to study and draw human portraits that were super realistic, but my drawings were always out of proportion. I couldn't even draw straight lines and perfect circles.
After struggling for a long time, it was time to think outside the box. What if I drew portraits but simplified them? Eventually, I ended up with the style I have today.
Who and/or what are your inspirations?
I'm a huge fan of Joey Chou's work, and I grew up watching a lot of Craig McCracken's cartoons, including The Powerpuff Girls, Dexter's Laboratory and Foster's Home for Imaginary Friends. He is the reason why I loved drawing so much when I was younger, and made me who I am today!
What do you do during your free time?
This is a very confusing question to answer during Covid-19! [She laughs] If there was no Covid-19, I'd probably say that my hobby is drawing. That's hard to believe, right? But after being stuck at home for months, I find cooking to be very therapeutic, and am learning to play the ukulele. I'm even starting to work on some clay art!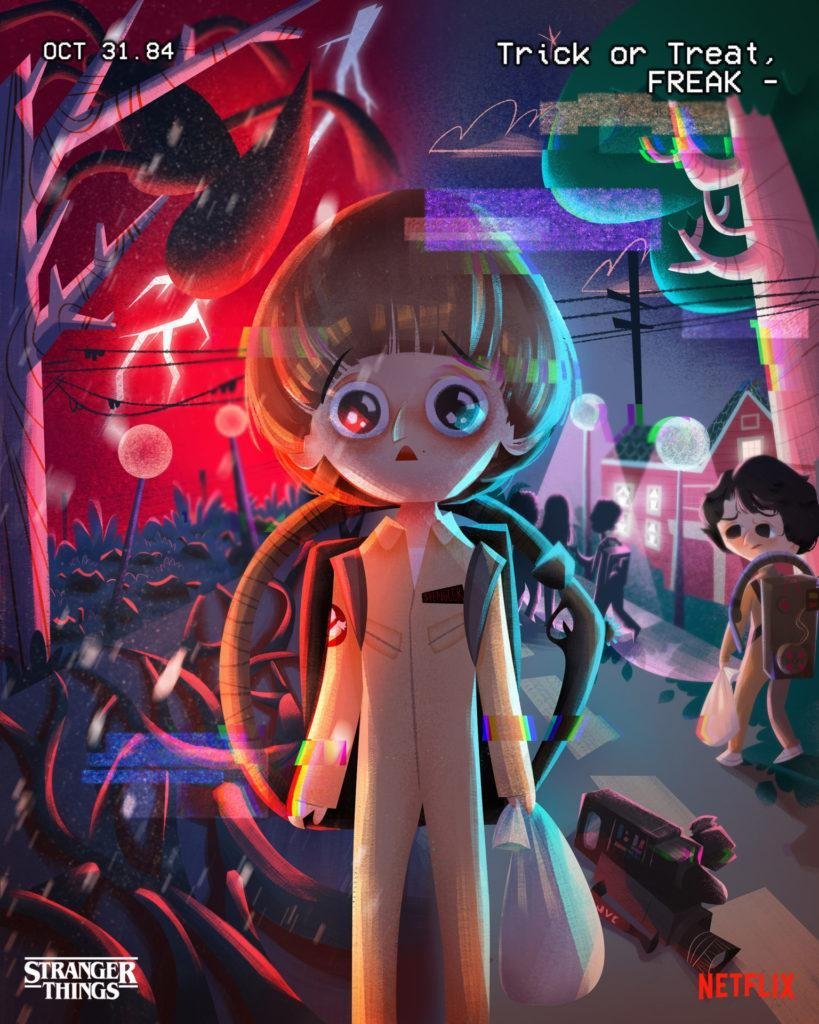 Could you briefly share your experience of working with Netflix?
When I received their first email I was like, "Whaaatttt?!" It was unbelievable! As an illustrator, I definitely encourage artists who want to gain exposure to post their work online via social media. You never know who's looking at your work from the other side of the screen. I have an Instagram art account where I post a lot of fan art, and apparently they noticed my work there.
One of the most challenging things about working with Netflix US is knowing that I was in the same campaign with some well known artists in the industry. I felt super anxious when I found out that Jean Jullien and Kim Jung Gi were among the 18 artists selected from all over the world to work on the same project with me.
It was an unreal experience and I eventually got to work on a few projects with Netflix Malaysia too! It's a blessing to find clients like Netflix who really appreciate creatives, and I'd love to work with them again in the future.
What's it like to work full-time as an artist during Covid-19?
One word: TOUGH! My partner JinXin and I founded ForReal Studio in 2014. We pretty much do everything and anything related to design and illustration, as well as a ton of event and hotel branding work. The beginning of 2020 was pretty scary as many projects were on hold and cancelled. It was a tough year, but we are currently working on producing our own products in the future, so stay tuned!
Have you faced any challenges pursuing art as a career thus far?
When I'm feeling motivated to work and have to get a proposal done before a deadline, but I can't seem to get my creative juices flowing. Having art blocks are the worst!
Which is the artwork you're most proud of so far?
I'm currently working on a project that aims to help kids with learning disabilities communicate. It may not be the most fancy project, but I can't wait to show it to the world.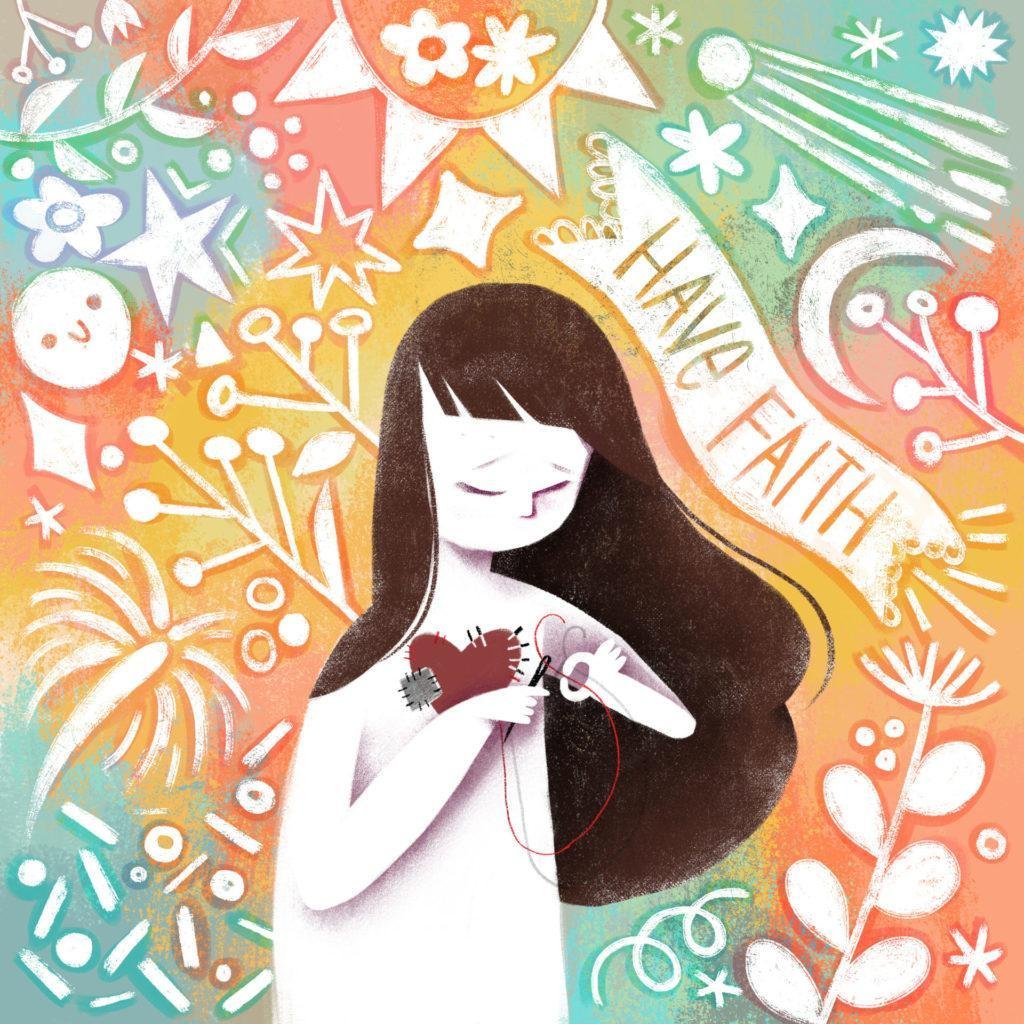 What is the most important value an artist should have?
Being able to keep believing in what we do. Oftentimes people tell us that what we are doing is not essential and not impactful, and that's when an artist starts to doubt themselves. We will meet a lot of negative minded people like this along our journey, so it's important to always believe in ourselves and stay true to what we're doing.
What is your next goal as an artist?
I've always wanted to produce my own products, but since I'm always working on commission projects for clients, I do not have the time to do so. I do have a love-hate relationship with the pandemic, because as much as I struggled through 2020, it has given me a chance to reflect on what I want to achieve in life. My goal as an children's illustrator is definitely to produce a picture book aiming to help kids and even adults deal with grief and loss.
What are your dream collaborations?
There are so many I just can't decide on one. I'd probably say, Disney! As a kid who watched Disney movies 24/7, I dreamt of being an animator. However, I grew up in a small town on mainland Penang that had zero job offers as an animator, so I ended up becoming an illustrator.
Drawing cartoons and designing characters is what I do on a daily basis now, and I looove my job! Though, I'd still go crazy if I ever receive an offer to collaborate with Disney one day.
What do you think of the art / creative industry in Malaysia?
When I was younger, art was a discriminated or "unimportant" subject in my school, so I did not take art as a subject for SPM. After graduation, I couldn't find any art groups or societies where I could fit in.
Now, social media has helped the creative industry bloom immensely, knowing that we can find and support other local illustrators and share our thoughts just through our phones makes me extremely happy.
How do you think art has evolved through your years of drawing?
The art industry is definitely getting more and more competitive over the past years. With social media and tutorials everywhere, anyone can learn to be an artist / designer.
Any advice to those who aim to pursue art as their career?
Build a portfolio and have an online presence. Like other professions, designers and artists can easily get a diploma or degree certification, but in my opinion, a good portfolio is much better than having certificates.
There are many great artists who are self taught, so my advice is to create art and showcase them through online portfolio sites such as Behance, ArtStation or even Instagram!
---
And there you have it! We would like to thank her again for the chance to speak with her. We also hope that you have gain some inspiration and motivation from Lyn-Hui!
For more art and inspiration, be sure to check her out on Facebook, Instagram, Behance, and support ForReal Studios on Society6.