Japan is known for its abundance of natural disasters all year round, with the local government undoubtedly spending millions just to repair the damaged infrastructure and support unfortunate citizens who were affected by the natural disasters.
The typhoon that happened in September last year was no exception. That makes this gaming community's contribution to support affected citizens that much more heartwarming. Let's dive into the details!
The Whole Story
On 7th of September 2020, a tremendous typhoon hit the Island of Tsushima located in between the Tsushima Strait and the Korea Strait in South-West Japan. Aside from the casualties, many buildings and structures were also damaged, including the Torii gate situated at Watatsumi Shrine.
In conjunction with the restoration of said structure, Yuichi Hirayama, a priest from Watatsumi Shrine launched a crowdfunding page on 15th of November 2020. During the donation period, over 2,000 people contributed to the project with a large portion of donators being gamers or fans of the game, Ghost of Tsushima. Priest Hirayama especially thanked the gaming community in Japan, saying that "received a great deal of support from players of the Ghost of Tsushima game."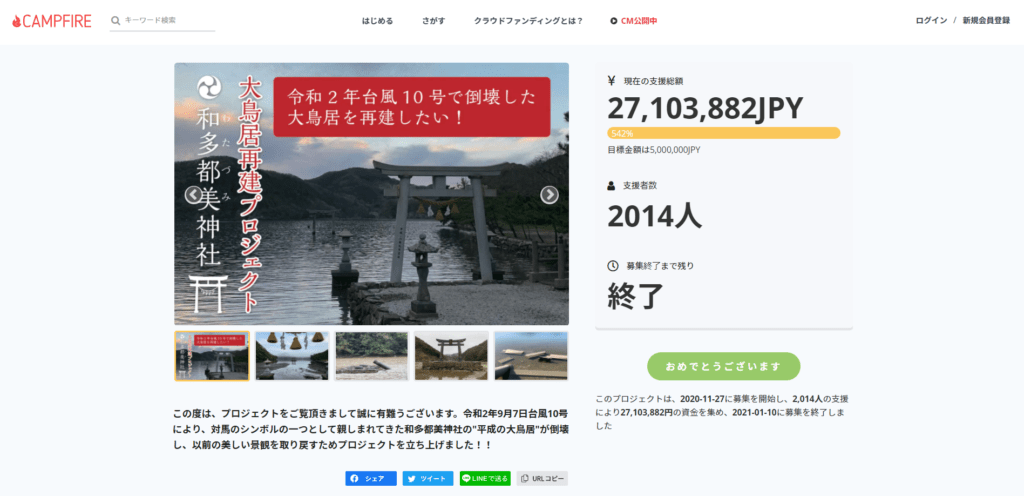 In the end, the project was incredibly successful and even surpassed the original goal of 5,000,000 Yen by a landslide with the total of 27,000,000 Yen being raised for the cause! The reconstruction of the Torii gate is expected to begin around March or April this year, but the schedule might be pushed back due to the effects of the pandemic.
Spreading The Positivity!
Fans of Ghost of Tsushima started to share the news on Twitter, feeling proud to be part of a wonderful community! It's definitely a satisfying sight to see.
This just shows anything is possible and that anyone can make an effort to help if they are really willing. Why not try it yourself next?
Do you have any interesting wholesome stories to share for next week? Let us know in the comments!