Last weekend (June 30th – July 1st), we were treated to a quaint little event called Comic Art Festival Kuala Lumpur, now in its 5th year. Held in Atria Mall, the event focuses less on the cosplay aspect of ACG events and mainly brings to light the immense creativity of our local artists, with a touch of international flavour.
With a decorated guest list featuring names like Afu, Surfaçage and even Kipen in the flesh, this year's event feels like a winner on a lot of different levels.
So what actually was being offered? Glad you asked, cause there were a lot of neat stuff.
---
1. The Art!
There were more than 130 booths at the event, each offering a unique selection of original content as well as fanart of established franchises, such as Overwatch and even the odd Final Fantasy XIV stuff. There's a lot of stuff for everyone, no matter the kind of style you're into. Stickers, badges, postcards and even the odd commission or two were all available for purchase.
Not to mention there were gacha machines right next to the entrance, if you were feeling lucky.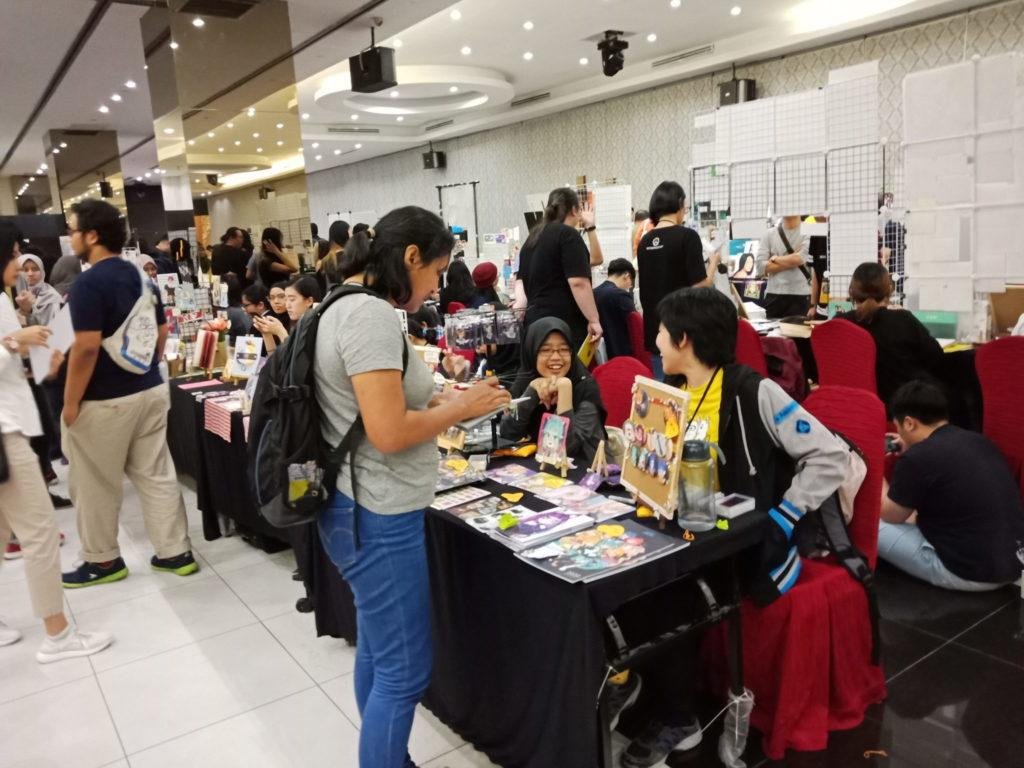 ---
2. Activities
There were areas at both ends of the event where event-goers can contribute and expose their creativity through comics, namely the Art Jam and the Comic Worm areas. Art Jam is where people sit down and just start drawing whatever comes to their mind, while Comic Worm allows you to use your art to tell a story, where you decide how things progress.
It's fun times for everyone, and reading the comic at the end of the day brings about a few laughs and chuckles. Afu even made an appearance at the Art Jam corner on Day 1, for an exhibition of his impressive watercolour skills.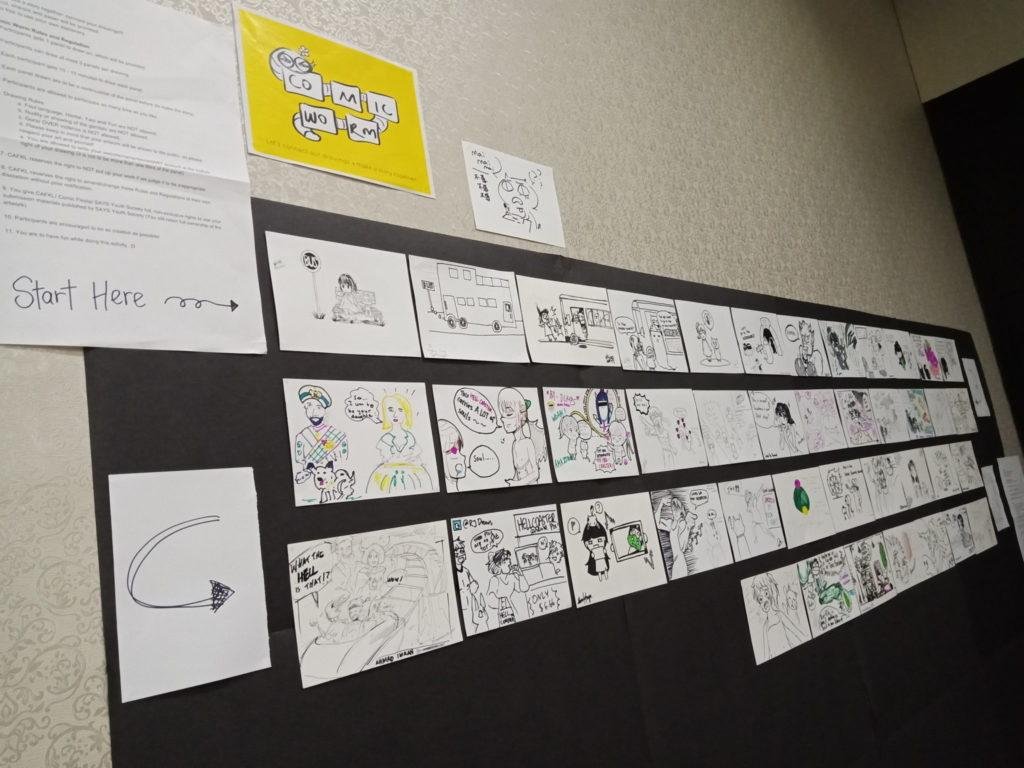 There was also a fun little activity for others to do, a stamp rally. Attendees with their entrance passports would look out for a few stamps lying around, hidden in the event. All they had to do was find the stamps, and stamp them into the spaces provided on the back of the passport to have a chance to win some neat prizes.
Unfortunately, the rally proved so popular that on both days, every single prize had been given out before half the day had even ended. Just goes to show how much Malaysians love their free stuff!
---
3. Panel Talks and Demonstrations
In terms of serious content, there were also some panel talks for aspiring comic artists to take heed of. Such panels include a look at how comic IP's are growing in China, opening up markets for local artists to get their works published. We also gained insight on how crowdfunding can allow independent creators to put out their products, courtesy of local artists Albert Lim and Tan Zie Aun.
The panel talks were complemented by a couple of art demonstrations from Afu and Surfaçage, showcasing watercolour and digital art respectively, as well as a life drawing session with an actual model from the Geetha Shankaran Dance Studio.
Conclusion
All in all, there's a lot to like about CAFKL if you're passionate about art and comics. It provided an excellent platform for artists, young and old to learn and improve themselves. That is not to say there isn't anything for the average joe as well, with the large amount of gaming and anime-related fanart that anyone interested would be able to pick up.
There weren't a lot of activities planned compared to other events, but the ones that are present were carefully curated in order to pack as much content in as possible while still being interesting and able to capture the audience. The venue itself was comfortable, cool and spacious as well
I had a lot of fun at CAFKL and I hope that those who attended did too. It's nice to see the audience and market grow so much over the past few years, and hopefully the trend continues for the aspiring comic scene of Malaysia.
---
Did you attend CAFKL? If so, what was your experience like? Share with us down in the comments below!