"Maidsuri? Don't you mean, omatsuri?" No, in this case, we absolutely mean Maidsuri. As in, maids and butlers dressed in yukatas for an omatsuri-inspired café!
Her Majesty's Mansion presents Chapter 6: Maidsuri in conjunction with Kikasai 2018, a FREE event organised by UCSI happening this 23-24 June 2018. The café will be held on event grounds in Aromas Coffee, South Wing UCSI University.
For the first time ever, the café will feature the maids and butlers out of their traditional uniforms. Instead, they'll be donning traditional Japanese yukata provided by Chibi's Cosplay Shoppie.
Entrance to the café is RM35 inclusive of a meal and drink, with four delectable options to choose from: zesty Spaghetti Bolognese, creamy Carbonara Spaghetti, succulent Chicken Chop, or sweet Dessert of the Day.
Each meal comes with a cup of green tea, but you can add on RM5 to upgrade your drink to Nescafe or Honey Lemon!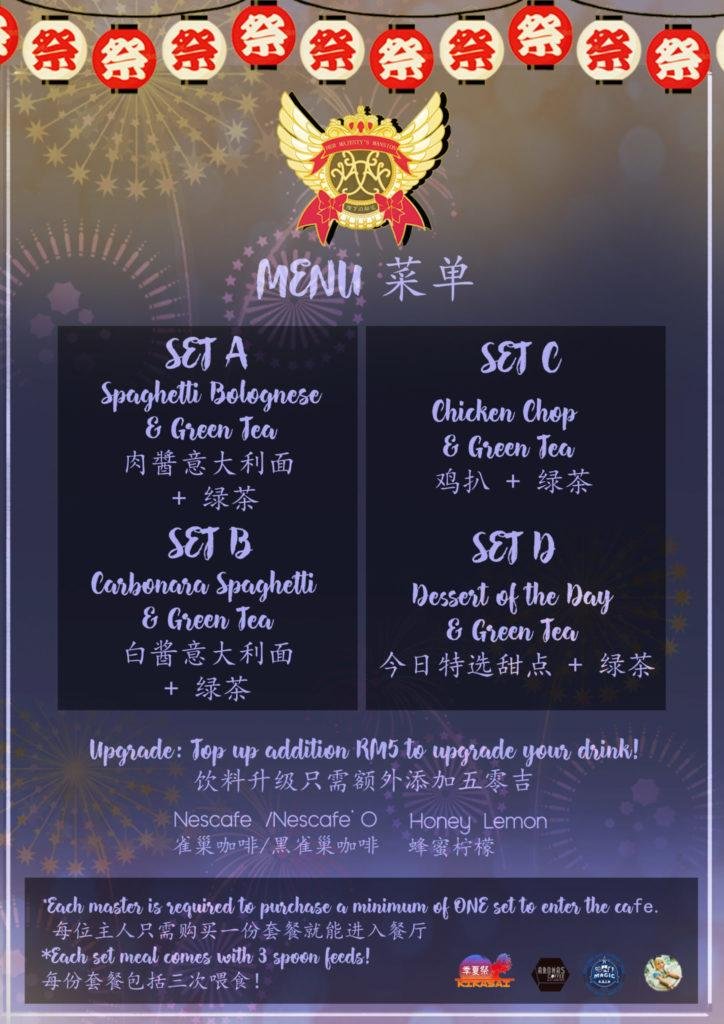 The first 100 guests who register online will be entitled to one FREE Arrows of Fate game with the maids and butlers. So what are you waiting for? Book online now!
EVENT: Kikasai 2018
VENUE: Aromas Coffee, South Wing UCSI University
DATE: 23rd – 24th June 2018
TIME: 11.00a.m. – 6.00p.m.
TIME SLOTS: 
10.30am – 11.30am
12.00pm – 1.00pm
1.30pm – 2.30pm
3.30pm – 4.30pm
5.00pm – 6.00pm
---
For more information, visit the Official Event Page or Her Majesty's Mansion on Facebook!