Genre: Drama, Horror, Psychological
Episodes: 3/12
Studio: production doA
---
I remember a time when mahou shoujo anime meant the series would be about cute girls doing cute magical things and fighting for justice. But because we can't have nice things, Madoka Magica came into existence and everything changed. That series turned the entire genre of mahou shoujo on its head, making things like soul/blood contracts, using magic to kill, and perversion of innocence common themes in an otherwise unrelated genre.
The original Mahou Shoujo Site may have only debuted two years after that, but its anime adaptation comes in at a time when these things are already commonplace. Frankly, I would even say they're growing steadily uninteresting. Still, its first episode seemed to make a splash on social media, and that's why it demands a watch. Let's see how this goes.
Mahou Shoujo Site wasn't as bad as I thought it would be, but it wasn't great either. The story premise is fairly cliched but interesting enough, surrounding a sort of battle royale scenario except with magical girls. The mechanics of it, especially the usage of magical items that grant abilities (rather than inherent magical powers) reminds me heavily of Mirai Nikki, and I expect the story will attempt to follow in a similar direction as well.
However, it's hard to tell within three episodes whether the story will be worth following. Even though they've already begun seeding clues and mystery, there has been very little about it so far that has differentiated itself from similar stories. Heck, they've already done the "cute girl is a psychopath" trope, "weak main character is weak" trope, and the "apocalypse is coming" trope.
What makes it even more difficult to watch is the animation. Not only is it rather inconsistent, I feel it also doesn't do the creepy vibe of the story justice. It definitely gave me the impression that the production studio overestimated themselves by taking this project on. It's mediocre at best and definitely impacts my viewing enjoyment.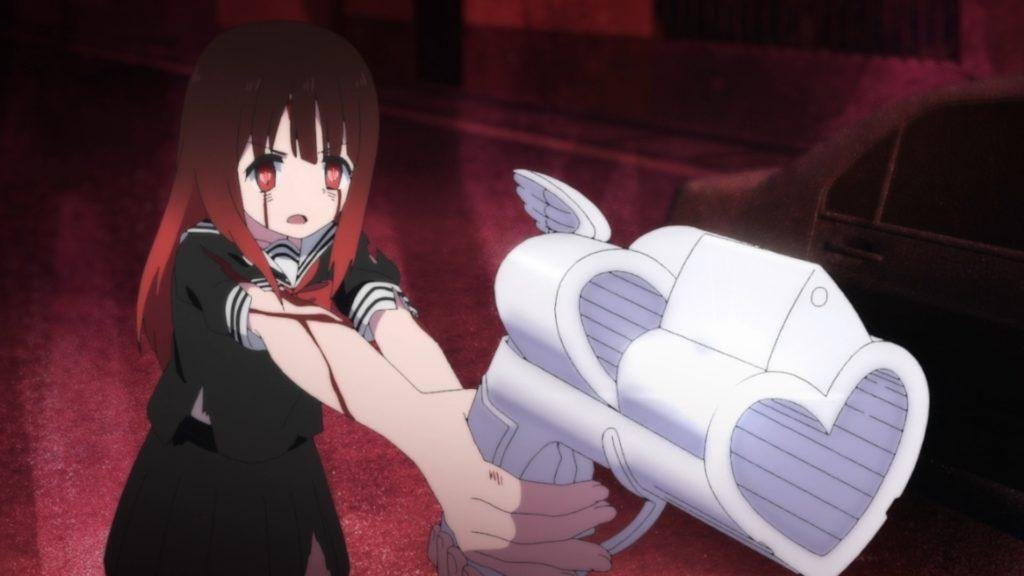 The voice acting, on the other hand, is impressive. The stark contrast in quality between the animation and voice acting was glaringly obvious to me, and the latter alone deserves a shout out because of that. The voice actors were the main reason why the series still came off as creepy to me, despite the other aspects not contributing much to the overall atmosphere. Kudos!
Overall, I'd give this anime the benefit of the doubt. There's still room for the story to grow, perhaps in ways that I won't expect. However, my first impressions (especially for the animation quality) aren't great. I might end up reading the manga instead! We'll just have to wait and see…