Fans and friends of The MAGIC RAIN it's time to round off Q1 of 2018 with some fun because we've got another exciting event for you! Get your gaming groupies into high gear because from the 31st of March to the 1st of April 2018, the Sunway e-Sports Club will be hosting the first ever Ctrl+Alt Gaming at the Jeffrey Cheah Hall, Sunway University!
Officially supported by e-Sports Malaysia and organized in partnership with Games Fusion, MVP Mobile Arena, as well as yours truly, The MAGIC RAIN; Ctrl+Alt Gaming will be a thrill ride for gamers old and new.
This two-day event will take place from 10AM – 6PM on each day with an entry fee of RM15 for both days. As a community-wide initiative, Ctrl+Alt Gaming aims to celebrate and recognize all types of Malaysian gamers regardless of background or interests; in hopes to create a welcoming atmosphere that encourages gamers to mix, mingle, and share their love for the hobby with the larger community.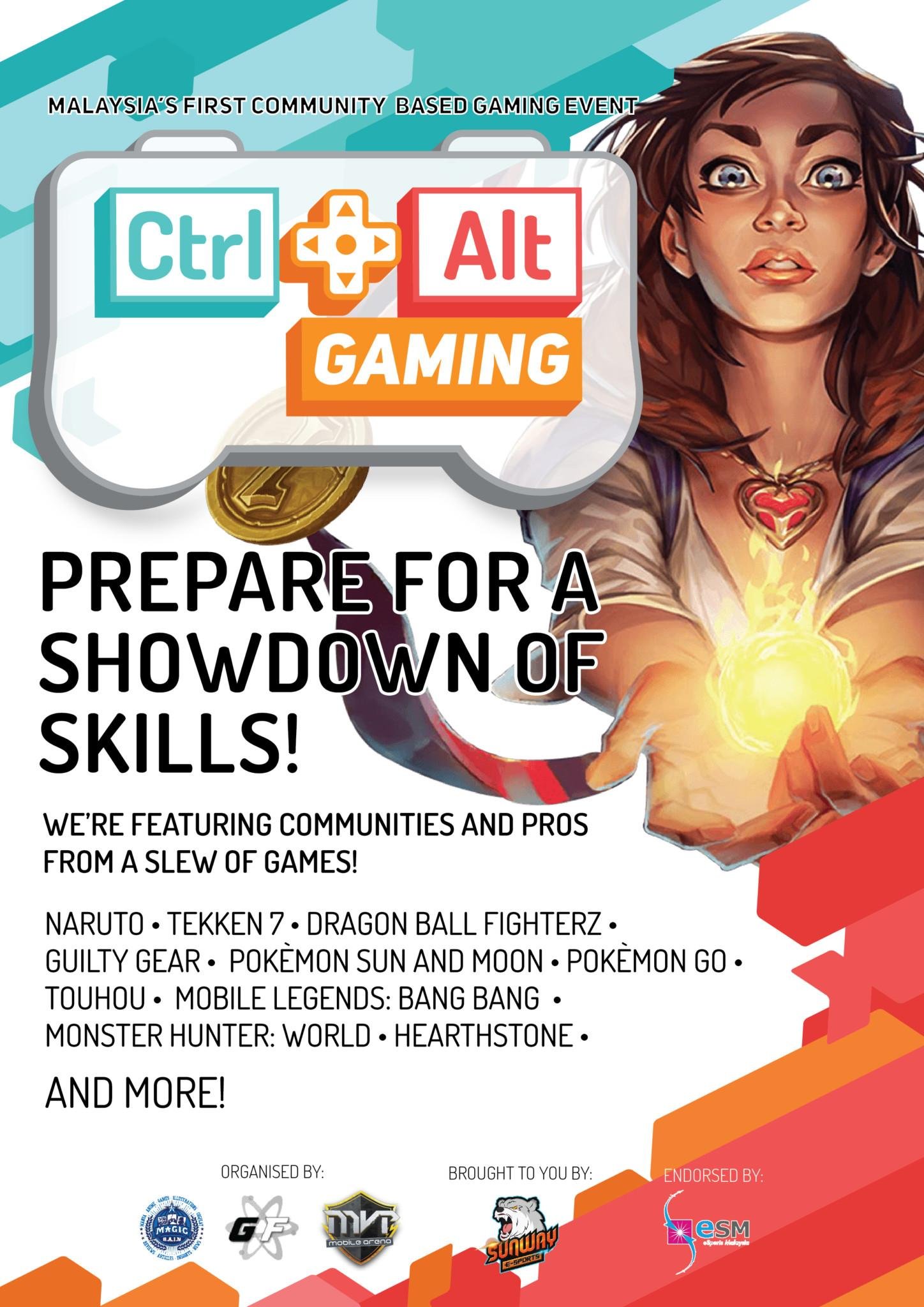 If you wanna know a bit more about the going-ons during the event, here's a brief summary of what you can expect:
Virtual Reality Opening Ceremony & Gaming Arena
In partnership with VR Lab Sunway, Ctrl+Alt Gaming 2018 will be officiated by representatives from Sunway University and Sunway E-Sports Club in an out-of-this-world virtual reality session. VR Lab will also be hosting a series of virtual reality games FREE for the event attendees to experience and enjoy.
Community Showcases & Mini Tournaments
There will be a total of 7 local gaming communities present at the event – Fighting Games community, Nintendo communities, Touhou community, Mobile Legends: Bang Bang community, Monster Hunter community, and Hearthstone community. It doesn't matter if you're a newbie or a veteran, there will be activities and friendly tournaments open for everyone and anyone to join! More information on each activity is available on the Official Event Page.
Event Livestream on Facebook
Organised by MVP Mobile Arena, a simultaneous "online convention" will be happening across both days of Ctrl+Alt Gaming 2018. Stage activities, gaming competitions, and other highlights will be livestreamed on the MVP Mobile Arena Facebook page. For those who can't make it to the actual event, here's a way to join the fun!
Free Play Arena
Looking for a change of pace? Visit the Free Play Arena for a spin at Rock Band, or test your teamwork in the kitchen with a round of Overcooked! All the games are provided by Games Fusion, a gaming lounge in Sunway and also one of the co-organisers of the event.
Solo Cosplay Competition, hosted by AniManGaki
Witness your favourite game characters come to life during the Solo Cosplay Competition hosted by AniManGaki. The competition will be held on Day 2 (Sunday) and judged by Dora, Rozen, and Version. It will also be live streamed by MVP Mobile Arena. For more information about the competition, visit this link.
Her Majesty's Mansion: Save Point, A Maid & Butler Café
Need a break from the gaming grind? Take a breather at Save Point, a gaming-themed maid and butler café brought to you by Her Majesty's Mansion. Open for both days, the café will be situated nearby the event hall and open for three slots at 10.30am-12.30pm, 1.00pm-3.00pm, 3.30pm-5.30pm. The entry fee of RM25 includes a home-made dessert and drink. For more information, visit their Official Event Page.