During Visual Arts Expo 2017 two months back, the MAGIC RAIN team had the opportunity to sit down for an interview with popular anisong singer, AiRI!
If you've not heard of her before, you might know her under the stage name "UR@N", in which she sang theme songs for various games including PC games, gaining a good reputation with her powerful high toned voice. Upon changing her moniker to AiRI, she released the CD of the ending theme song of the TV anime "30-sai no Hoken Taiiku" as her first solo title. AiRI has also held multiple one-man live sold out concerts throughout her career.
Some of her most notable works would include the opening theme song, 'DREAMxSCRAMBLE!! from the anime series, Keijo!!!!!!, as well as 'Dreamer' the opening theme song from the anime Tari Tari.
---
Q: Maybe you could start by describing yourself?
A: Hi, my name is AiRI and I am a singer for anime and game theme songs. This is my first time in Malaysia and I am looking forward to it.
Q: When was the very first time you started singing?
A: The first time I sang in front of people was when I was 3 years old. I would sing in front of my relatives to get a little bit of pocket money. That made me happy and excited so I continued doing it.
Q: When did you first realized that you wanted to pursue singing as a career?
A: At the moment that I realized it, I was already singing. I've always liked singing ever since I was young and sometimes unconsciously I would sing. I never thought of singing as a career when I was younger but as I started to realize that I had unconsciously been singing, it sort of built up from there. The first game song that I sang was 15 years ago, and the first anime song I sang was 6 years ago.
Q: How did you get your first big break?
A: I sang my first anime song 6 years ago and it was for an anime called 30-sai no Hoken Taiiku. I have a friend from a group called Milk Tub and this friend said "Hey, let's make music together." and eventually that person became one of my higher ups now. So he invited me to join his company and make music.
Q: When it comes to singing songs from a certain anime, do you yourself choose which song you would want to sing? Is there a sort of process?
A: Usually, I get the orders from my superiors and then I would sing a song for it. Whenever I get a script for a certain anime, I will read it and try to imagine the scenarios that fit the situation,  and then sing according to the situations that I imagine.
Q: How close were you involved in the production of the animes you sang for? Do you go to the company or does the company come to you? How does it work?
A: I have never been to any animation company actually. What happens is that they will reach out to me and hand me the entire script of the anime. I would then read the script on my laptop and imagine how the anime is going to be like in my head. After that, I will start writing based on what I feel might suit the show and then send it to the animation company. Once they give me the okay, I am basically done.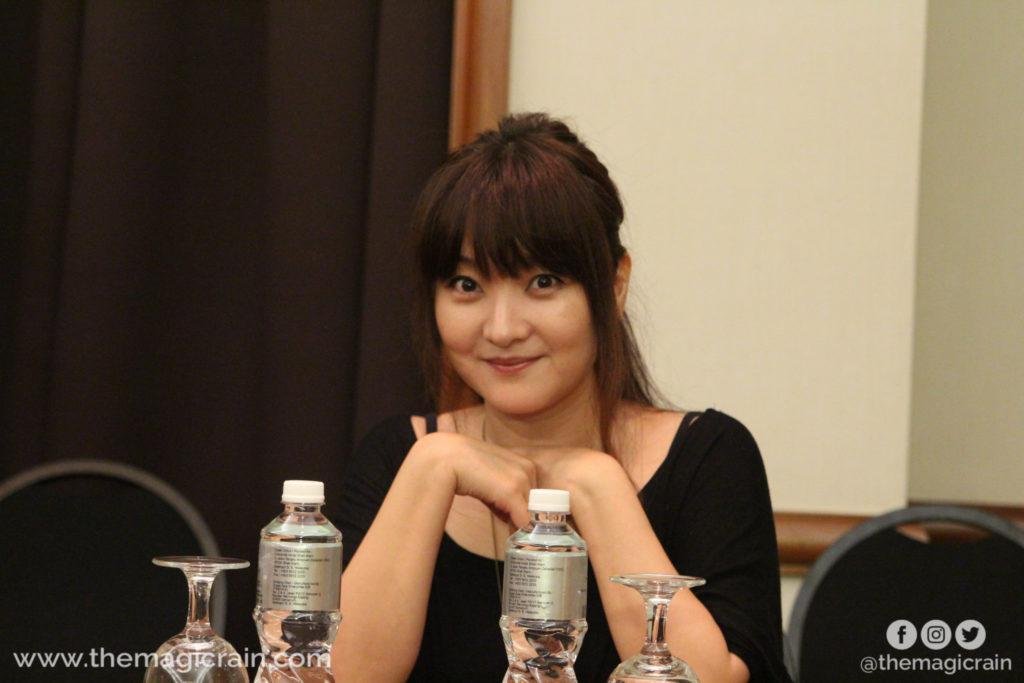 Q: So throughout your career as an artist, have there been any particularly memorable moments?
A: I really enjoy the moments when I'm up on stage, hearing the audience cheering for me and hyping up the mood with me. I also enjoy it when I receive letters and presents from my fans too. Those by itself are really memorable moments for me.
Q: How do you feel when you see the audience singing along with you and your songs?
A: When I see the audience singing along with me, especially in Japanese, I feel extremely touched and it makes me really, really happy. I feel that our hearts are connected when that happens.
Q: When you perform live, or when you just started, what was one of the biggest challenges that you had to overcome?
A: Throughout my whole career, one of my biggest challenges was learning how to sing without losing my breath on stage. This was because a lot of my songs have high tempo and the key that I sing in is also considerably high. With those kinds of songs, it's very easy to lose breath and energy. So I had to practice to overcome that. I also find difficulty in remembering my lyrics so whenever it gets closer to the day of the performance, I would stare at the lyrics again and again and again until I remember.
Q: So besides memorising lyrics, are there any sort of stuff that you do before you go on stage to maybe psyche yourself up?
A: Lately I felt like my physical condition hasn't been so good, so I've been going to the gym to fix that problem. I think that's about it (laughs).
Q: Do you have any anime or video games that you particularly enjoy?
A: I like a lot of shows, I was actually wondering if you knew some of them because they're quite old. For example, Hokuto no Ken (I really love this!), Rose of Versailles, Rurouni Kenshin and of course, Doraemon.
Q: What about music? Are there any artists that you're particularly interested in now?
A: I have a lot of people I like in terms of singers and artists, but I particularly like Tamura Naomi.
Q: In the future, would you hold a live concert in Malaysia?
A: For the time being, my performance here on the 23rd (during Visual Arts Expo 2017) is my only current plan. I hope you all will be looking forward to any plans I may have in Malaysia in the future.
Q: What did you think of Malaysians?
A: Before I came to Malaysia, I actually looked up on the internet to see how Malaysians were and I was relieved to know that it said that Malaysians were really kind people.
Q: Could you give us a teaser for any upcoming projects?
A: The major plan I have right now after I go back home is my one-man live concert that I'll be doing so I would have to memorise more and more lyrics (laughs).
---
With that, we'd like to thank AiRI for the extremely entertaining session! We wish her all the best in her future endeavors and we hope to see her return to Malaysia soon!
If you're interested to know more about AiRI, check it out at: –
Official Website: http://airi-hightone.net/
Twitter: https://twitter.com/airi_maruta