The weekend that was AniManGaki 2017 has come to an end and I'm sure all of us have suffered post-event blues right after. The MAGIC RAIN team had the chance to attend AniManGaki 2017 as the official media and the entire event was bustling with activity, be it at the stage area or the exhibition area.
In my opinion, the doujin and exhibitor booths areas were definitely one of the most crowded area with event-goers wanting to see what is being offered by individual booths. I have to say though that the exhibitors/sponsors this year were very, very generous. Tons of freebies were given away and all you need to do was like their Facebook page or something along those lines. I, myself had a grand time collecting all these gifts because who doesn't like freebies right?
On the other hand, there were a variety of exhibitor booths present from sponsors to other ACG events this year. I feel that most of the exhibitor booths available were the usual booths you see in conventions with a few exceptions (maybe more than a few). So we, the MAGIC RAIN team are going to share with you our top 7 exhibitor booths from AniManGaki 2017 in no particular order:
---
Jantzen
Jantzen has one of the best decorations in my opinion. Their deco which featured their mascot (a whale) wearing a magician's hat and wielding a wand, was simple yet eye-catching. Not only that, as the official beverage sponsor of AniManGaki 2017, they were giving out free drinking water which you can get just by liking their page! Everyone can stay hydrated without having to worry so much, which was awesome!
---
The Loot Chest
As a distributor for Funko POP figures as well as Mighty JAXX's XXRAY figures, they exhibited various Funko POP figures from different fandoms such as Dragon Ball, Death Note, Sailor Moon, Attack on Titans and many more. I have to admit that I was quite tempted to buy one due to how cute they are!
Furthermore, The Loot Chest also had a special exhibition of Mighty JAXX's XXRAY placed within a glass case which featured the convention exclusive Glow in the Dark 4D Batman. How lucky for AniManGaki attendees!
---
Elemental Temple by Hobby and Collectibles Community
The Elemental Temple was composed of many different communities such as the Macross Malaysia Fan Club, Pla-zone, Mytheos, Star Wars and many more that showcased mostly figurines and other memorabilia. This is the one thing in AniManGaki that I look forward to each year as it's something unique and different which allows fans to demonstrate their passion.
The ones that really stood out to me were the Pla-Zone booth and Macross Malaysia booth. Pla-Zone featured handmade model backgrounds which can be used for figure photography. On the other hand, Macross Malaysia's collection, which included first edition LPs, were incredibly impressive! I really admire their dedication towards the Macross franchise and I hope they can keep it up.
---
Sunway Lagoon
Sunway Lagoon's booth really blew me away with their awesome and realistic deco. As one of AniManGaki's supporting sponsor, they were there to promote their upcoming Festival of Fear which is set to start in October at a special price. As their booth was pirate-themed, they even had their own cosplayers dressed up as pirate zombies, going around scaring people. Definitely one of the most eye-catching and memorable booth in AniManGaki 2017.
---
ForceMaker
Promoting their 3D printers, this is something that even frequent event-goers rarely see in ACG conventions. Their 3D printers were put on display which allows people to see how's the process of 3D printing like on the spot. Not only that, finished samples were also put on display for people to touch and view. If I had the chance, I could probably stand there the whole day and watch the 3D printers doing their thing as it's really educational and interesting.
---
ColourVUE
Alongside the presence of special guest, Yugana Senshi Uon, ColourVUE had an incredibly large background banner showcasing models with their contact lenses. During the event, they promoted their Crazy & Sclera Lenses with a promotion of 50% discount on all of their lenses which was a really awesome deal in my opinion.
Not only that, they gave out free pairs of contact lenses as long as you download their app 'ColourVUE Mirror'. It's to no one's surprise that this exhibitor booth was one of the most popular with all these awesome deals.
---
Guests: Joelle, D.Watt, and 瑩 Ying
Fans of these international guests were able to view and purchase their merchandises as well as get the opportunity to meet them face-to-face. This is a rare opportunity for fans as since the guest is from abroad, it is difficult for fans to meet their beloved artists (oh, the woes of an international fan).
My only issue about this was that the queues occasionally obstructed traffic flow and that could be managed better. Other than that, I definitely encourage more chances for fans and guests to interact with each other!
---
Special Mention: The MAGIC RAIN BOOTH
Last but not least, how could I not mention our very own The MAGIC RAIN booth? We had our own giveaway where participants had to complete a survey, like our Facebook page (The MAGIC RAIN), and our Instagram (@the.magic.rain).
There were no losers but the luckiest of them all walked away with our very own Cosplay Commuter T-shirt! We'd like to thank all those who had come to our booth during both days for supporting us!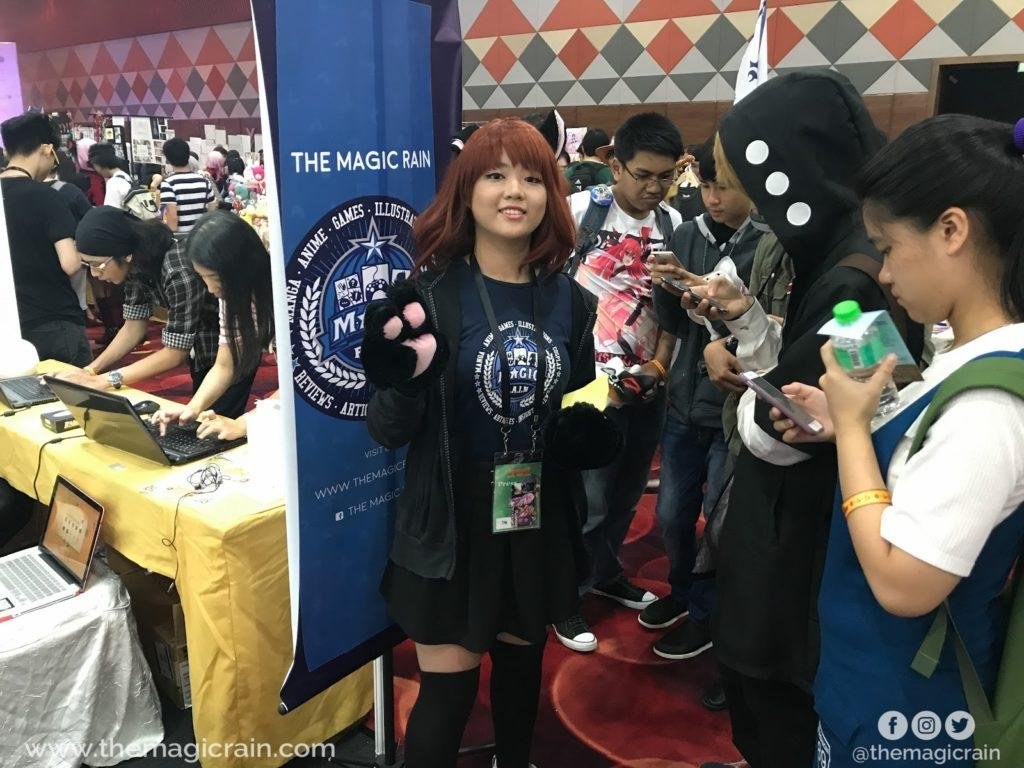 ---
Overall
The exhibitor booths were pretty great this year at AniManGaki 2017. However, I've noticed that most of the exhibitor booths were dominated by those selling Japanese anime merchandises. What I'd like to see though is more diversity in the booths other than the usual booths.
It'd be nice to see if there were more official illustrators and artists selling their work or maybe even some Trading Card Games booth like MAGIC for people to learn more about TCG. I really think it'll be cool to have booths where you get to learn something new with simple activities.
On that note, if you have any thoughts or compliments for AniManGaki 2017, we'd appreciate if you could let us know here at: bit.ly/amgxtmr