Genre: Romance, School, Slice of Life
Episodes: 13
Production Studio: TMS Entertainment
Introduction
If you were given a chance to relive your life once more, would you take the opportunity? Before the anime was aired, I'd been following the manga for a couple of months or so. Upon reading the synopsis, I was intrigued and proceeded to read the manga. It was absolutely fantastic! Every page was in color and the art was great. It quickly became one of my favorite mangas of the year.
As of now, the manga is running at 145 chapters and is still ongoing. I was ecstatic when news of the anime came out! However, I found myself slightly disappointed and surprised as well. Surprised, as all 13 episodes were released all in one day (not really complaining though), instead of the usual one episode per week. At first, I thought that the duration of each episode would be 3 minutes, but fortunately, that is not the case.
As for the reason of why I am slightly disappointed, don't get me wrong, I'm not saying that this is a horrible, terrible show and you should never watch it. In fact, the anime is amazing but there are some slight setbacks. Read on!
Storyline Premise
I really liked the title of this story, ReLIFE, which simply means to live again. In my opinion, it is the whole show in a nutshell. The story centers around a man called Kaizaki Arata. 27 years old and a NEET. For those who do not know what NEET stands for, it is 'Not in Education, Employment or Training', basically meaning unemployed in this case.
Being unable to find employment and being cut off from financial support from his parents, he was stuck. He was soon approached by someone called Yoake Ryou, offering him a chance to relive his teenage years once again by turning back into a 17-year old. He returns to high school and must find out what he is lacking as an adult within a year. Would he be okay, I wonder?
One thing to note about this series is the fact that this anime does not focus a lot on the plot, but rather the characters. The emphasis on each character's background and development is strong. The idea of having a 27-year-old man being reverted back to a 17-year-old teenager was already interesting enough, but the fact that the show focuses on the character's development and relationship growth made it more special and unique.
It was obvious that there were some love lines but it was slow built, which made it realistic. There were no love at first sight clichés which was great. Some love lines developed faster than others (as seen in the last episode), which was to be expected for a series not focusing on romance.
Not only that, the anime managed to impart really good lessons, regardless whether you're an adult or a teenager. The story approaches several important global issues such as bullying (either in school or a workplace), how to cope with a bad decision or situation, and so on. The best part was that each issue brought up was dealt with realistically and maturely. I was in awe as I was expecting the usual trope of 'living your youth to the fullest while you still can', but there's actually so much more being shown.
It is also easy to relate to some of the characters' situations and this story is also really helpful for teenagers/young adults to understand that life is not always easy, especially in working life. I certainly had many things to think about once I finished this series. However, even though I mentioned above that this show touched on a lot of serious topics, there are also plenty of humorous situations which were certainly very enjoyable. I felt that there was a good balance of humor and maturity in this series.
As for the progress of anime, the pace was fast. However, everything felt natural and well-paced. The episodes flowed together well. The anime ended with a minor cliffhanger, which I hope will be continued with a second season (though no news has been released yet).
TLDR; Great premise with lovable characters and plenty to learn from.
Animation and Art
The animation quality is most probably the weakest part about ReLIFE. I expected a whole lot more as the art in the manga was really, really good. Coloured pages, rich in details, simple and clear. The art in the anime looked so sloppy in comparison. I was absolutely disappointed with the animation. The animation looked like it came from the early 2000s and it made me hesitate slightly on whether to watch the show (but my love for the manga won, so I watched it).
Character and environment designs were poorly done. Fluidity in movement was bad and it made things look awkward at times. The only time when the animation would be considered good would be during the comedic reactions.
Conclusion: In terms of art, manga > anime. Pretty terrible animation for this era.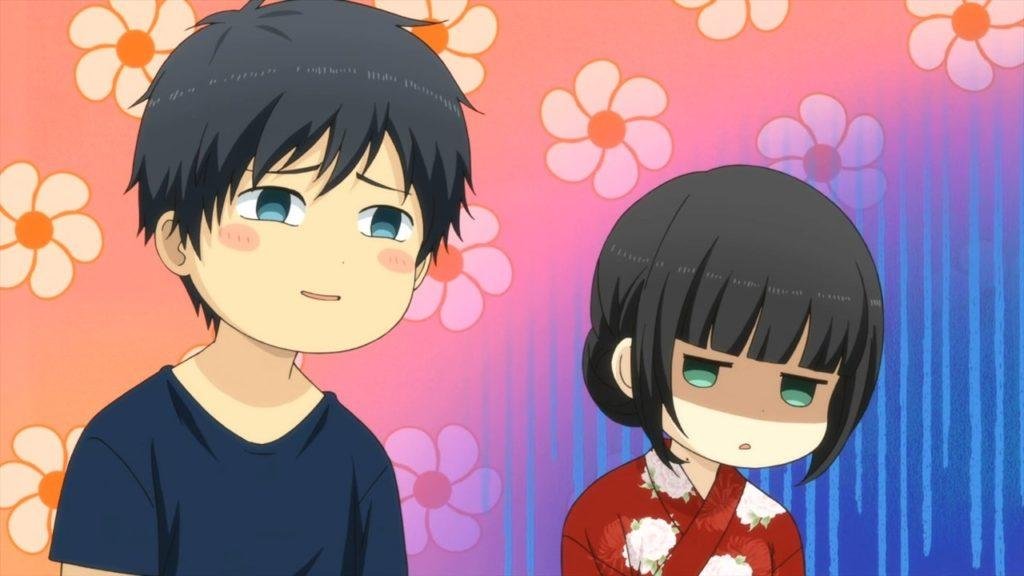 Sound and Music
The number of voice actors (seiyuus) needed for ReLIFE is actually pretty low, as the show has very few supporting characters albeit the large main cast. It is pretty impressive how there are some relatively well-known voice actors behind some characters such as Kensho Ono (Kaizaki Arata), Ai Kayano (Chihiro Hishiro) and several others.
You would probably know Ai Kayano from Guilty Crown where she voiced Yuzuriha Inori, and Kensho Ono from Kuroko no Basuke as Kuroko Tetsuya. Personally, I felt that they did a really good job voicing the characters, making the series even better especially with the over-the-top comedic reactions, like Kaizaki's 'EEEH?!' and also the serious scenes.
As for the music, I find it really fascinating how there are thirteen ending songs. Seriously, THIRTEEN ending songs?? One for each episode, and they're all pretty decent. Neither freaking awesome nor really terrible. The soundtrack, on the contrary, was quite good. Plenty of piano music which usually plays in the background when the characters are talking, and stops when it is silent.
However, I find it a little weird when it is completely quiet during supposedly noisy settings such as the fireworks festival. There should at least be some background noise when the characters aren't talking. The lack of background noise makes it a little unrealistic, particularly so because the show seems to be taking an authentic approach.
TLDR; great voice actors and music. Would be better if there was more background music.
Characterization and Powers
The characters in ReLIFE are extremely lovable and relatable. There is not a single character that I do not like. Every character, even the supporting characters, get sufficient focus which makes them stand out. It is really nice to see that as most shows usually only focus on the main characters and just ignore the rest after a brief introduction.
Throughout the ReLIFE programme, it is nice to see how Kaizaki deals with his problems and learns to face his past mistakes. Of course Kaizaki will change and grow as the series goes on, but what makes the story even more special is how the people he interacts with changes as well. The best part is seeing him imparting the knowledge and experience he learnt as an adult to his fellow classmates. Seeing how Hishiro benefits from his knowledge makes me feel so happy. From being socially awkward and easily misunderstood, she gains a few friends, and learn how to act properly in social situations.
Conclusion: Tons of character development for every character.
Conclusion
This is absolutely a good watch. Very unique plot and great characters. Everything progresses smoothly with proper character development. Setting and situations were all realistic and natural. The only fault I can find with this series is the poor animation. If you're someone who is very particular about the art and thinks that you would not be able to get through the show, read the manga! Plus, the manga has some extra fillers skipped by the anime. There are also some pretty good plot twists….*hint hint*
The direction the manga seems to be heading to is something I 100% approve of and I really hope that, if there's a second season, the studio in-charge would take time to properly animate the show, even if the release date would have to be delayed. Quality > Quantity! This is definitely one of the slice of life anime you should put in your to-watch list!