The Marvel Cinematic Universe has been the face of superhero movies for the past decade, and now they're about to conquer the television world too. After shutting down Marvel Television (see: Daredevil, Jessica Jones), the new era will focus on stories and characters connected to the main film franchise.  
What this has shown us is larger budgets, interconnected stories, and an even bigger Marvel universe for us to reckon with. While its first three releases have featured many familiar faces, we'll see Marvel Studios branch off into unfamiliar territories in the coming years.
What can we expect from their next releases? Check out the full list below!
---
The following list was last updated on 30th July 2021.
What If…? (August 11)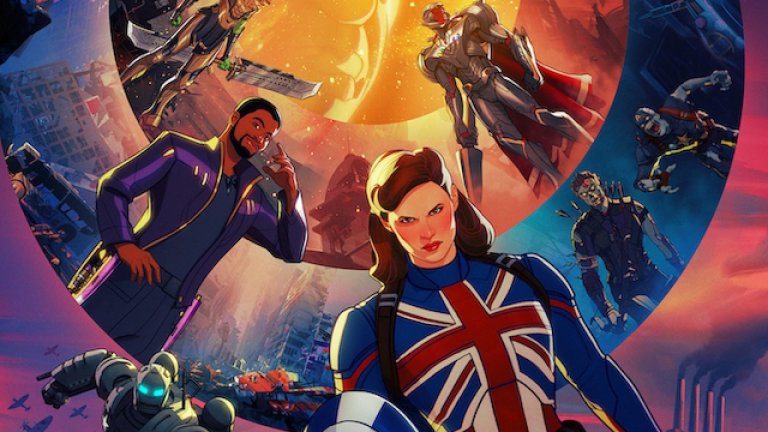 Based on a Marvel comic anthology of the same name, What If…? explores what would happen if major moments from the films went down differently. The teaser trailer already revealed a few iconic moments with a twist including Peggy as Captain Carter, Tony Stark meeting Killmonger, and The Guardians of the Galaxy replacing the Avengers.
From a studio standpoint, this will be Marvel's first foray into animation; something they're approaching with more than enough confidence, seeing as they already announced the show's second season. More details have yet to be announced. 
Ms. Marvel (Late 2021)
If you don't already know Kamala Khan, it's about time to get acquainted. A fairly new superhero in the comics, Kamala Khan is Marvel's first Muslim-American superhero. She assumes the mantle of Ms. Marvel after her idol Carol Danvers becomes Captain Marvel, and uses her shape-shifting abilities to fight crime.
Much like a modern day Spider-Man, her story is all about self-discovery and identity as she balances her normal life with her superhero persona. Her Asian upbringing and relationship with faith are also the core of her character, and what makes Ms. Marvel the show to watch this year. 
Hawkeye (Late 2021)
Following the events of Avengers: Endgame, we pick up with Clint Barton who is training his protege, Kate Bishop, to take over the mantle of Hawkeye. Not only will Hailee Steinfeld make her debut as Bishop in this show, Jeremy Renner will be playing a slightly different Barton than we're used to.
Influenced by the Matt Fraction run of the Hawkeye comics, we're likely to see Barton with hearing loss for the first time. This also introduces his trusty service dog, Lucky the Pizza Dog, who is the goodest dog in the world. On the MCU end of things, the series will tie in Barton's time as Ronin in Avengers: Endgame and the Black Widow end-credits.
Moon Knight (2022)
Star Wars fans and Oscar Isaac stans will be excited for the Moon Knight series coming next year, in which he stars as the titular superhero. The show will likely be an origin story for Marc Spector, former government agent and mercenary with dissociative identity disorder, who was given a second chance at life in exchange for being the conduit for an Egyptian moon god. (I know, it's a lot.)
If the show follows the comics, we'll get to see Marc Spector's multiple DID identities, including the millionaire Steven Grant and taxi cab driver Jake Lockley. The character will also later integrate into the main film franchise, although that path has yet to be seen. 
She-Hulk (2022)
Another character that will cross-over to the main film franchise is She-Hulk a.k.a. Jennifer Walters. Cousin to Bruce Banner, she receives an emergency blood transfusion from him after getting into a car accident, resulting in her acquiring a milder version of the Hulk condition. Unlike him, she's able to maintain her intelligence and emotional control in Hulk form, although she becomes much stronger when angry.
The show is described as a legal comedy — playing on Walters' career as a lawyer for superhumans — that will stay faithful to John Bryne's comedic and fourth-wall breaking characterisation of She-Hulk in the comics. Her main rival Titania, portrayed by Jameela Jamil, will also be brought from paper to screen.
Secret Invasion (2022)
Remember the green shape-shifting aliens from Captain Marvel and Spider-Man: Far From Home? Yeah, they're back. In the comics, Secret Invasion is a eight-issue crossover that covers a long-term covert invasion of Earth by the Skrulls, who replaced many superheroes with imposters.
While the comic book version is a large-scale crossover event, the TV series is looking to be slightly scaled down and focused on Nick Fury and Talos' plans to stop the Skrull invasion. What's interesting is the show's cast, which includes Olivia Colman, Emilia Clarke, Kingsley Ben-Adir, and more in unconfirmed roles. 
The Guardians of the Galaxy Holiday Special (December 2022)
Now that both Marvel and Star Wars belong to Disney, we should have seen this coming. Although not much is known about it yet, director James Gunn has confirmed that the 40-minutes-or-less special episode will be filmed at the same time as The Guardians of the Galaxy Vol. 3, and set up key information that will be revealed in the movie.
Whether the rest of it is a jab at the Star Wars Holiday Special, guess we'll have to wait to find out.
Ironheart (TBA)
Ironheart a.k.a. Riri Williams is a teenage super-genius who is kind of a spiritual successor to Iron Man. She's so smart that she reverse-engineers the Iron Man suit for fun with the guidance of an A.I. Tony Stark. However, it's not until her friend and step-father die in a drive-by shooting incident that her secret hobby becomes a pursuit for justice.
In the comics, she assumes the title of Ironheart with Tony Stark's support and even assists him on missions. However, this might be a little trickier in the MCU considering the events in Avengers: Endgame and his existing relationship with Spider-Man. No matter how it plays out, it'll be interesting to watch her story come to life. 
Armor Wars (TBA)
After the events of Avengers: Endgame, James Rhodes must confront one of Tony Stark's greatest fears when Stark tech falls into the wrong hands. Although we don't know much else about it, Armor Wars feels like the perfect chance to delve into Rhodey's character in a post-Tony world; similar to Sam and Bucky coming to terms with Steve's choice in The Falcon & The Winter Soldier. 
Untitled Wakanda series (TBA)
Presumably taking place after Black Panther: Wakanda Forever, the Wakanda series may end up following its comic book storyline, in which the Dora Milaje — specifically General Okoye, Ayo, and Aneka — find out that their former comrade Nakia has been brainwashed into becoming the supervillain, Malice!
Of course, this assumes that the movie will introduce Malice, who is also one of Killmonger's mutated allies. It makes perfect sense then that the series would follow up with a similar villain, but shift the focus to its side characters. 
Untitled Echo series (TBA) 
After her first appearance in Hawkeye, Echo a.k.a. Maya Lopez will go on to helm her own show. The series may focus on her origin story as the Kingpin's adoptive daughter and her subsequent transformation into Ronin. However, there are still too many questions including who will play her lover Matt Murdock a.k.a. Daredevil, and how Marvel plans to present her story in Hawkeye. 
Loki Season 2 (TBA)
After the Loki Season 1 finale, it feels like Loki Season 2 couldn't come any sooner. However, the show will likely take a year-long break as the rest of the MCU catches up with the events of its finale. Our prediction is that the show will pick up from the events of Doctor Strange: Multiverse of Madness. What's yours? 
---
And those are all the upcoming Marvel Cinematic Universe television series. Which one has got you the most excited? Let us know in the comments!
If you'd like to hear us talk more about Marvel, stay tuned for The Marvellous Recap, a brand new Marvel podcast by Nathalie & Char on Twitch! For all episode announcements, follow us on Facebook, Instagram, and Twitter.