Ever found yourself wondering what a Pokémon version of DOTA2 or Mobile Legends would look like? Well, wonder no longer – Pokémon Unite, the franchise's first ever foray into the multiplayer online battle arena (MOBA) genre, is set to release on the Nintendo Switch and mobile platforms later this year.
If that piques your interest, keep reading 'cause we'll be answering all of your burning questions about this upcoming Pokémon spinoff!
What is Pokémon Unite?
Pokémon Unite is a strategic team battler developed by The Pokémon Company International and TiMi Studio Group. The game takes place on a new region known as Aeos Island, which plays host to a regular series of tournaments called Unite Battles. You play as a young Trainer who has come to Aeos Island to take part in these battles.
How many Pokémon are there in Pokémon Unite?
According to the official Pokémon Unite website, the game currently consists of nineteeen playable Pokémon, though more are expected to be added post-launch. The list includes popular fan favourites such as Snorlax, Bulbasaur, and Pikachu, but also a few underrated names like Eldegoss and Crustle.
Players will also be able to encounter and challenge up to sixteen different Wild Pokémon, some of which will be able to grant the player or their team buffs upon defeat.
How do you play Pokémon Unite?
On the surface, Pokémon Unite plays similarly to most MOBAs on the market. You start each Battle by selecting a Pokémon to play as, who you can then level up and evolve over the course of the game. You will also be able to select moves for your Pokémon to learn, as well as equipping items to improve your gameplay.
However, there's one major difference between Unite and other MOBA titles such as Mobile Legends or League of Legends. Instead of destroying an enemy base, players will have to work together to score points by defeating Wild Pokémon and enemy players. The points will then need to be deposited into goals located around the map. The team that manages to earn the most points within the game's time limit will win the match.
Unite also differs from many other games in the Pokémon franchise as it will not implement type weaknesses and strengths. Instead, each Pokémon will have its own unique stats and role to play, as well as a signature "Unite Move" (or ultimate) that can be accessed once the Pokémon reaches a certain level.
Is Pokémon Unite free?
While you can play Pokémon Unite for free, certain in-game items will cost real-world money to purchase. The game operates on three in-game currencies, namely Aeos Coins, Gems, and Fashion Tickets.
Aeos Coins are used to purchase new items and Pokémon, and can be earned by simply playing the game and participating in events. On the other hand, Gems can only be purchased using real-world currency, and can be used to obtain special items, skins, and battle passes.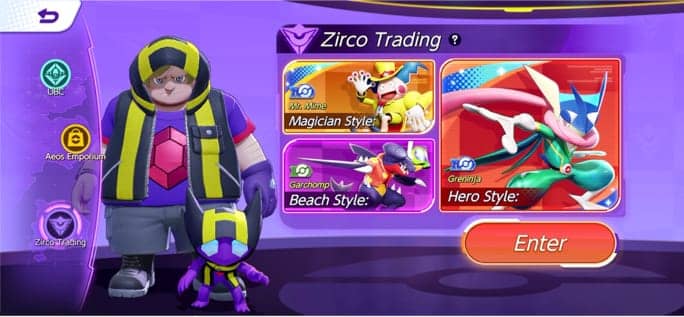 You will also be able to earn Fashion Tickets from purchasing skins, which can be used to redeem clothes for your trainer avatar, as well as a number of exclusive Pokémon skins.
Where can I download Pokémon Unite?
Starting from July 2021, Switch players will be able to access Pokémon Unite from the Nintendo Switch eShop, while Android and iOS users can expect to be able to download the game from their respective mobile app stores in September.
Nintendo has also promised cross-play and cross-progression support between the Switch and mobile devices, with players being able to keep their progress synced using their Pokémon Trainer Club or Nintendo accounts.
Unfortunately for PC players, it seems like Pokémon Unite won't be coming to PC anytime soon, though we'll be sure to keep you updated if that changes in the future.
---
Are you looking forward to this unique Pokémon spinoff? Comment down below and let us know what you think!
Follow us on Facebook, Instagram, Twitter, and Youtube for more content like this.