Toei's long-running Kamen Rider franchise returns for its 50th anniversary with its latest instalment Kamen Rider Saber. The series is set to air on the 6th of September, replacing the currently-airing Kamen Rider Zero-One with a fantasy- and fairy tale-themed spin on the beloved superhero series.
Kamen Rider Saber will be directed by series regular Takayuki Shibasaki, alongside lead writer Takuro Fukuda (Kamen Rider Ghost) and main composer Kousuke Yamashita (Kamen Rider Gaim).
Plot Synopsis
A long time ago, the world was created by a magical book. The book became the source of all stories on Earth, containing many legends, myths, memories, and knowledge of technology and human civilizations. Whoever was chosen by a Holy Sword was tasked with protecting the book to ensure the world's peace.
However, among them were people who wanted to steal the book's power. During the conflict, the book became destroyed, plunging the world into chaos. The book was said to be lost, and many from all corners of the world became determined to retrieve it and acquire its power. This chaos continues to this day with no end in sight.
In the present day, writer Kamiyama Touma has a recurring dream of another world, where a swordsman fights a fierce battle with a monster from a book, and a mysterious girl is in need of help. Every time he has the same dream, Touma feels like he's forgetting something important, but he doesn't know what it is or who the girl is.
One day, part of the city disappears and reappears in a mysterious world. Touma and Mei Sudou, his editor-in-chief, are swept up in this incident. Surprisingly, this world is very similar to the one in Touma's dream, and just like in his dream, strange monsters begin to invade and destroy the city.
"I will definitely bring the city back to its original world!" Suddenly, a flaming sword appears as if responding to Touma's thoughts. As soon as he picks up the sword, he obtains the power of a dragon, becoming "The Swordsman of Fire".
Source: TV-Asahi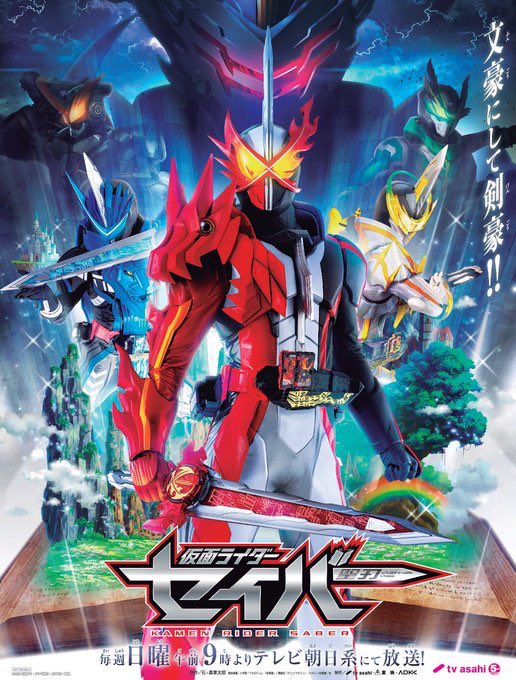 Main Characters
Touma Kamiyama (Shuichiro Naitou): A writer who owns a bookstore named Fantastic Kamiyama. Touma is an avid reader who knows everything about books, and is described as a cheerful and honest young man. He transforms into Kamen Rider Saber.
Mei Sudou (Asuka Kawazu): Touma's new editor who is extremely curious, but is also extremely introverted and shy. Despite being an editor, she has no real interest in reading.
Rintarou Shindou (Takaya Yamaguchi): A knight from the order of the Sword of Logoss, an organisation that guards the world-creating magical book. Rintarou loves sweets, and strongly believes in Touma and Mei's ability to save the world.
Bonus Facts
Kamen Rider Saber's main collectibles are known as Wonderide Books. Each book-like gadget is named after a different fairy tale, such as Jack and the Beanstalk, Aladdin, and Peter Pan.
The series is set to have ten riders, five of whom have been named so far: Saber, Blaze, Kenzan, Espada, and Calibur.
The show's opening and ending songs will be performed by the Tokyo Ska Paradise Orchestra, with the opening featuring a vocalist who has yet to be revealed. This is the first Kamen Rider series since 2005's Kamen Rider Hibiki to feature an ending song.
Joji Nakata, the series' narrator, is best known for portraying Fate/Stay Night's Kirei Kotomine–a casting choice which could be a sly reference to the Fate franchise's iconic Saber(s). Nakata is also the voice of the riders' belts.
---
That's everything we know so far about Kamen Rider Saber! What do you think of the upcoming series? Share your thoughts in the comments below.