The largest ACG event in Malaysia makes a comeback! This year's Comic Fiesta turned the ACG community into detectives with the theme Detective Noir. The annual event was held at Kuala Lumpur Convention Centre for 2 days straight, from 21 December to 22 December 2019.

Like every other year, Comic Fiesta 2019 successfully attracted a massive crowd, filling the venue with a sea of humans. The first day was especially packed due to the Kuala Lumpur Summit 2019, which was held at the same venue.

We've gathered a few of our favourite cases for those who weren't able to attend the event. Let's reveal the secrets together!
Stage Events
No Straight Roads
Comic Fiesta's first on-stage panel session came from Metronomik's No Straight Roads, an upcoming local indie game. The panel also featured Mariko Honda, a voice actress from Japan. The session recapped what Metronomik has done so far for No Straight Roads. It was also announced that No Straight Roads will be playable in Japanese with English and Malay subtitles.

During the session, Eve, the 5th boss in the game voiced by Honda herself was revealed, showing off the character's design and game stage. We learned a few interesting tidbits about Eve, as Wan Hazmer, the director of Metronomik, described Eve as one of the most emotional characters in the game, and that Honda's first tryout for Eve gave Hazmer goosebumps. Moreover, Honda's first impression of Eve was that she looked like a Picasso painting and a yandere (A Japanese slang term for a girl who initially appears to be kind, but is revealed to have a dark side). She found it hard to tell what type of character Eve was at first glance; however, she enjoyed learning more about the character nonetheless.

Before the session wrapped up, fans were treated to a special message from Japanese voice actress Eri Saita, who portrays a child piano prodigy named Yinu in No Straight Roads. She thanked the fans for supporting the game. Exclusive Japanese footage of Yinu's stage, which is still in development, was also shown to those who were present.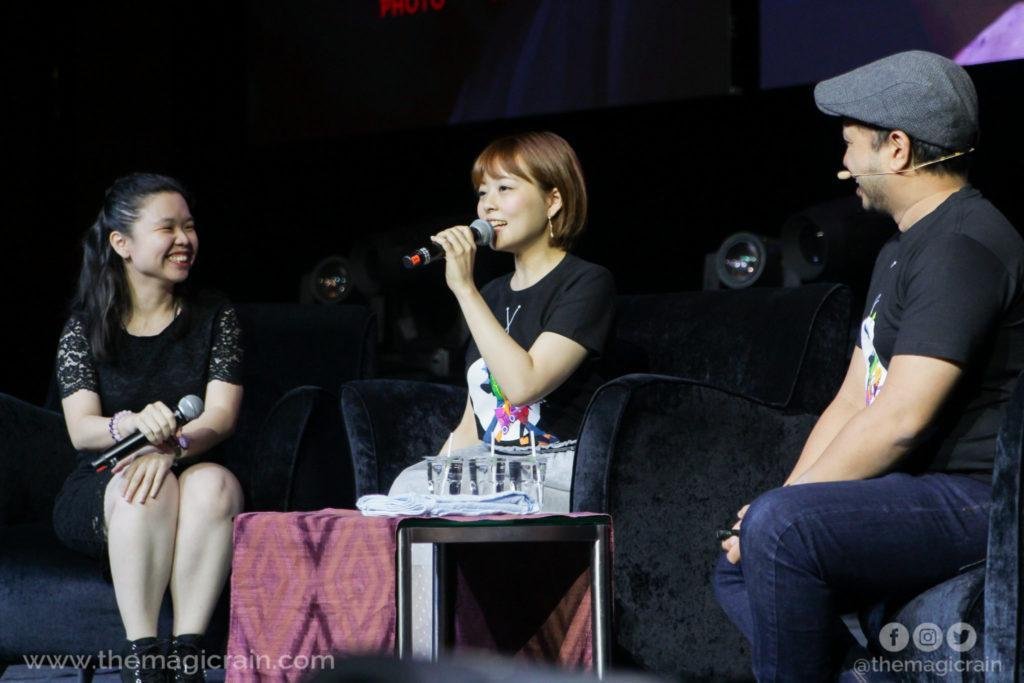 Spotlight On Kana Ueda
Does the name Kana Ueda sound familiar to you? Yes, the Kana Ueda that voices Rin Tohsaka from Fate/Grand Order! This is the first time that a famous voice actress from Japan was invited to be a guest in Comic Fiesta and it certainly shocked the public in a positive way.

The session was a talk show where Ueda recounted her life experience as a voice actor. Apart from sharing her experience, she also gave impromptu performances for the audience where she acted out a few scenarios, such as a cool older sister and a girl giving a birthday present to the guy she admires. Overall, it was a very fruitful and enjoyable session for Kana Ueda fans.

Naruto Slugfest
An exciting case was revealed on Day 2 of Comic Fiesta, which hyped all the Naruto fans in the community. Yes, it was none other than Naruto Slugfest!

Naruto Slugfest is a mobile MMORPG which features not only the characters from the Naruto series itself, but also new shinobis that one can role-play as in the game! The game is scheduled to release in January 2020, with a closed beta available now. Plus, the game is officially licensed by Shueisha, TV-Tokyo and Studio Pierrot. If you weren't hyped for the game before, you should be!

Not to mention, 2 lucky fans won a new OPPO A9 2020 each during a short but thrilling trivia giveaway session! Congrats to the two of them for proving that the knowledge that they gathered from Naruto was not in vain!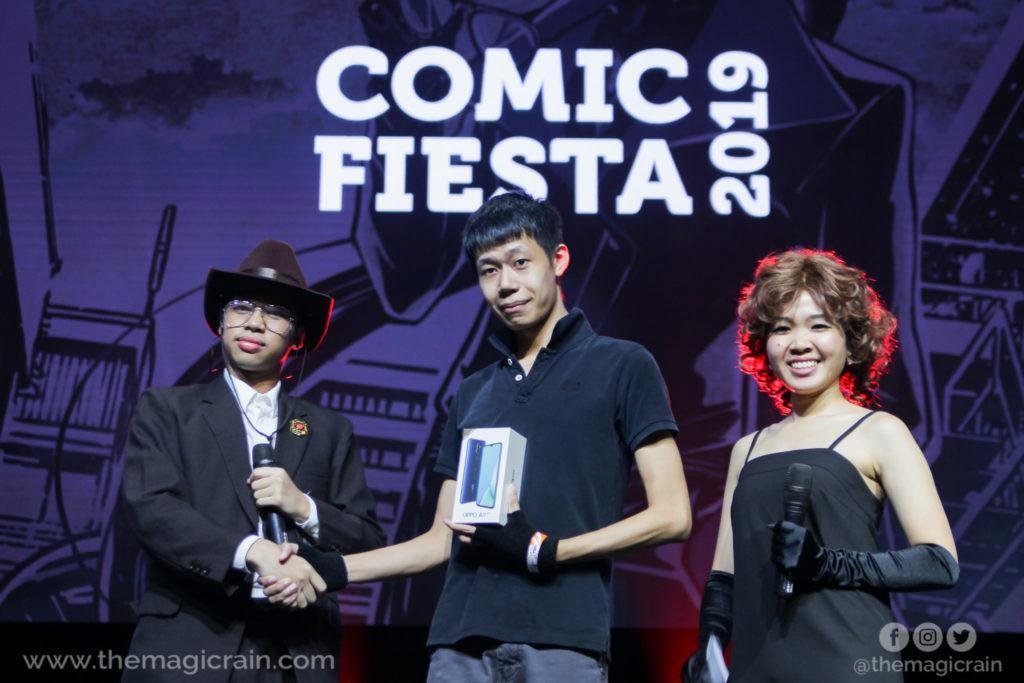 Competitions
Like previous years, 60 Seconds of Anything, Comic Fiesta's official Cosplay Competition, was also a major highlight of the event. As the name suggests, cosplayers have 60 seconds to wow judges 佐歌奈Sakana, Hikarin and Aza Miyuko with their costumes and stage performances. A husband and wife duo known by many as Team KumaBear came out on top, with Bibi Chan being awarded as Best Female Character and Kenjimura as the Best Male Character.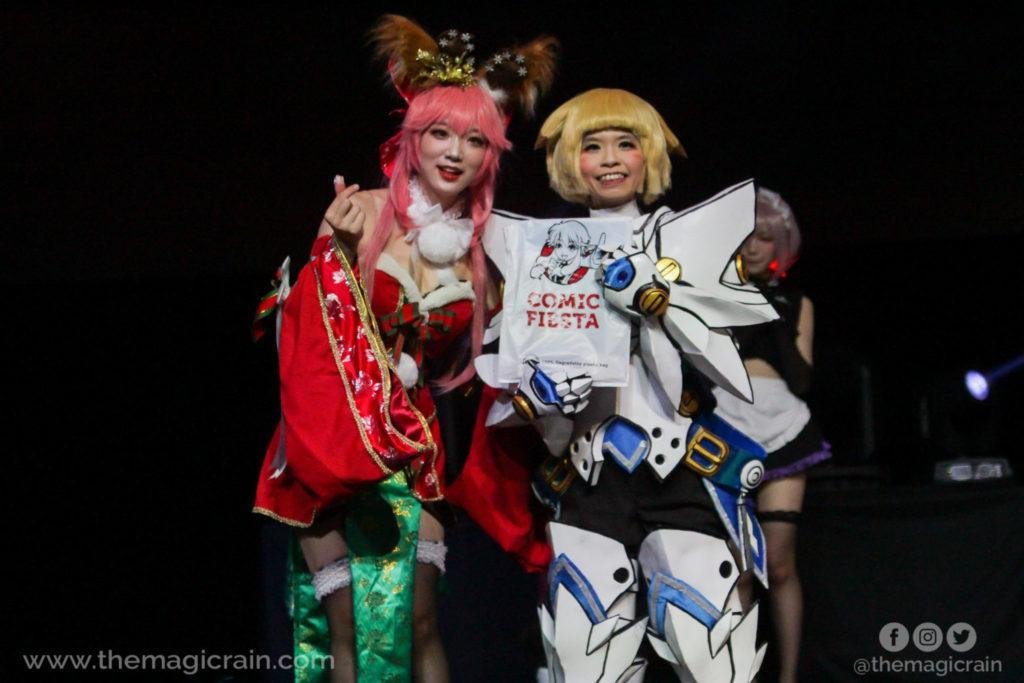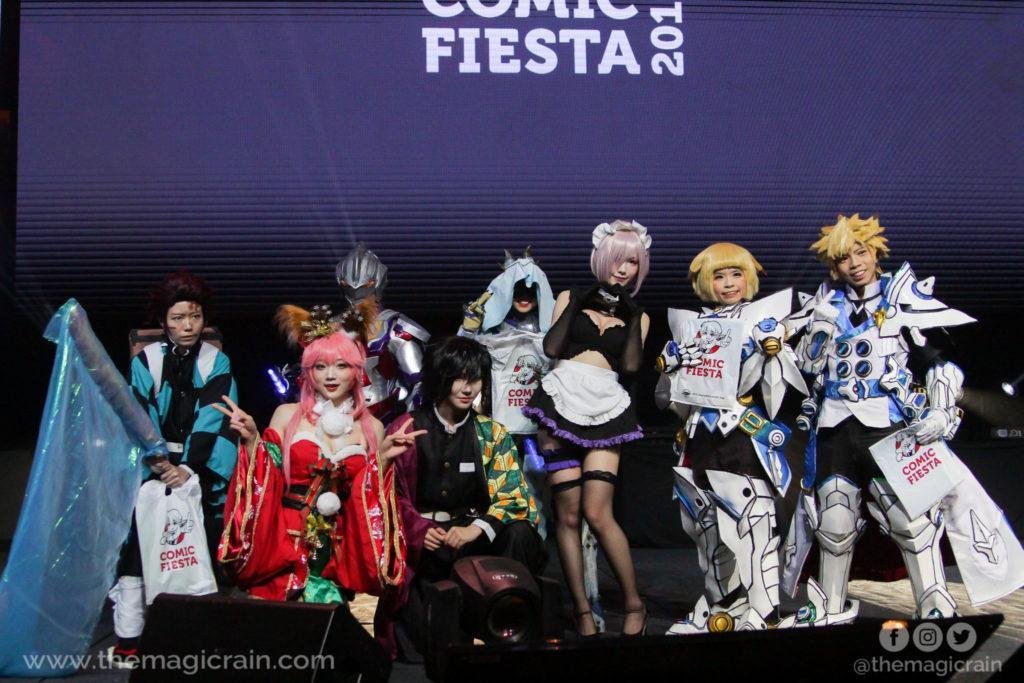 Cosplay Invitational, Comic Fiesta's yearly skit competition, is another event that cosplayers in the community look forward to and this year was no exception! Contestants continued to strive for the top, showing off their hard work, blood, sweat and tears that they have spent on the costumes and props in hopes of achieving not only the title of 'Cosplay Invitational 2019 Winner' but also acknowledgement from the judges. We would like to congratulate the victors of the final battle, Team ExCurryBun, who appeared as Ozymandias and Qin Shi Huang from Fate/Grand Order.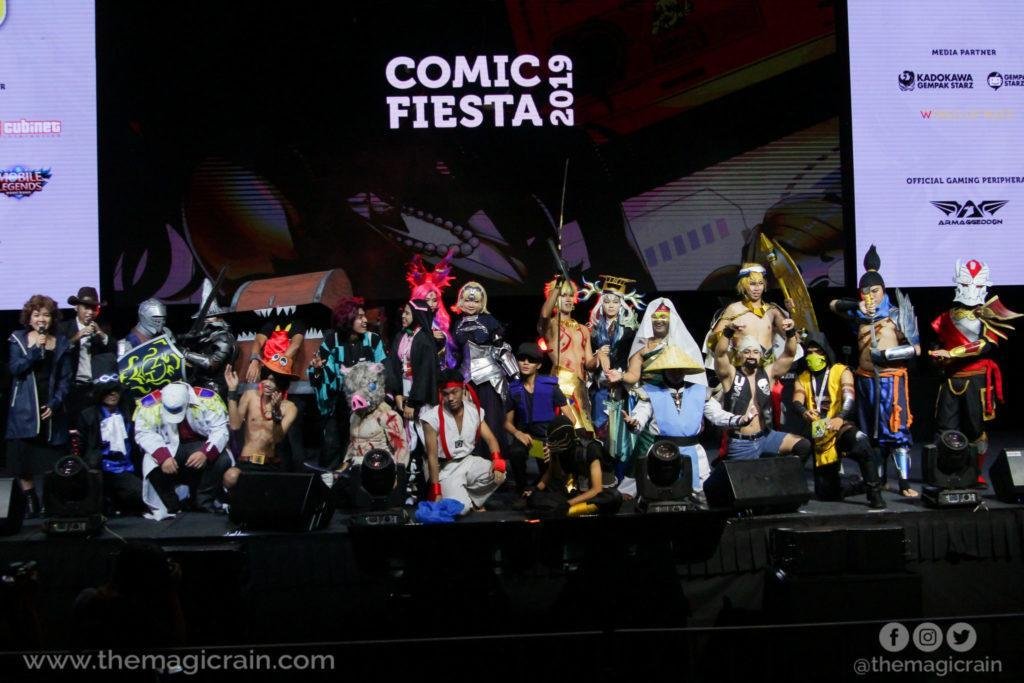 Comic Fiesta 2019 also featured a new cosplay competition–the Birds of Prey Cosplay Competition, where participants competed for the title of "Malaysia's Harley Quinn"! The winner would also earn themselves a private screening of the highly anticipated movie Birds of Prey, set to be released next year. The grand prize went to cosplayer King Angel, who portrayed the Birds of Prey version of Harley.

The convention also hosted several gaming competitions including a Super Smash Bros: Ultimate tournament, a first for Comic Fiesta, and the Pokémon Regional 2019. The event also played host to E-sports tournaments for the games Mobile Legends Bang Bang and Garena Free Fire.

Off-stage Activities
The Art of Monetising Web Comics Panel
Nixon Siow, Ernest Ng and Fishball 阿鱼丸 shared their tips on monetizing web comics in a must-see panel for art enthusiasts and aspiring manga artists alike.

The session started off with a talk from the creator of the famous Bro, Don't Like That La, Bro comic series, Ernest Ng. Like every other traditional Asian family, Ernest's parents wanted him to be a doctor instead of an artist. However, this did not stop him from doing what he likes and it has led him to become who he is today! One of the tips that Ernest mentioned is that he tries to diversify his income sources, such as selling merchandise or creating sponsored posts, as he is concerned that one of his main social media platforms or other related media might one day go down the drain. Ernest also shared about the pros and cons of working with clients and that it is important to learn the art of negotiation.

Next up was Nixon Siow, the author of Crazy Rich Guy (Not Crazy Rich Asians, don't get it wrong, fellas). Unlike Ernest, his parents did not stop him from drawing, but he too tries to diversify his sources of income. As an additional point, he mentioned that he also likes to incorporate some social values or morals nto his comics.

Last but not least came a talk from the creator of My Giant Geek Boyfriend, Fishball阿鱼丸, who enjoys recording her life experiences in comic form rather than simply writing them down. Like many artists around the globe, drawing started as a hobby for her, and she managed to convince her parents to allow her to pursue drawing by enrolling in an interior design course. She shared her journey of becoming a comic book artist with the audience for the remainder of the panel session.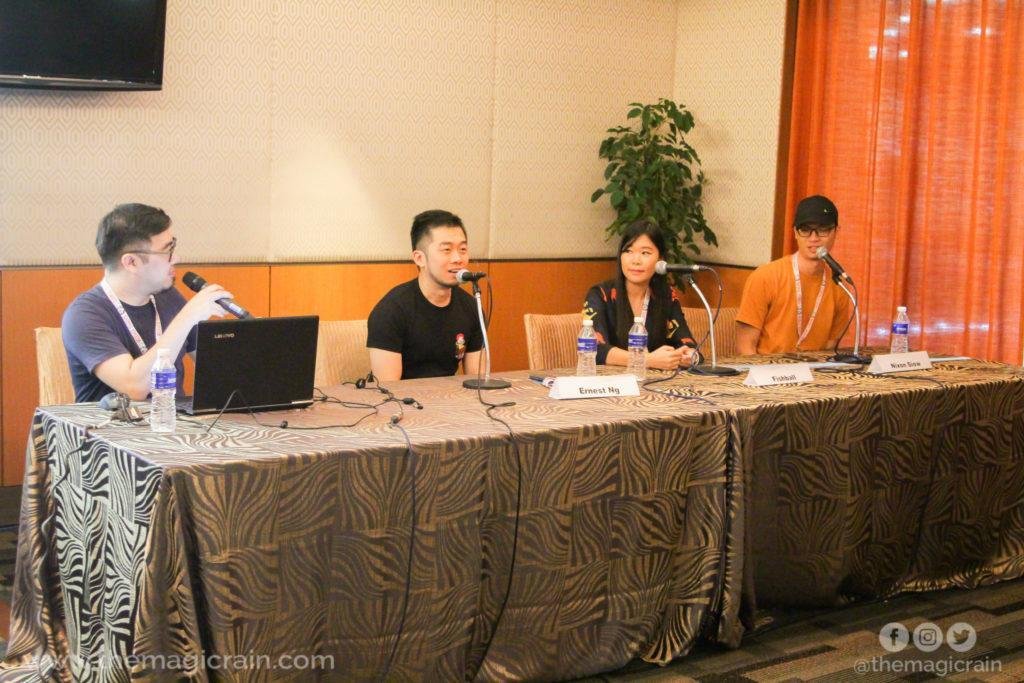 Q&A with Rino Mizuho

We had the honour of attending a sharing session from professional manga artist Rino Mizuho, best known for the title Chocolat no Mahou (better known as Magis Manis Coklat to Malaysian readers). She shared her experiences as a manga artist and some fun experiences she had while researching for the series. Mizuho was loosely influenced by gothic lolita fashion while coming up with the manga's character designs, and she chose chocolate as the main theme of the manga as it is a well-loved dessert with many different variations.

She also shared that she had always wanted to be a manga artist since primary school, but only started to seriously pursue art at the age of 19, finally debuting as a manga artist at age 24 after facing many challenges along the way. Mizuho noted that it is much easier to get published today, due to the wider reach artists can have online compared to the traditional publishing outlets of the past, and encouraged aspiring artists to keep drawing and to pursue their dreams.

Creative Art Market
The Creative Art Market draws the lion's share of the crowd each year at Comic Fiesta. Due to sheer volume of people, visitors have to keep moving in order to not clog up the passageways, but it's not impossible for one to stop and shop if something catches your eye.

With a variety of fan-made and original pieces on sale, from keychains to prints and even dakimakuras, there are plenty of chances to grab something for yourself or even a loved one. When reaching the end of the convention, vendors started getting competitive with discounts on many items, so anyone looking for a good bargain next year might want to check out the Creative Art Market towards the end of the event on Day 2.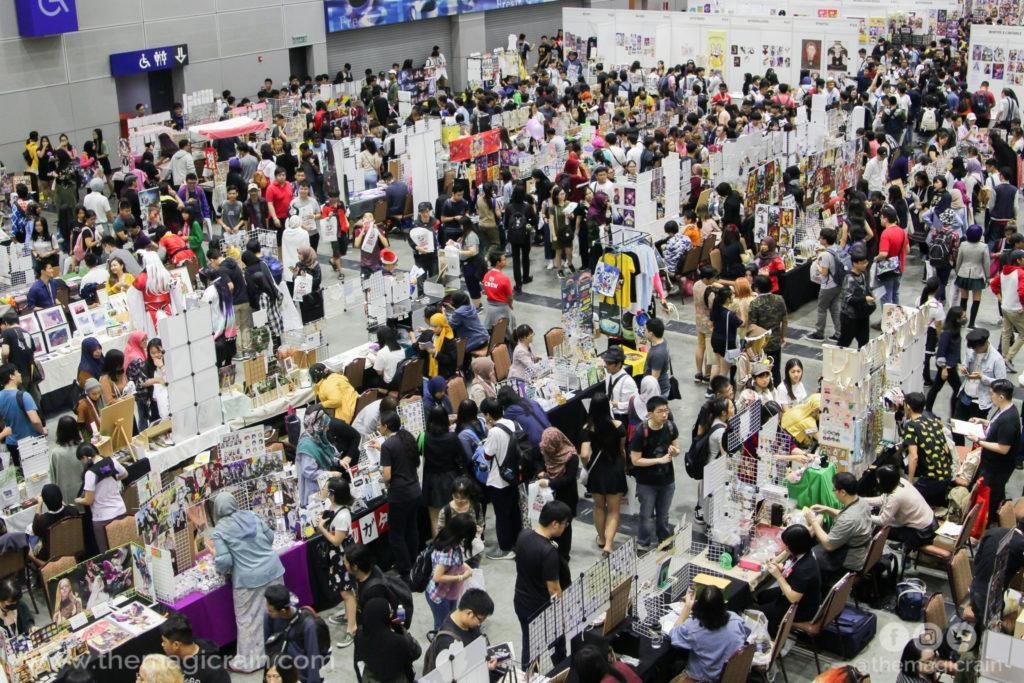 Concert
As always, CF ended its event with an exciting Night Jam session for each day, featuring artists from Japan and Malaysia. The first day featured special guest DJs from Exit Tunes, namely Ryu☆, Kors k and D-YAMA with an ultra-special performance by Hige Driver, while the second day saw the spotlight shine on local performers 5 Minute Heroes, Harmonia ACG and The Crestfall.

The Night Jam concerts are always worth staying back late for, serving as a nice way to wrap up the event on each day.
Overall, Comic Fiesta 2019 was definitely worth going to, especially with the organisers bringing in voice actors and mangakas from Japan. The community is definitely hyped and looking forward to seeing what's next for Comic Fiesta!

How was your experience and which case did you enjoy the most? Comment below!