Join as an individual. Fight as a team. Mark your highest MVP score!
With the rise of e-Sports over recent years, I am sure all of us have imagined ourselves on the big stage at one point. A stage overlooking the crowd, the spotlight on you as you step onto the stage as they chant your name. Finally, this is the moment. Finally, you will prove yourself.
Well, dream no further – now is the time for action. Get ready for the first Mobile Legends: Bang Bang tournament of 2019 hosted by The Magic Rain and VIP Mobile Arena!
When and Where?
Date: 19 – 20 January 2019 (Saturday & Sunday)
Time: 10AM – 10PM
Location: The Rift, Mid Valley Megamall
Entry fee: FREE!
Activities & Highlights
Legendary Throne Tournament
You don't have to have a complete team to join this tournament! Come as an individual – or better yet, with a few friends – and challenge the Legendary Throne. With our unique tournament format, every round that you play will be randomised with different teammates. Meet new people, adapt your skills, and overcome challenges. The winning team for each round will stand a chance to be in the Grand Finals!
*No entry fee is required to join this tournament. Players are welcome to play as many rounds as they want in order to reach new high scores. 
19 January 2019: Qualifiers
20 January 2019: Qualifiers + Grand Finals
Read the full game rules here: http://bit.ly/LTrules
Did we mention that there will be a bag of diamonds and prizes to be won? First placed team will get cash and prizes worth up to RM10,000! With prizes coming from our esteemed sponsors such as Honor, Gamers Hideout, Armageddon, E-Project and Moonton, that big bag of diamonds will surely be filled to the brim with unfathomable loot. It's gonna be lit, AF.
Even if you aren't going to participate, come on down anyways, there will be a mini goodie bag for you to redeem and it comes with plenty other activities and virtual reality games for you to enjoy. More information below!
ICON Knock out!
If you do come prepared as a team of five, there is a special challenge for you! Team ICON will grace The Rift and you have a chance to knock them down a peg. Show them who is the better team and win RM900 on the spot! To be totally fair to you, Team ICON will be on a handicapped mode so give them a good thrashing.

Streamer Showdown
If winning competitively isn't for you, how about playing alongside your favorite streamer? Catnipx, Mrcocan, Ikuto, and FanCFreakz have all gathered and they want to show that they have the best fanbase! Join their team and beat the other teams. Who knows? You might just be featured in their next stream session.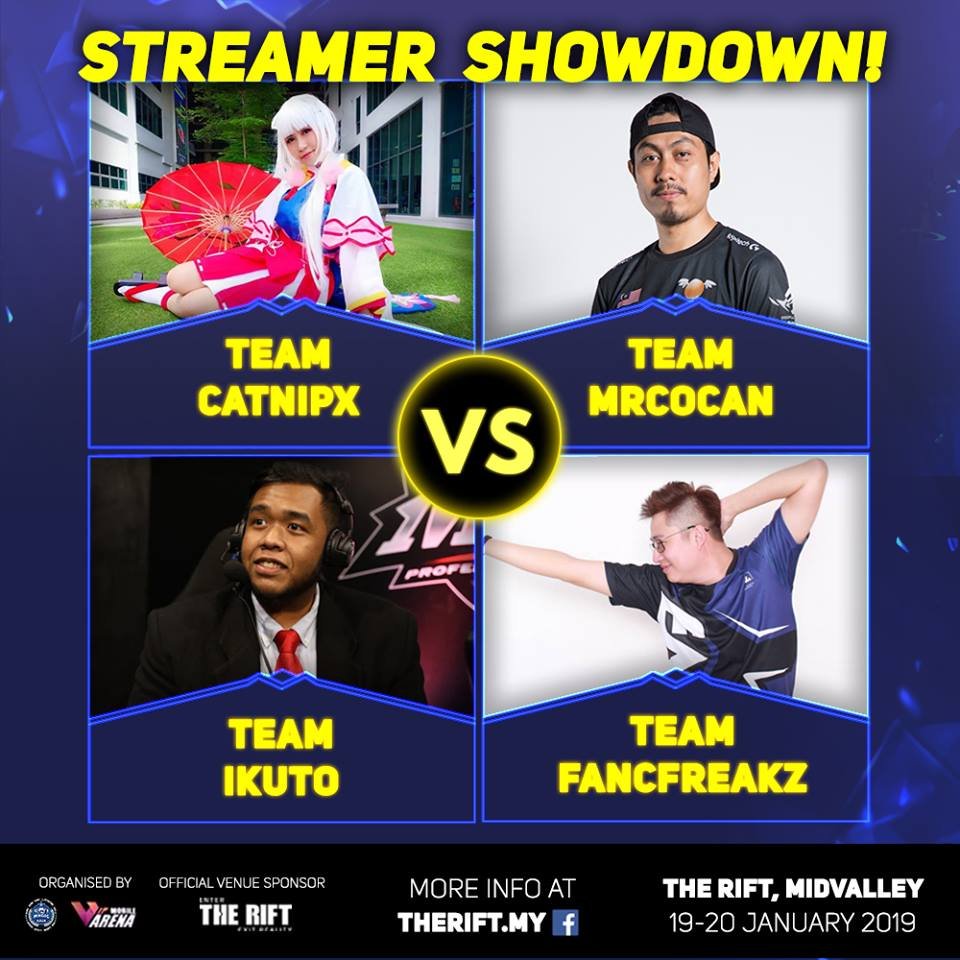 Virtual Reality Games
Exit reality and enter the virtual realm with The Rift's top class VR systems! For this weekend only, games will be on a special promotion price. BUT WAIT! There's more! There is a chance for you to even try it out for free! On both days, there will be an ongoing treasure hunt designed for you to win free rides on The Rift's VR games! psst.. Don't tell The Rift. 
Roadshows at Comic Fiesta & The Star Supa Comic
Want a heads up on the competition? Pre-register for the event and gain access to our early qualifiers! Get more info by visiting The Rift's booth at either Comic Fiesta or The Star Supa Comic. Also, stay tuned for a special giveaway in conjunction with our roadshow… 😉
22 – 23 December 2018: Comic Fiesta 2018, KLCC
29 – 30 December 2018: The Star Supa Comic, Mid Valley Convention Centre
… & more info coming soon!
Follow our Official Event Page for all the latest updates. If you have any questions, leave us a comment below!