Supported by Prasarana and RapidKL, Cosplay Commuter made its triumphant return last weekend on the 15th of September 2018. Organized by THE MAGIC RAIN, the largest cosplay gathering on a train in the world was back for the second year.  Held one day before Malaysia Day, the event saw the train stations and streets of Kuala Lumpur flooded with cosplayers of all colour, age, and race in a celebration of youth, unity and patriotism. 
The starting and ending point of this year's Cosplay Commuter was at KL Gateway Mall, where attendees registered into groups of approximately 10 and embarked on their journey across stations for activities. Guest Conductors Le Josette, Tsuyu-SEI, Dreaming Ashley, Yoake Hikaru, 麦Mai, Eiji 瑛司 and Munchy-Chan Desu also joined in the fun with their fans who were able to spend the entire day with them in their teams.
Before they could leave on their quest, teams were given a safety briefing by a representative from RapidKL on safety and conduct on the train. The Sri KL Secondary Wind Band then officiated the beginning of the event with a performance of our National Anthem, followed by a few fun anime and pop songs. The opening ceremony ended with a speech from CM Char, the founder of THE MAGIC RAIN and organizer of the event, as well as a speech from a representative of Prasarana.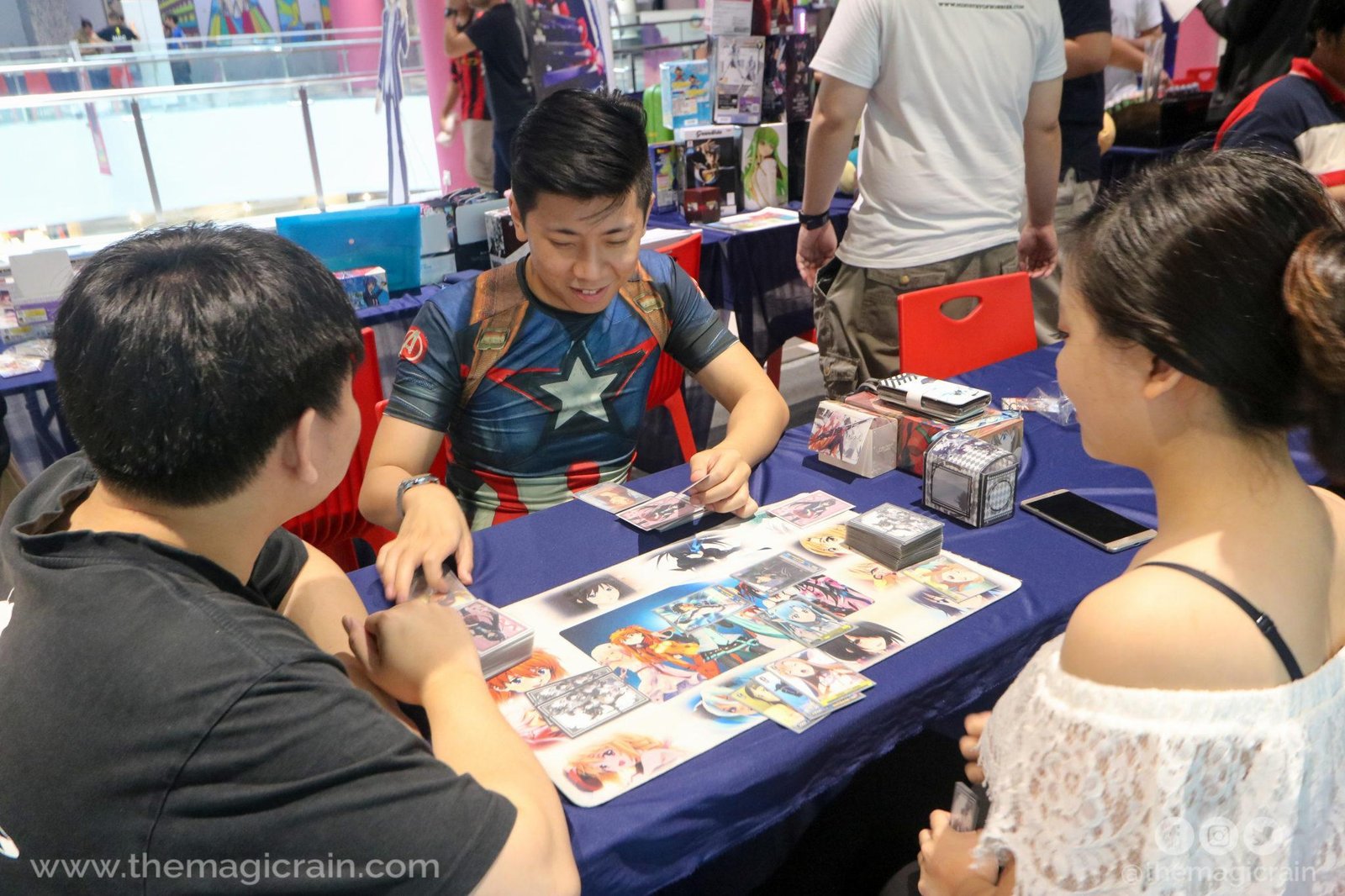 The Ministry of Hobbies, supported by KC Distribution, had a Trading Card Game (TCG) Arena at KL Gateway Mall with several activities and tournaments running. There were Learn to Play! For Cardfight Vanguard English, Japanese and also Learn to Play! for Weiss Schwarz. Those who completed the learn to play received a demo deck they can use and also special discounts when buying these selected products. There was also the Admin Challenge where players are pitted against the admins either in Cardfight Vanguard or Weiss Schwarz. Players who defeated the admin, were able to receive limited edition PR cards as prizes.
Cardfight Vanguard Japanese & English Standard Tournaments!
There were two main tournaments that Ministry of Hobbies held, which were the Cardfight Vanguard Japanese and English Standard tournaments. Both tournaments were Swiss format with a low entry fee of RM10, and the winners of the respective tourneys were able to win the latest booster box with limited exclusive card promos and certificates.
At 12PM, the Cardfight Vanguard Japanese Standard tournament was underway as participants started their battle against each other. The champion, Shaamir used Megacolony and defeated Ahmad who used Shadow Paladin. He won himself the grand prize of the winner's choice of a single booster box and a certificate. Second place went to Ahmad while third place went to Wesley who piloted a Grand Blue deck. They each won several packs and also certificates to boot.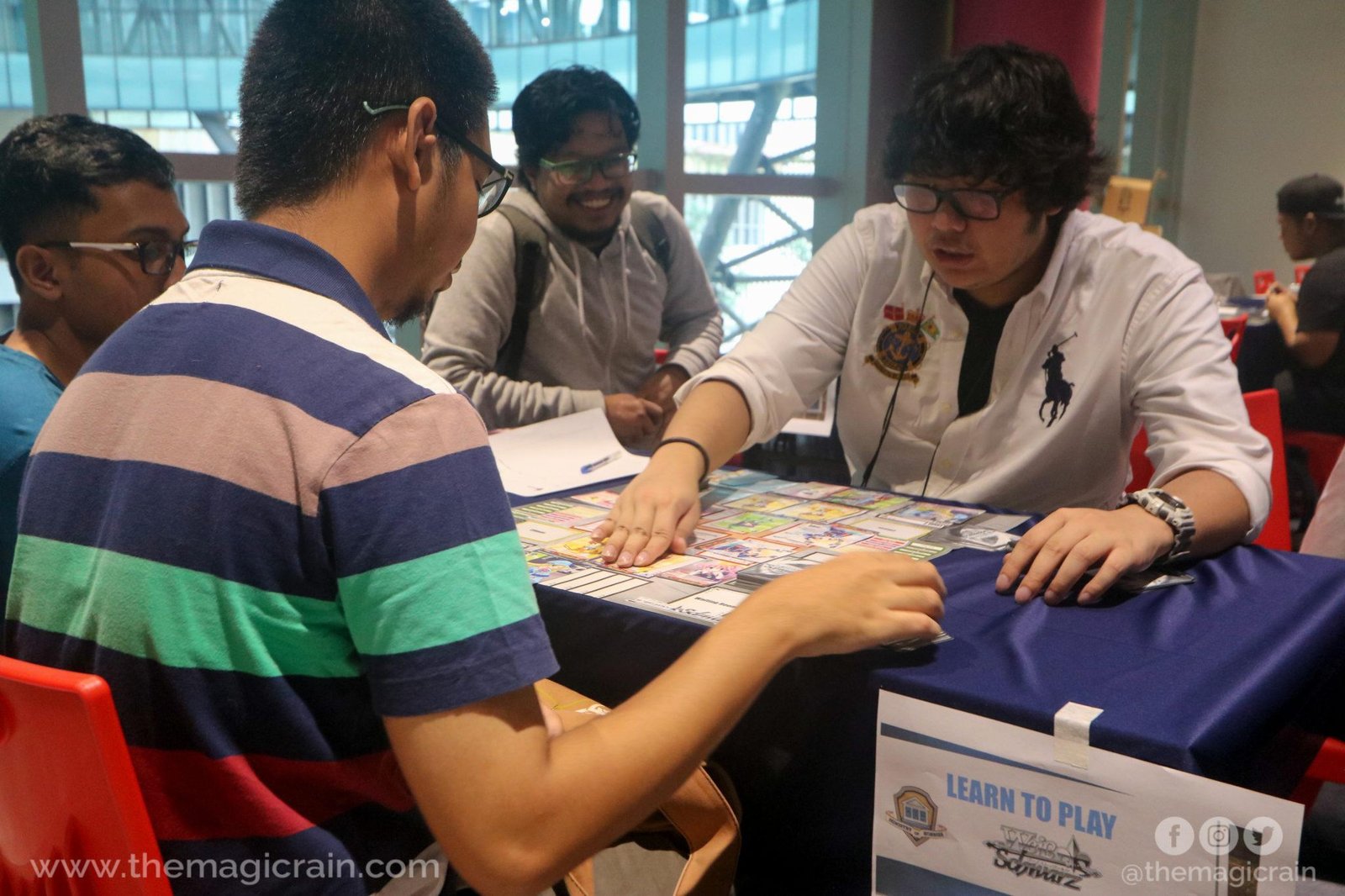 The next tournament that started at 3PM was the Cardfight Vanguard English Standard tournament. Participants battled against each other in four Swiss rounds to claim the top spot. The winner of the Cardfight Vanguard English Standard tournament, Arif Jauhari used a Tachikaze deck to defeat second-place winner Jonathan, who was using Nova Grappler.
Wayne, at third place, used Dimensional Police to fill up the top three spots. Arif won himself a single booster box of his choice and a certificate, while second and third place won themselves several packs and certificates to round up the Cardfight Vanguard tournaments.
Weiss Schwarz Japanese Neo Standard Tournament!
Right towards the end of the Cardfight Vanguard English tournament, the Weiss Schwarz Japanese Neo Standard tournament started. Participants fought to see which waifu deck would win it all. The winner of this Weiss Schwarz tournament Alvin used the Re:Zero kara Hajimeru Isekai Seikatsu deck and showed second place winner Mohd Noor Afiq that his waifu deck is more superior than his Love Live!! Sunshine deck.
Third place Kai Yang used the Gochumon wa Usagi Desu ka? deck as he can only reach that far. The winner won himself a booster box and a certificate, while second and third place won themselves some packs and also certificates for the tournament.
The Cosplay Commuter TCG Arena was conducted by one of our sponsors, Ministry of Hobbies. They made sure that participants were given the space and time to play out their games. At the same time, they had many products and trading card games up to offer for fellow participants at the event. To know more about Ministry of Hobbies and when they hold their Cardfight Vanguard and Weiss Schwarz tournaments, check out their social media page here.
---
It was a great experience for attendees and participants who got to join the tournaments. We are definitely looking forward to the next collaboration with Ministry of Hobbies and KC Distribution for gaming tournaments for future events!