Following up the release of D.Va's animated short, "Shooting Star", and the upcoming release of their new control map Busan, Overwatch announced the first-of-its-kind D.Va Nano Cola Challenge! Named after the character's officially endorsed beverage in the short, the challenge is open until September 10th with an enticing array of digital posters and wallpapers, in-game sprays, and even an exclusive D.Va skin to be claimed.
How do I get in on this smorgasbord of D.Va-related goodies? I'm glad you asked! We've compiled everything you need to obtain every item from this limited-time bundle, beginning with…
Step ONE: Win 9 games in Quick Play, Arcade, or Competitive Play!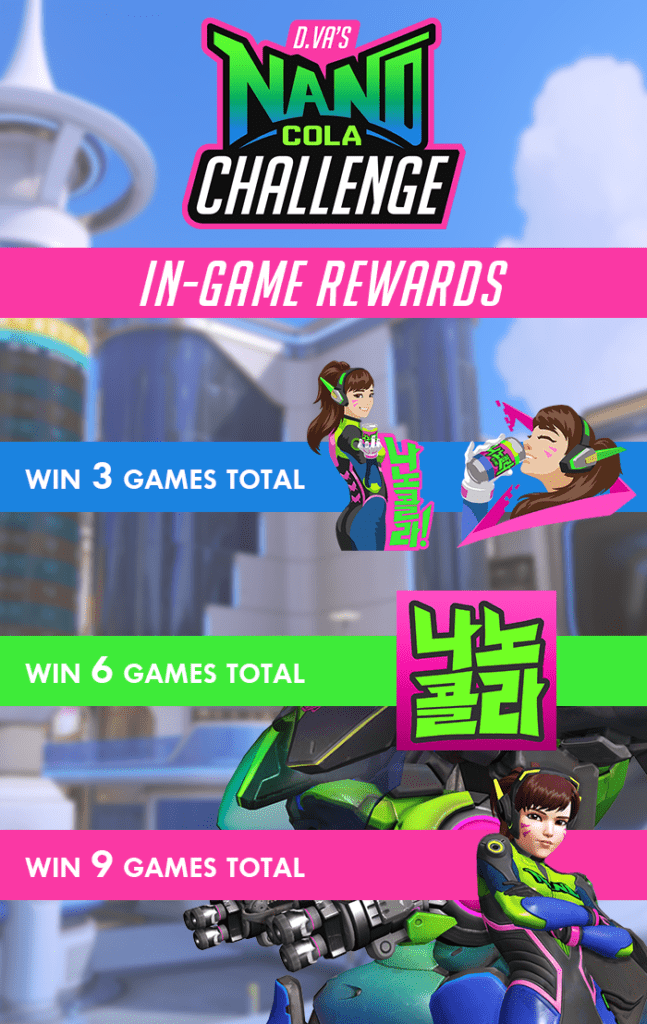 This has got to be the easiest way to earn rewards; just play games! Your wins don't have to stack, nor do they have to all come from the same mode of game play. Just play your heart out and unlock new items at the 3rd, 6th, and 9th win mark as pictured above. What more, these rewards won't replace your earnings from the game itself but function as an add-on bonus!
STEP TWO: Watch selected Twitch livestreams to earn Twitch Drop Rewards!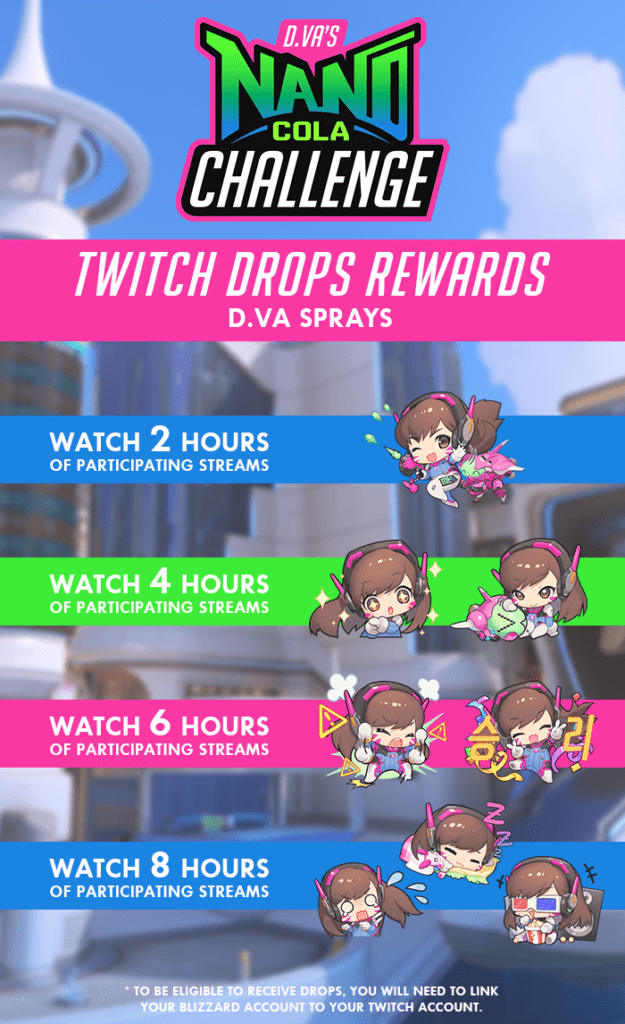 First, link your Blizzard account to your Twitch account. Next, watch and PROFIT! Similar to Step One, you unlock exclusive D.Va sprays by hitting the 2nd, 4th, 6th, and 8th hour of watching selected participating livestreams on Twitch (full list here!). You also don't need to stay put for 8 hours straight as your overall watching time will stack up. If you fulfill the criteria, rewards will unlock automatically the next time you login to the game!
STEP 3: Download FREE wallpapers on the Overwatch website!
Every time we release an @PlayOverwatch #cinematic, there's a poster commissioned for it. Here's the #DVa poster for the just released Shooting Star #animation done by the team @Blizzard_Ent See the animated short here: https://t.co/U1DpmIdX8O #BlizzLife #BlizzardEntertainment pic.twitter.com/ABtuSZ3UWO

— David Luong (@Ackdoh) August 22, 2018
If you loved "Shooting Star", then you're going to love bringing a part of it home. You can now download the "Shooting Star" official printable poster and the D.Va Nano Cola skin wallpaper for your desktop or mobile devices, all available on the Overwatch website! There's no catch here. It is literally for free to download. What are you waiting for?!
---
And there you have it! For more information on how to participate in the D.Va Nano Cola Challenge, visit the link here. Good luck!