We had the humbling opportunity to interview the cute Kimu Cosplayer – キム during Visual Arts Expo 2018, and she shared with us some of her cosplay experiences in the Netherlands and her thoughts on attending anime conventions. Read on to find out more!
---
Q: How long have you been cosplaying, and how did you first get into it?
A: So I've been cosplaying for around… maybe four years, but [for] the first year I didn't really do anything.  I went to a convention in the Netherlands just [in] casual with my boyfriend and we saw it was really fun, everyone was cosplaying. In the Netherlands, usually all of us are cosplaying. If you're not doing cosplay, it's kind of weird, because everyone is in costume, so we wanted to join in the fun too. So we did the year after, we wanted to join in, so I think I've been cosplaying for like three years now. Just the first year I went casual.
Q: So what's your process of planning a cosplay?
A: Usually it depends on [whether it's a character from] an anime or game or anything else related. So if its anime I'll try to watch the anime first and see "Oh, I really like the design!" But because I don't really have a lot of time to make the costume, I usually check on Taobao and try to find out the Chinese words to find the costume. Sometimes if it's easy I can try to make it myself but usually I don't have a lot of time.  
Q: What kind of change has cosplay brought to you or someone you know?
A: For me, it has been mostly social communication. When I first went to conventions in casual, I was really [like a] NEET, I didn't talk at all. I just stayed at home all the time and didn't talk to anyone. But because of cosplay, I felt like everyone was really accepting of me so it was easier for me to get out of my shell and talk to all those people. I feel like it's been the same way for a lot of my friends. They're more social now and they can talk more normally, and also it helps us in our daily life to be more social. Get easier part-time jobs, study easier and make more friends.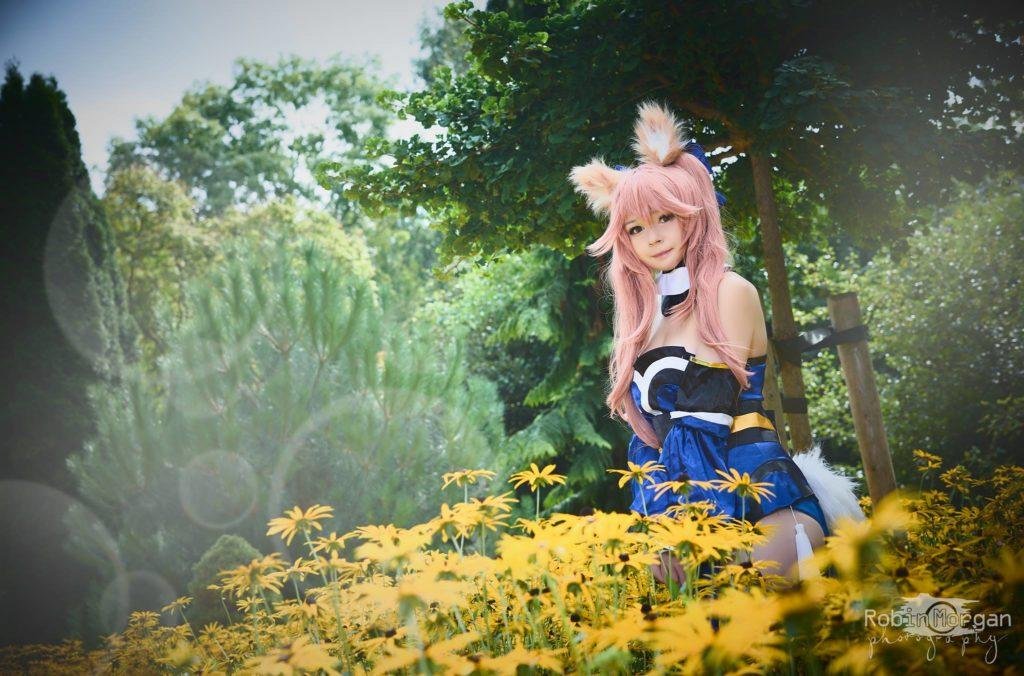 Q: What seems to be the main difference between the conventions here in Malaysia and the conventions back in the Netherlands?
A: Actually I think it's a little bit hard to tell because I just arrived today. This is my first time attending a convention [in Malaysia] but so far I saw that this venue is really small, you have one room only but I think it's also easy to find your friends and easy to walk around and you can see everything in a short time.
For the most part in the Netherlands, you only have a few [cons] that are really big and really difficult to find your friends and they have a lot of really small rooms. Usually, our conventions are at hotels so it's like a really big venue but I see that in Asia and also in Malaysia I heard it's mostly in convention centers so it's like a different setting for the conventions.
Q: How is the process of planning and executing cosplay photoshoots in the Netherlands?
A: First, I have to check which costume I want to wear and then I have to check which location fits because for me it's really important to have a fitting location for the costume. Sometimes I see a location and I go "Oh, which costume can fit with that?" For me I really want all of them to fit well. After I have a lot of them I try to find a photographer so I ask on Facebook and directly send a message to my friends. I really like to have photoshoots in other countries to make sure the costume really fits the location.
Q: Are there any inspirations in the cosplay world that you look up to?
A: Yeah! There are a lot of really famous and cute people, like today I met Ying Tze. I was really happy especially because I'm very insecure about my height because I'm really tall like 173cm. I saw her and she was the same height as me and I was really happy to meet someone tall.
I really look up to all the cute girls especially in Asia, like Taiwan has a lot of people, Malaysia as well. You have Angie, Ying Tze, Baobao… I look up to them and I really want to be like them because they're really hardworking in what they do. I see them every month [with] new merchandise, new costume… They plan it all out really nice. I hope one day I can be better at that.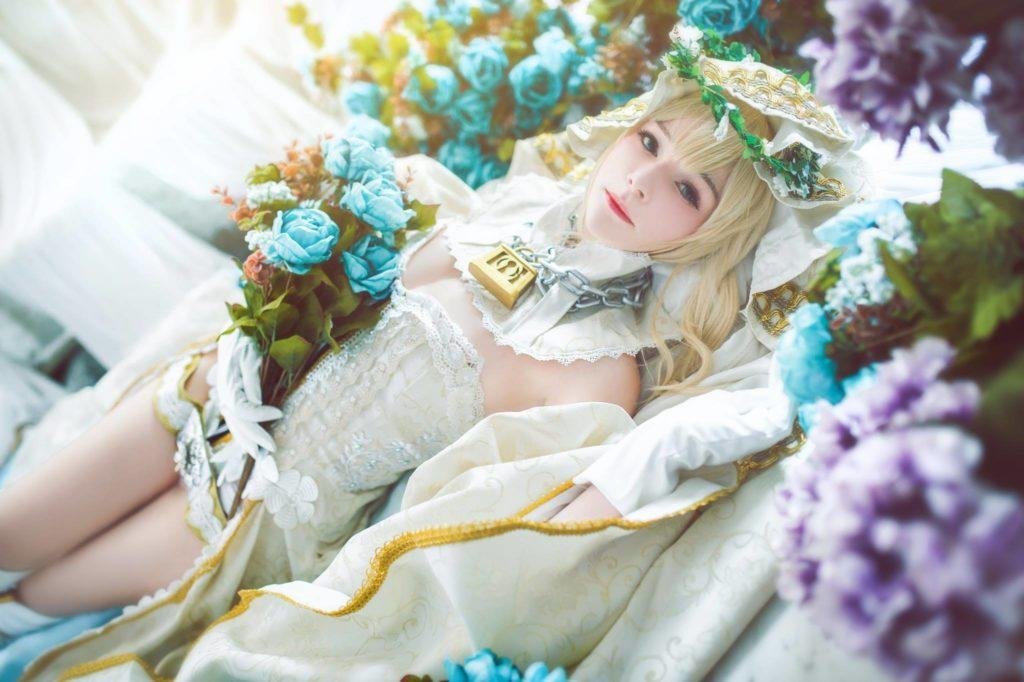 Q: Which of your cosplays is your favorite so far, and why?
A: I think my favourite one is Saber Nero Bride. It's the one I shot in Taiwan. It's my fav because my first inspiration is Shimo Cosplay and I saw she collaborated with Inside'cosplay, a really famous photographer in Taiwan. I went to Taiwan last year so I asked my friend to ask him [for a photoshoot] because I don't know any Chinese and he's not really good in English. Maybe he doesn't want to so I was expecting him to reject me because I'm not that known and all the girls he shoots with are so pretty, not compared to me at all. But then he said "Yeah it's fine, but just choose a costume I haven't shot yet" because he wants to shoot different [character] every time so he can still enjoy photography.
We worked really hard to find the perfect costume for him because his photography is really good and we didn't want to disappoint him. I didn't want to come in a really cheap costume, so we worked really hard to find something really expensive-looking, really fancy so we found the perfect dress. It had lace all over the place and really nice beading so we were like "This is perfect for him!" and he said, "Yes, I like this one, we can shoot this one". And then we went to the studio together.
We went to the studio in Taiwan and two of my friends helped me assist and helped me translate. I was really happy they helped me so much because he couldn't talk English at all so we barely talked. He told me to do which pose, my friends also helped me with posing because the veil was like 5 kilograms, it was really heavy and I couldn't move at all. Later when he sent me the photos I was legitimately crying because I was so happy to be able to work with him. I didn't expect it at all. Up until now, it's still one of my favorite shoots also because it's really pretty. It's one of the best photos I took and also the memory behind it, I was so happy to do this.
Q: What is your dream cosplay?
A: I couldn't wait for the dream so I already ordered it! I asked my friend if she can make it. She's a tailor from the Philippines, she makes really nice costumes. She made one of my costumes before – Heles from Granblue Fantasy. When I saw [the costume], I was in love. It had armor and I'm not really a fan of armor because it's not that nice to wear, so I fit it and [found that] this one fits really well. I didn't feel uncomfortable at all; it felt really nice. So I wanted to ask her to make my dream costume. I was really scared to ask her because I was scared to see how it would turn out but I have full confidence in her.
My dream one is Vira, also from Granblue Fantasy as well. It's the Grand version; it's quite new and I haven't seen a lot of people do it. I'm really excited to make it come true. It should arrive when I go back to Europe. We have already planned a shooting for it in Poland and we will go to a lot of nice castles and lots of nice scenery places.
Q: What would you consider to be your ultimate cosplay goal?
A: For me, it would be something related to my fans, because I really enjoy cosplaying. When I started, I did it for fun and I still do it for fun, but I'm so surprised that a lot of people really like my costumes and they're really supportive of me. I feel like I owe them something so for me, I really want to cosplay more and help people to also start cosplaying and make my fans and friends happy doing what I do.
Today I have a booth and I try to keep my price [of my merchandise] really low. I don't want to come here for profit. I just want to spread the name and make people happy. I saw some people, really cute girls who told me "I want to take a photo with you!" or "I want to buy your prints!" I just want to do this because I want to make people happy with what I do and become an inspiration for them and support them in doing cosplay as well.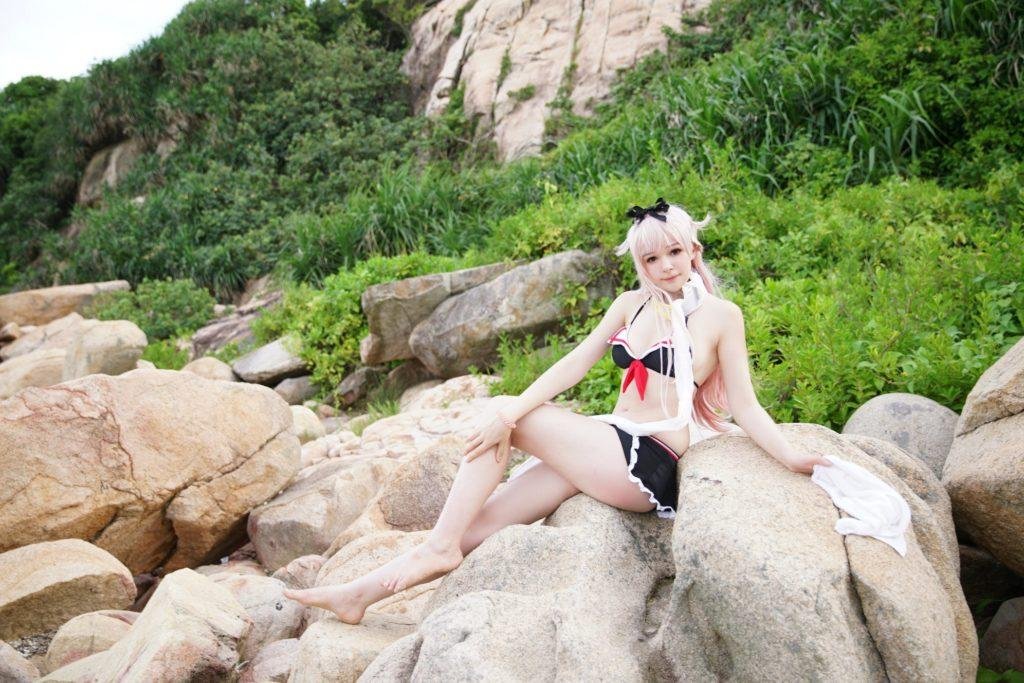 Q: How do you find a balance between cosplay and your daily life?
A: Actually…I don't find a balance at all. (laughs) For me, I try to prioritize my part-time jobs and also my studies. So my full-time study is dentistry, but for next year I'm taking it easy, just retaking the subjects before going into my final year. Also, I have three part-time jobs right now, because I still need to make money to travel so much, and also need money to cosplay.
So for me, I try to balance [such that] I keep one day in my week to work on cosplay, do fansigns for the fans, signing prints, and editing photo sets. But most of my week I really work six days a week or study, so my days are really full. That's also the reason why I can't really make any costumes. I try to make simple ones in my free time just to enjoy the feeling of making something, but to make anything really difficult, I don't have the time to make it, and I don't have the time to practice and become better at it because I only have so little free time.
Q: Anything you would like to say to your Malaysian fans?
A: I would like to say I really love your country. It's really nice and the people here are so friendly. I was just at my booth and a lot of people visited. I was so happy to sign for everyone; it was so busy! I really hope I can come back next time but in a different period.
I hope I can come back for Comic Fiesta. I heard it's your biggest event and your most popular one, and that there are so many people there. It's also during my Christmas break so I'm free and I can come. I really hope I can have a booth there and we can easily meet up and talk with you, make new friends and just have a good time together.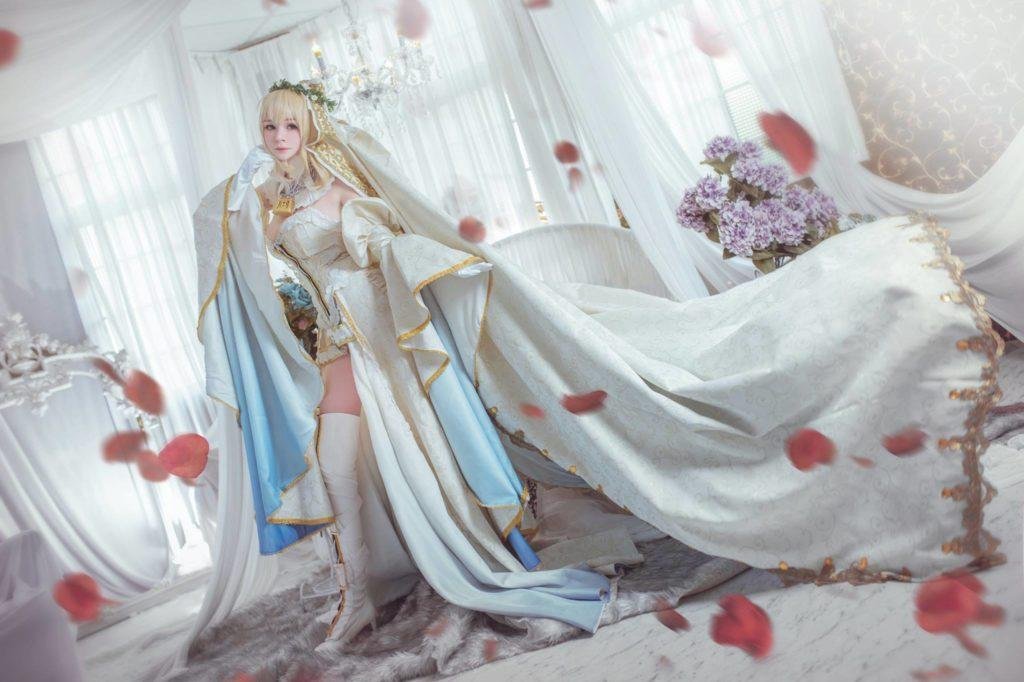 We thank Kimu for giving us the time and opportunity for this interview. Remember to check out her Facebook page for more cool cosplays!
---
Want to win Kimu's cosplay merchandise? Participate in our special giveaway event! All you have to do is:
Like The Magic Rain and Kimu Cosplayer – キム on Facebook
Be on the lookout for a special interview video with Kimu on our Facebook page
Share the video with your settings set to Public and hashtag #TMRxKimu as the shared post caption
Stand a chance to win 1 out of 3 of Kimu's cosplay prints!
We'll be announcing the lucky winners on 29 August 2018. Best of luck!