With the conclusion of UCSI Japanese Cultural Society's first ever anime event, Kikasai 2018, on the 23rd and 24th of June, I have to say that it was a pretty good first attempt! The omatsuri-themed event was held at Block A of UCSI's Kuala Lumpur Campus and was filled with fun activities and stage performances. It was a wonderful experience to be at an event where the focus was both on the pop and traditional culture of Japan!
Before we get into the good stuff, I'd like to commend the choice of venue! I personally like how the hall and general premises were well-ventilated as cosplaying and wearing yukatas can be quite uncomfortable when it's hot because of the thick material and makeup. A few things I was not too fond of was how the event was held on two different floors, the 1st and the 4th, because even though there was an elevator, the exit only had stairs which might have been inconvenient for cosplayers with uncomfortable footwear.
However, it wasn't too much trouble as you could head down a floor and take the elevator from there. Not to mention, only the traditional event games and maid cafe were held on the first floor and the rest of the activities were held on the 4th, where the doujin booths and stage was at so there was no constant need to head up and down.
---
Stage Events
We've compiled a few of our favourite highlights so you can catch up on what you may have missed at Kikasai! The emcees of the event were none other than Shaun Lopez and Junnie Tsukimiya who were constantly on the move.
1. ACG Quiz Competition
First up, we have the ACG Quiz Competition! I'm pretty fond of their use of the 'Kahoot!' application where one can create and play quizzes on the go and other people can join live 'Kahoot!' sessions. In this case, the topic was, as stated in the activity name, Anime, Comics and Games! Round after round, people answered questions to compile enough points to win. At one point, someone who was on the first floor joined as well! Eventually, users Name, Carrot487 and Uknowwho emerged victorious with Uknowwho gathering an amiable 16k+ points!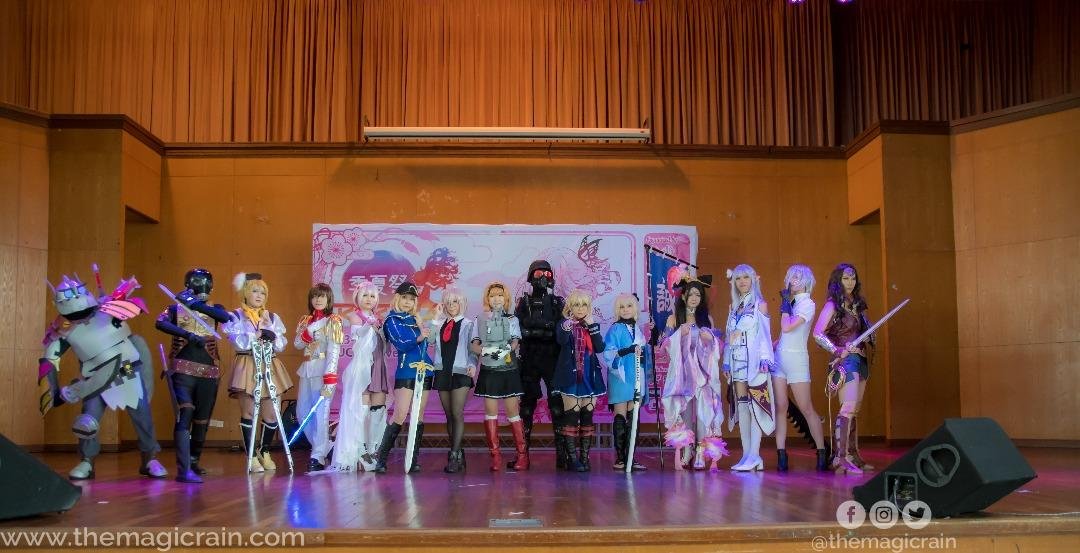 2. Cosplay Runway Competition
The Cosplay Runway Competition was undoubtedly one of the highlights of Day 1. Cosplayers rocked the stage with cool poses that fit their characters and settings. Among those that participated, the one that stood out to me the most would be Wonder Woman by Akane. Rikka Blurhound, Angie0_0 and 小桃 Siutao were the judges for this competition and we made sure to note what they had to say about it! Rikka liked the variety of costumes that the participants had to offer, Angie felt that this was a nice experience for the cosplayers to showcase their cosplays and finally, Siutao found the participants courageous for their confidence on stage. The competition ended with a group photo of the judges and participants.
3. Watermelon Time
We know that the spicy ramen eating competition is starting to get boring so we decided to cover Watermelon Time, which is also a speed eating competition but with; you guessed it, watermelons! The stage activity was conducted with a total of 12 contestants in an intense session of munching and getting messy! Participants were allowed to use their hands and rules were that one had to eat until no juicy red watermelon flesh could be seen. The competitors dug at their watermelons and stuffed themselves full, it was undoubtedly a sight to behold. Eventually, a winner was decided with Jankenpon as a tiebreaker. Consolation prizes were given to the rest of the contestants for participating.
---
Off-Stage Activities
1. Beat Saber
If you thought you could only play Beat Saber at Cosplay Festival 3 that happened on the same weekend, you're quite mistaken. Kikasai had a booth solely for the virtual reality game Beat Saber that was crowded with people that wanted to try their hand at the VR rhythm game. One could play at a reasonable price of RM9.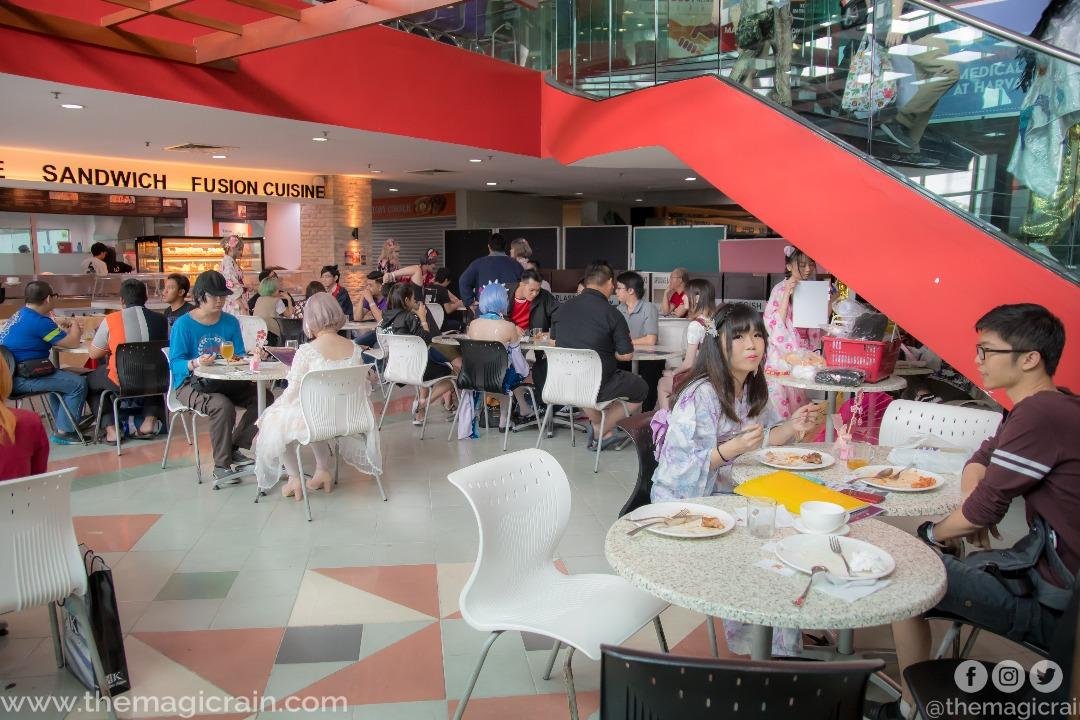 2. Her Majesty's Mansion's Maidsuri
Other than the Matsuri games, attendees to could visit Her Majesty's Mansion's Maidsuri for food and downtime with attentive maids and butlers for company. One only had to pay for their set meals to enter and enjoy the meal and three spoonfeeds! The cafe had delicious food and drinks such as Bolognese and Carbonara Spaghetti, Chicken Chop and if you wanted something light, the dessert of the day! All of these meals come with a cup of green tea and patrons only have to add RM5 for a drink upgrade!
3. Matsuri Games
It's about time to talk about the Matsuri games! I liked how the games were named creatively based on how they're played. The games available were Shoot'em Down where players shot down cans, Aqua Yoyo where players caught yoyo balloons like how they would for the traditional fishing game, Ring a Bottle where one had to throw rings over bottles and more. Something I've come to appreciate is how the game props were made with reusable items such as cans and bottles.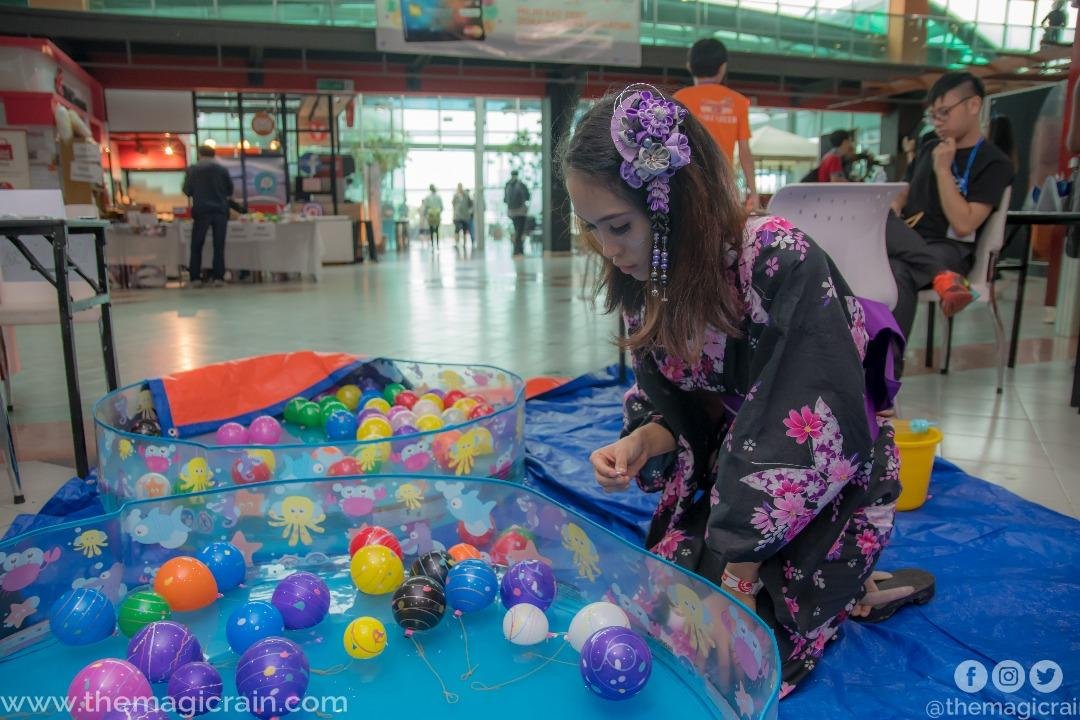 Conclusion
Overall, I had a good time as an event-goer and I truly admire the effort made to make this a better event than it could have been by having two separate doors for an entrance and an exit for the hall. Not to mention, they posted a feedback form on the event page which you can fill out if you attended Kikasai. It's definitely one of the better Omatsuri-themed ACG events in my opinion. It was promising and I'm looking forward to what they have in store for next year!