---
"I thought you weren't interested in 3D,"
"Seiyuus are 2.5D!"
---
Writer: Chou Heiwa Busters
Genre: Drama, Romance, School, Supernatural
Duration: 1 hour 59 minutes
Production Studio: A-1 Pictures
You've probably seen random gifs circulating the net of this particular anime, I certainly have! Having put off even searching for this anime for the longest time, it was recommended to me just days before and boy, I can't begin to express how much I appreciate and believe this anime should be appreciated more. Let's get on with the review!
The movie begins with a little girl named Jun Naruse running towards what seems to be a castle atop a hill and beginning to daydream. Her father soon drives out the gate of the said castle with a woman and her innocent, fantasy-jaded mind begins to imagine her dad as a prince. She soon runs home excitedly to tell her mother all about it and before we even know it, the 'prince' was moving out of the house but not before telling the child that everything is her fault for being a chatterbox. I know, what a douche!
She then meets a talking egg that zips her mouth shut.
Time skip to a grown up Jun Naruse, a reclusive teen who's known to never talk and is also chosen to perform in a musical with three other students, namely Takumi Sakagami, Natsumi Nitou and Daisy Tasaki. She decides to reject the task but as she makes her way to the music room, she hears Takumi singing about eggs. Something clicks and she changes her mind.
The way the story progresses after is wild ride, both plot-wise and romantically. The movie is primarily based around the struggles of a girl with childhood trauma and her little journey as she finds herself. What makes this such a wonderful movie is that the way they choose to portray all this and the direction all of it eventually goes is way beyond what we initially expect, not to mention the realistic portrayal of what a student like Jun would face as a child with many problems. It's almost as if every single person involved in the making of this movie went, "We're telling it as it is and only as it is.".
At first glance, the art may seem amazing but I find it comparable with the art of a fairly well-funded anime series. It's the focus on certain important parts of it that make it seem better than it really is and I believe one of those parts are adding more kira kira to the eyes. Why so? Have a look at Daiki.
He seems to be one of the more poorly drawn characters in the movie, mainly because of the way his eyes were drawn and animated. He doesn't look as out there as the other characters do despite being one of the most expressive. The animation however is quite well done, making sure to cover all the little movements of the characters which include, hair movements and the brief movements of typing on a phone. Some of these movements were even animated with CGI to make them look smoother.
The music used by this movie is definitely one of the main factors of what makes it such a great movie. Music can be used to trigger or strengthen certain emotions and Anthem of the Heart went full-out with it. I felt so much throughout the movie not only because of how much I felt for the characters but mostly thanks to the background music. Not forgetting the brief mention of voice synthesizers in the movie, it's something I've come to appreciate as I watch.
Other than the background music, the original tracks for the movie are also superb. One of the best I've heard for anime and also the most emotional, I love how they introduced Japanese lyrics to English classics and how they used it in the musical as well. Of course, it's only natural for an anime involving a musical to have amazing music.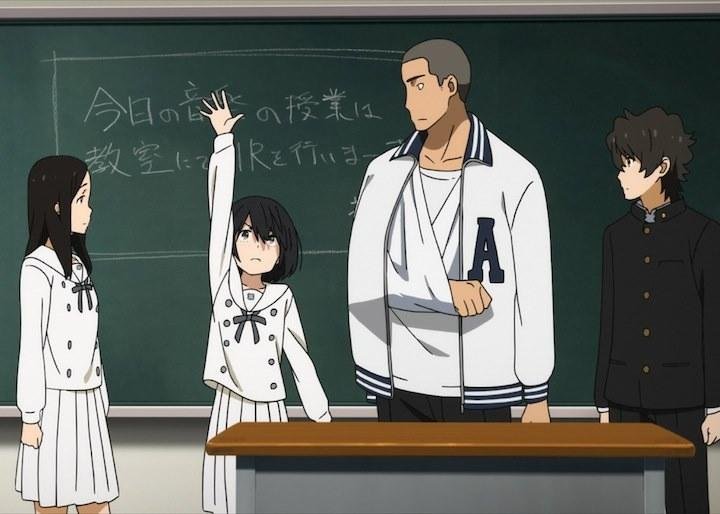 Character-wise, the characters aren't exactly what I would call unique, they're realistic. They feel emotions in a very realistic way and I guess that what makes them so relatable despite us not being in the same position as they are. Tough guys feel pain as much as we do, cool guys can lose their cool, they don't stick to stereotypical character concepts despite looking exactly like them. They aren't high school kids that have an over complicated love triangle, nor are they teens with an overflowing sense of justice. They're just your everyday teens and it's clear as day.
In conclusion, this is a movie that everyone should watch. It has great plot and tear jerking twists that will leave you sobbing in awe, amazing music that you'll probably listen to on replay and wonderful characters that are so relatable, it will probably even hurt to watch but that aside, give it a go and I assure you that you won't regret a single second of it!