During AniManGaki 2017, the MAGIC RAIN had the utmost pleasure of interviewing Joelle Strother (aka Joelle). Best known for her work in Final Fantasy XIII-2 & Final Fantasy Lightning's Return for tracks such as "Plains of Eternity," "Ruined Hometown," and "Yeul's Theme", Joelle had returned to Malaysia once again as a special guest for AniManGaki 2017!
Joelle made her debut in 2006 with Universal Japan, performing Lucky Maria, an ending song for the popular movie "TRICK". She has since sung on NHK TV programs, for a TV drama, for many games, and has recorded many commercial songs.
Her other notable gigs involved Sound Horizon, in which they as a group produced several albums ("Ido e Itaru Mori e Itaru Ido", "Luxendarc Shoukikou", "Luxendarc Daikikou", "Luxendarc Kikou"); her latest work with them being "Nein / Sound Horizon". She also contributed vocals for the music of Bravely Default: Flying Fairy, a role-playing video game developed by Silicon Studio. Her latest project is the opening song for a visual novel titled Period Cube: Torikago no Amadeus.
---
Q: Is this your first time in Malaysia?
A: No actually, it's my second time here. My first time was last November for the Dreams & Imagination: Final Fantasy Tribute Concert with the pianist, Nathan Tam. I actually met the organizer of AniManGaki there and they officially invited me to appear in AniManGaki 2017.
Q: So how has your experience in Malaysia been so far? I heard that you love eating! (laughs)
A: Fun. Just one word: Fun. I really love eating! It's my passion and the food that I ate the last time I was here which was roti, is my favourite. It's a little greasy, but that's the best. I got to try new things this time but I've not tried durian yet. I heard that there are people that just either love it or hate it.
Q: I think it's mainly because people can't really stand the smell of durian and that's why they don't like it.
A: So we're from Japan and we have this food called natto. It has a rotten smell and we're actually used to that bad smell, so we might be okay with durian.  
Q: What made you decide to become a singer?
A: Ever since I was little, I love songs that reach people's hearts and moves them emotionally. I remember listening to my father's CD collection and I'd choose songs that will make me cry. I felt emotionally connected with the music when I was little and as I grew older, I'd listen to Michael Jackson, James Taylor, and my father's CD collection of course, which included Billy Joel. I loved males vocalists and the songs that really reached my heart made me want to sing that kind of songs too. So that was how I started singing. It was in high school when I decided that I wanted to become a professional singer.
Q: What were your thoughts on working with Square Enix for your works in Final Fantasy XIII-2 & Final Fantasy Lightning's Return as they have big names like Nobuo Uematsu and Yoko Shimamura?
A: When I was growing up, I didn't have much chances to play games as my parents were strict. The only toy that I had was Gameboy and there were no RPG-related games at that time. So I was never really into gaming.
I started singing ever since I was 20 as a professional singer and this job was actually brought to me as an ordinary singing job. I was asked to sing these songs for Final Fantasy XIII-2 so I went into the studio and I actually met the songwriters, Mizuta-san (Mizuta Naoshi) and Hamauzu-san (Hamauzu Masashi). Of course I practiced singing before I went into the studio, but I couldn't believe how detailed it was for the writers as they needed to understand the scenes/storyline behind the songs. That made me feel like I needed to really commit myself to relate to the character. For example, for 'Yeul's Theme', I was asked to be like an innocent person so I tried to remember my childhood by imagining how I'd sing this sad song as my young self.
I sang those songs and as years passed by (that was back in 2009), I started getting a lot of feedback. Looking back, I'm so grateful to be a part of such a wonderful game, I mean, Square Enix is such a big name too. To be able to perform those songs and having the audience really appreciate what I did, I'm very happy about that. It was a tremendous and wonderful experience.

Q: Which song of yours would you pick to introduce to new fans/listeners?
A: That's very, very difficult as I sing quite a few different genres of songs because I was very influenced by my father's relationship with music. He plays jazz so I sing jazz standards, like 'Moon River', all those really good, pure, solid songs. I also write my own music which is pop and I do collaborations with Sound Horizon, Linked Horizon and Final Fantasy as well. So I consider myself to be a singer and also an artist, but more of a singer. I really get connected to each song that was given to me and the more I sing, the more precious it is to me.
I can't really choose but if I had to, then it'd be something that came from me. As an artist, the songs that I write are something more genuine and it comes purely from my heart. I'm hoping I can deliver some more of my own music as well as singing all the other songs that'll be coming my way.

Q: When performing abroad, do you prepare differently compared to performing in your home country?
A: Well, the singing side is completely the same. However, the way I prepare myself mentally is different. For example, like in Malaysia, I actually don't really know what to expect because I know how Japanese people are like, but not Malaysians. Japanese people are very serious, they like music but they don't really respond when you're on stage. They just sit and watch and sometimes I get nervous like 'What are they thinking? Do they like it? Are they bored?'. I'm not sure! However, after the show, they'll be like 'Oh, that's so good!' like thanks, but please show it to me when I'm performing…
The people here though are so alive and they're not afraid to express themselves. The stage last night was… freedom for me. They made me feel so welcomed and relaxed. I actually try not to prepare too much and try to just go with the flow and see how it goes. I ended up having so much fun though (laughs).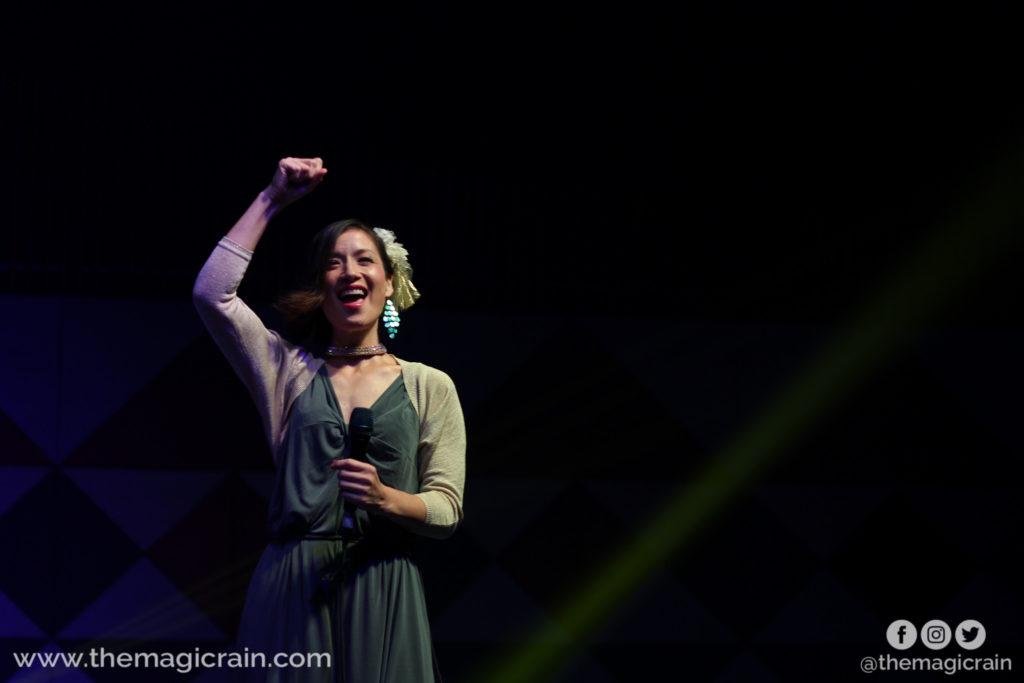 Q: How's the experience of performing in other parts of the world other than Japan and Malaysia?
A: Oh, I've performed with Sound Horizon in Korea. They were a little bit more mellow than the Malaysian audience. But they're Sound Horizon fans and they were very into it. It was the first time Sound Horizon was performing in Korea and people were really excited about that.
I also performed in Australia with Nathan Tam for the first show of the Final Fantasy Tribute Concert. We're actually hoping that we can make the Final Fantasy Tribute Concert happen in Korea late this year so we're trying to gather materials and do the necessary procedures. So in Australia, I sang in the Sydney Opera House in the Utzon Room, the smaller room but it was on top of the ocean and it was very beautiful. I guess the most fun part of being able to perform in different places is that you just soak in the culture, the scenery you see, the people you meet, the different views and all, but they're all connected through music and music is just the key to connect people emotionally. Over the years, I've learnt that I just wanted to be a singer at first but as I sing and the more I connect with people, I just realise how powerful music is. I really believe that music is the key to be able to connect internationally. I really enjoy myself at each place I perform at.  

Q: Do you feel any significant difference working alone or when you're working as Sound Horizon?
A: First of all, when you have different people working with you, you don't feel alone and lonely (laughs). When I'm alone though, it's a really good chance to commit myself and really concentrate to get to the bottom of what music really is for me, because there's just me and I'm the only one that can express it. When I'm with Sound Horizon, there are more singers that are working together but we all have different songs that we're asked to sing and so, each scene we're on the stage alone. We do sing together sometimes as well but it's still kinda like an alone thing too. However, I love the moment, the happiness that I feel when I'm performing by myself. I feel so alive and the feeling where I can deliver something so spiritual and pure from myself…  It's indescribable, really.

Q: Among all the people you've worked with for series like Square Enix, Bravely Default: Flying Fairy and Period Cube: Torikago no Amadeus, which would you claim to be the most memorable to you?
A: That's a very tough question… Actually, for my dream as a singer, it doesn't matter what type of music I sing but I've always wanted to sing with an orchestra in the back, in a beautiful high-end atmosphere setting with beautiful music. I just love singing good solid music with beautiful melodies and with an orchestra, that'd be so nice.
Back in 2012, that dream came true thanks to Bravely Default: Flying Fairy. Alongside with conductor, Senju Akira, who was conducting the Tokyo Philharmonic Orchestra, I was very lucky to be able to sing the theme song for Bravely Default: Flying Fairy. That was probably one of the highlights as it was very different from all of the other shows that I've done. I'm hoping that one day that dream would come true again. When I perform with an orchestra, my songs feel more dramatic and there's more impact than usual. You also start to not think with your head, it comes from within. It's all due to the magic of the musical instruments and it's just so beautiful.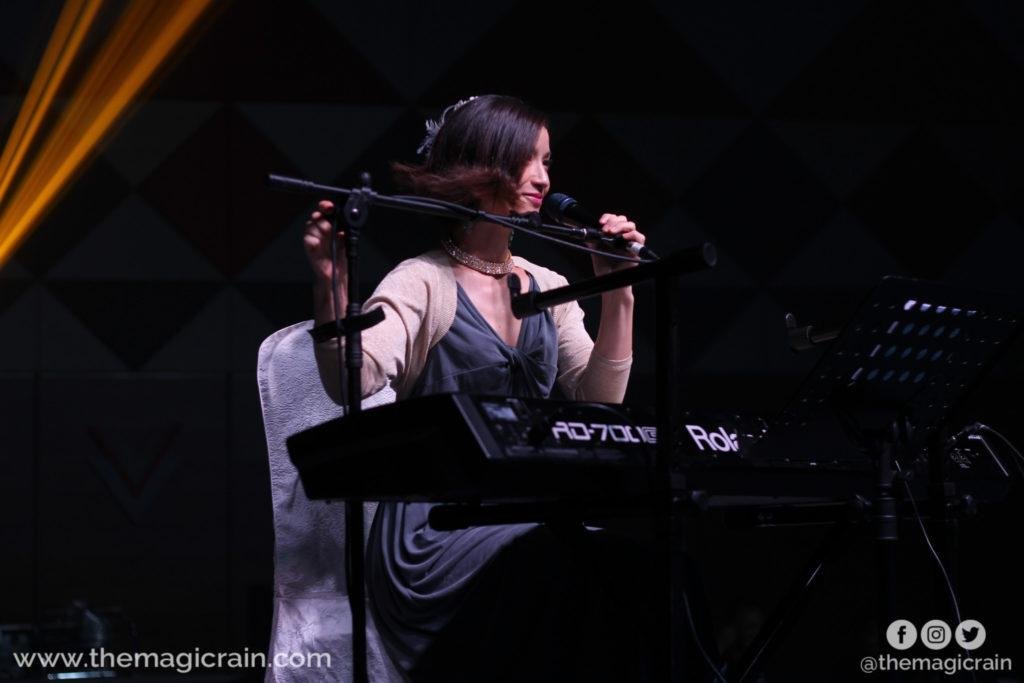 Q: You mentioned that your albums were titled after flowers. What inspired you to do so?
A: Well, actually, my right-hand man, she's my manager. She's taking such good care of me and when we were planning on trying to release something, she came up with the concept. I feel like I know myself but usually, the other people that's actually watching me singing, being in this career, they actually know me more and it feels like she knows me and understands what I go through in life. She really thinks deep into who I am. So she came up with the concept and said, "Joelle, let's do something that's about the past and the future" and it all started from there.  

Q: Could you give us a tiny hint of any of your upcoming plans?
A: We're planning something really huge, but it's still in the process of trying to make it happen so we can't really give any keywords. I really hope it comes true though!

Q: Is there anything you'd like to say to your Malaysian fans?
A: Oh my gosh, I owe them so much. Some of the audience asked me, 'When is the next time you're coming to Malaysia?' like it's normal. Okay, so when's the next time? I'm not sure… They're just so accepting and last night was very, very magical for me. I felt like my music kinda stepped up because of the audience and the love they have for music, anime, actually music in general. People are just so alive and I learn a lot from them.
The very last song I sang, 'Eyes On Me' from Final Fantasy VIII, it had a very meaningful theme for me because when I'm usually on the stage, people watch me perform. Yesterday though, I was able to be very relaxed and I was watching each of the audience's facial expressions, their excitement. So I think we were very connected last night and I'm very grateful for the experience that I was able to have. I'd definitely love to come back again and meet all my fans that came last night as well as the new people that I was able to meet. I'm very excited for that.
---
With that, we'd like to thank Joelle for her time and we hope she had as much fun as we did during the session! It is obvious just how passionate Joelle is for music and the work she's doing. We wish her all the best in her future endeavors and for her next visit to Malaysia!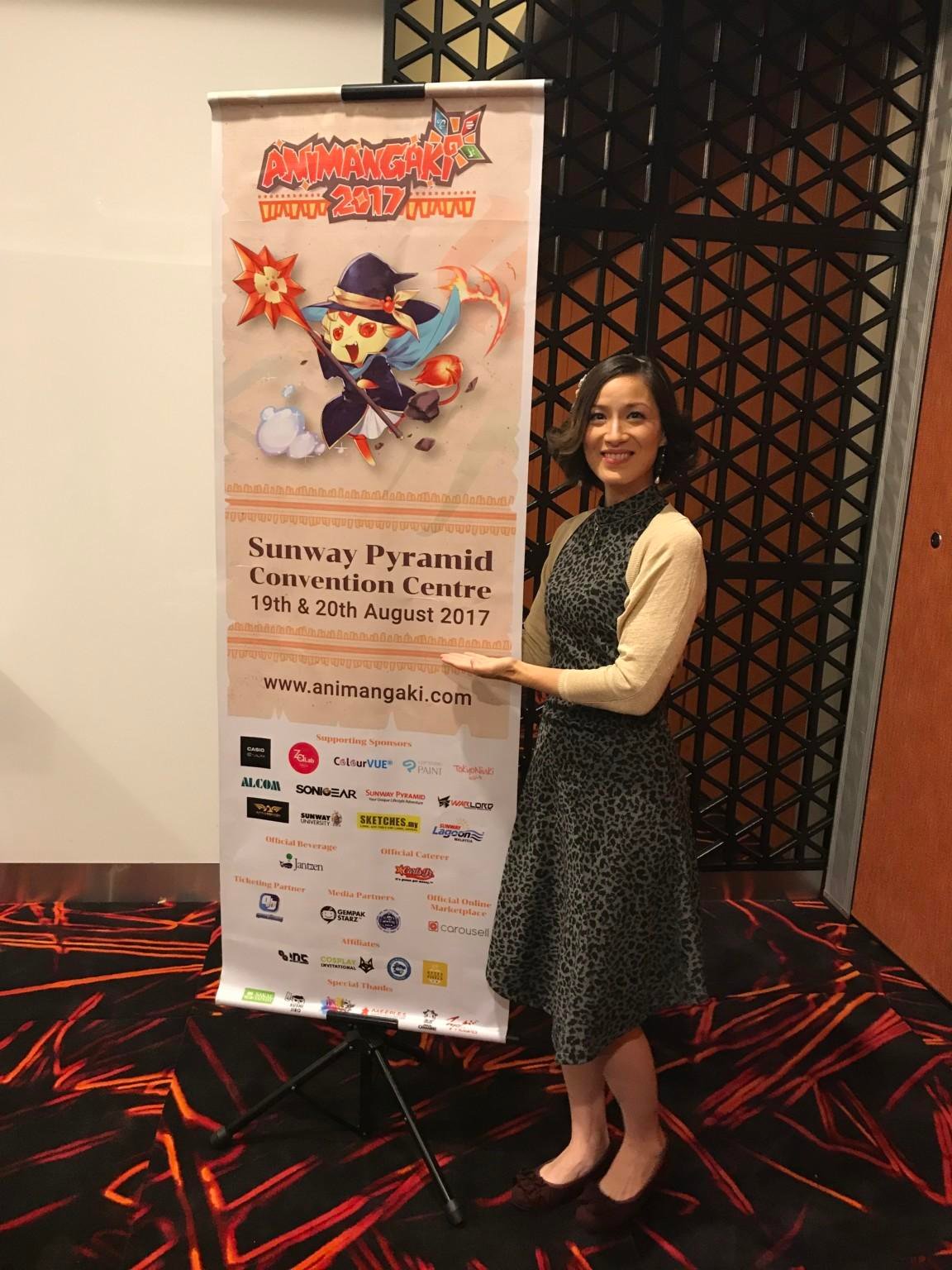 If you'd like to know more about Joelle, find out more at:
Official Website: www.joelle.jp
Twitter: @Joelle_official
Instagram: @insta_joelleofficial
On that note, if you have any thoughts or compliments for AniManGaki 2017, we'd appreciate if you could let us know here at: bit.ly/amgxtmr