Author: Nodoka Shinomaru
Genre: Fantasy, Seinen, Slice of Life
Episodes: 12
Production Studio: Liden Films
Introduction
If you're looking for an anime that is similar to Amaama to Inazuma or Barakamon, this show would be a great choice to start with. I am a sucker for these kind of slice of life anime and I was absolutely thrilled when I saw it on the list of upcoming anime for the fall season. Once it aired, I immediately watched it and I've got to say this: I am so in love with this show. Of course, it is not 100% perfect and I think that there are some things that the anime should improve on, but the show is very likable and perfect to watch after a long day. I get the same bittersweet feeling I feel whenever I watch Natsume Yuujinchou, which is a very, very good thing.
Storyline Premise
This series follows a 30-year-old man, Tawara Souta, a web designer who just returned to his hometown in the Kagawa Prefecture (Udon Kingdom), from Tokyo. Upon visiting his family's udon restaurant, he stumbles upon a young boy. He soon finds out what secret this little boy holds and decides to take care of the boy, Poko, while staying in his hometown. Their adventure begins as we watch their daily lives together start to unfold.
This anime has not failed in making me laugh thus far, and has been really engaging. It has also been quite informative in terms of its characters and is slow-paced, making it a relaxing watch. The series has a mix of of genres and some additional elements such as the supernatural, some cooking, and comedy. There's just so much potential in this series that I found myself eagerly anticipating the release of the next episode each week.
Another aspect of this series that I enjoyed was the special segment they have for the cartoon in the anime, "Gaogao-chan and the Blue Sky". We are introduced to this series in the first episode of Udon no Kuni and it is apparently a popular animation in the series. It is actually quite entertaining too.
This story managed to evoke a lot of emotions such as amusement, sadness, pity, joy, and so much more. We are shown glimpses of our main character, Souta's past through flashbacks. Some are nostalgic, while some are regretful. Through those flashbacks, we get to know more about his relationship with his family, the state of his hometown before Tokyo and after he came back. For example, in an episode, he compared the train, "Kotoden" of the past and of the present. Poko acted as a catalyst for all of his remembrance.
It is also very heartwarming to see the interaction between the both of them. They seemed so close to the point where they're often mistaken for father and son, which just shows how much Souta cares for Poko and he also shares whatever he learnt as a child with Poko. Initially, when Souta found out about Poko's secret, he went into denial and refused to acknowledge Poko. That scene was so sad, and I was screaming internally at Souta's actions. However, things were fortunately resolved and their heartwarming journey together began! We were also introduced to several other characters such as Souta's childhood friend, Nakajima Shinobu, a sharp-tongued bloodthirsty grandma, an old classmate and her kids, and so on.
Throughout this series, I've learnt quite a few things that really struck a chord in my heart. As this anime features characters in their 30s, it made me think things such as "will I be like that once I'm at that age?", "will I regret the important choices I've made in my life?", and more thoughts along that line. Some examples of those lessons the characters have imparted would include to learn to be happy and appreciate the things you have in life right now, rather than dwelling in the past and regretting the decisions you made when you were younger. Other than that, the pacing and flow of the storyline felt natural and well done.
Verdict: Simple and well-paced story packed with emotions.
Animation and Art
The art and animation is relatively simple for an anime of this era, especially in terms of the character design. Art-wise, it is slightly lacking in details and it makes me a little annoyed to see that the child characters like Poko have no nose as shown below. On the other hand, I found myself enjoying the art's simplicity as it is easy on the eyes.
As for the animation, environmental designs and background scenes are fine, but sometimes it's too static, which makes things look awkward at times. There was a scene where it showed people crossing a busy road, however, they weren't moving at all!
Verdict: Art and animation are the weakest points of Udon no Kuni but it has its good aspects.
Sound and Music
Both the opening and ending songs of Udon no Kuni fit the anime well. The OP, "S.O.S." by Weaver, has a very vibrant, summer vibe which really suited the comedic, bubbly nature of the anime whereas the ED, "Sweet Darwin" by GOODWARP is very calming and relaxing, which suits the emotional part of the series. The soundtrack suits the show's mellow atmosphere and all the sound effects are on point too.
Furthermore, the voice actors (seiyuus) are pretty good, but I wish that Yuuichi Nakamura (Tawara Souta) could be a little more dramatic at certain points. Shiho Kokido (Poko), on the other hand, impressed me with his baby talking (as Poko can't speak well) and sound effects like his cute giggles and "waaahh" when he's amazed. Another thing I would like to point out would be the fact that most of the characters are speaking in another dialect, excluding our main character (though he speaks a little of it). I find it so fascinating how different it sounds from the normal Japanese language and find it refreshing to hear.
Verdict: Amazing OP and ED songs, with great seiyuus.
Characterization and Powers
In this series, we have Tawara Souta and Poko as our main characters. Both have interesting personalities and have their own quirks. Poko, a small boy who can't speak well and Souta, who decides to take care of Poko, are an interesting combo which surprisingly goes well together. Poko is just so naturally cute, everyone that meets him instinctively gravitates towards him and his charm. All the characters that are introduced, even the minor characters are unique and distinctive. For example, there was one monk character who seemed suspicious and mysterious in the beginning of the series but as it turns out, he had a second job as a DJ, which was so unexpected and funny at the same time.
As most of the characters are in their thirties, you would think that there would not be much character development in this series, since they're all working/non-working adults already. However, as they often say, you are never too old to learn new things and develop yourself further. There was great character development, especially for our protagonist, who went from being lost in life to finally deciding on a path he wants to continue on.
Powers-wise, I've mentioned that this series also incorporates a bit of supernatural powers in their story but I can't tell much as I don't want to give out the surprise factor in this anime. Obviously, Poko has powers and it plays quite a significant part of the story, especially in helping Souta resolve his regrets towards his father. All in all, the powers are very simple and realistic.
Verdict: Unique, lovable characters with a tiny bit of powers mixed in.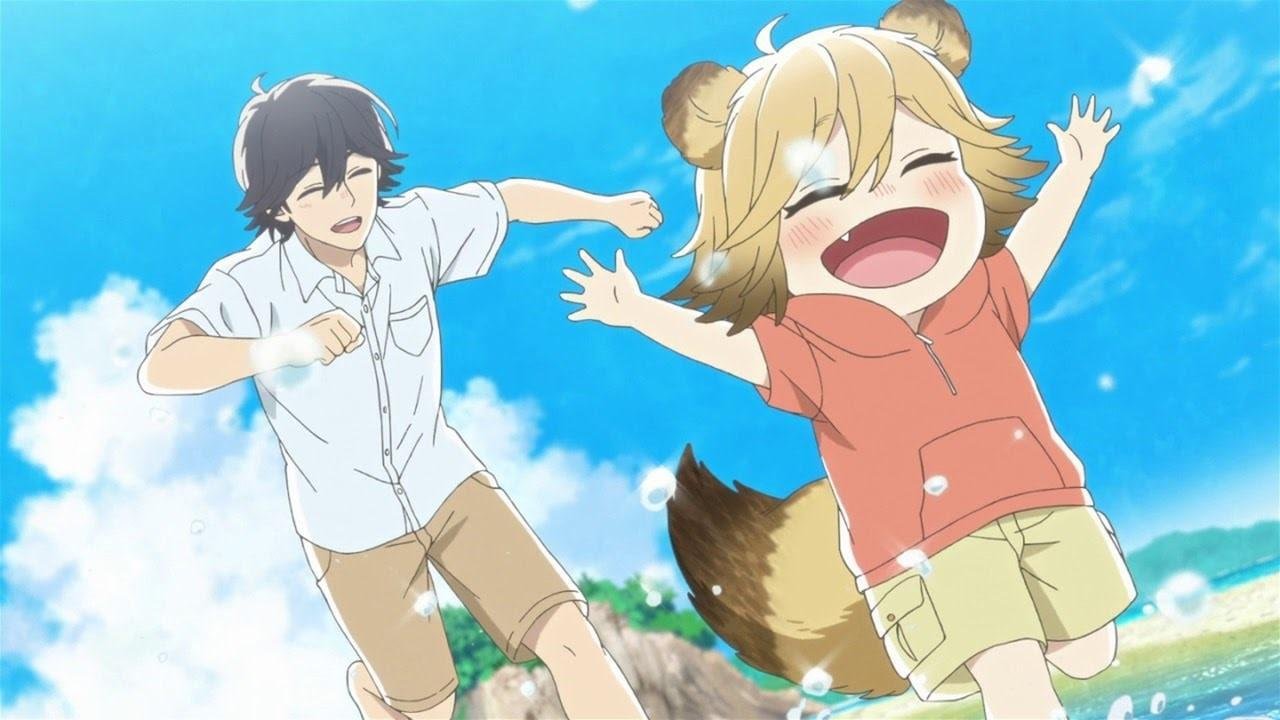 Conclusion
To me, this was one of the best anime of Fall 2016 (but I'm obviously biased towards slice of life anime). This show has it all: comedy, plot, interesting as well as cute characters, great soundtrack, decent art and animation. If you want to watch an anime that will help you relax, this would probably be perfect for you. So far, it has never failed in making me smile and laugh. You will definitely not regret it if you ever decide to pick up this anime series. With that, I'm going off to read the manga to bask in the bittersweet feeling I've gotten from this series.