Magic the Gathering (MTG) fans rejoice as the next of the MTG set, Amonkhet is scheduled to be pre-released on the 22nd and 23rd of April 2017. Much to our excitement, the TMR team was invited to attend a special sneak peak of this upcoming set on the 18th of April 2017. Personally, I have been interested in learning how to play MTG for quite some time. To guide me through the game mechanics, we also had a returning player (TMR's resident whale) in the team coming to the event. Read on to find out how I enjoyed the event from the perspective of a new player.
Upon gathering our goodie bags and entering into the hall, I was fascinated by the décor and art of the Amonkhet series. We're then ushered to our seats and treated to an impressive cinematic trailer of Amonkhet as well as some explanation about the lore of the plane and the mechanics for this set. Shortly after, we started unboxing the niceties in our goodie bags.
Being my first time at an event like this, I was very thrilled when I was given a pre-release kit which consisted of 6 booster packs, an information sheet, some punch out counters exclusive to this set and a life counter. Did I mention that the pre-release kit was a really cool looking box reminiscent of an Egyptian sarcophagus? (My inner art junkie keeps getting happier as the day progresses!)
After opening all 6 packs, you are required to construct a 40 card deck from the pool of cards available to you. It was tough figuring out which cards to put into my deck as I was still getting my head around the game mechanics at that point, but after some contemplation and loads of friendly advice given by my teammates, I just decided to pick some cards randomly based on their stats. After everyone finished building their decks, we had a round of casual play to familiarize myself with the mechanics of the new set, which was previewed last week by our resident MTG expert Aqasha. Check out the mechanics and his thoughts in detail here.
I built a Green-Black deck that was heavy with creatures and some removals and had a few friendly rounds with other members of the media. Surprisingly enough, the game was easy to pick up (though it seemed complex in the beginning) but I know it is a difficult game to master. I won most of my games (beginner's luck or natural talent? You decide!) and had fun playing against a variety of decks.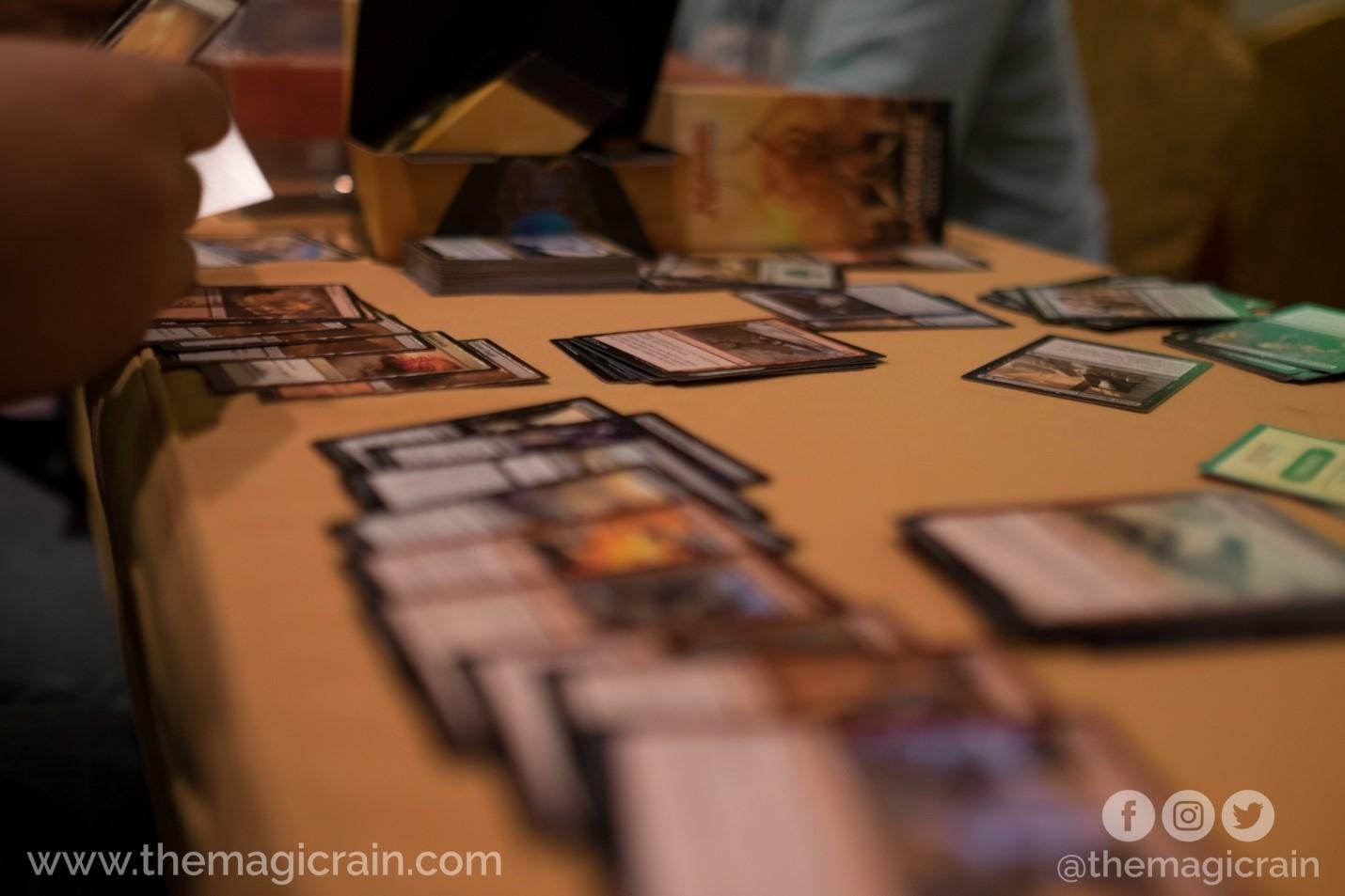 What impressed me most about MTG was the fact that their lore and art are so breathtakingly intricate and beautiful at the same time. I particularly liked the art on the God cards and Liliana, Death Wielder, there was just so much energy and thought put into them. The gameplay takes a while to get used to when you compare it to Pokemon TCG, a card game I regularly play, but I really like the fact that you have to be alert and on your toes at all times.
The event organization itself was pretty well done, with vendors and the media having a chance to mingle with each other. The amount of effort that went into the decoration was impressive and almost everything went well. The event staff were friendly and accommodating as they kept offering me sound advice when I needed it since I was a newbie. I would definitely come back again (and look forward) for the next set!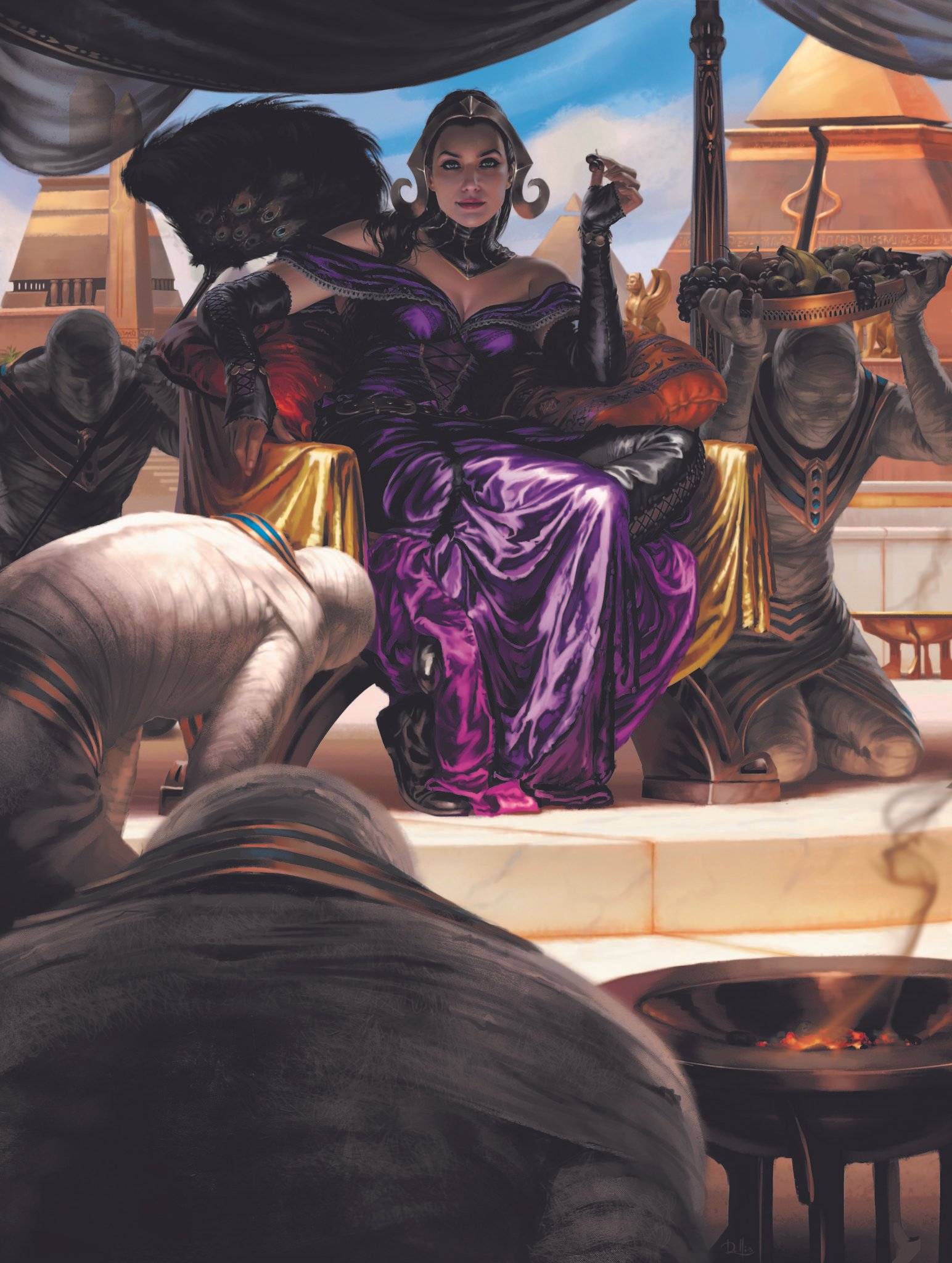 Magic: The Gathering – Amonkhet is the first set of the Amonkhet block and the pre-release events take place at game stores around Malaysia on the 22nd and 23rd of April 2017. To find your nearest Magic: The Gathering stockist in Malaysia, visit http://locator.wizards.com.