Unless you've been living under a rock, you've heard of the Internet's latest obsession: K/DA, a newly debuted K-Pop girl group that pulled off a stunning performance at the 2018 League of Legends Worlds Championship in Seoul, South Korea. However, one thing sets K/DA apart from their peers: the band members only exist within the world of League of Legends itself!
The artists at Riot Games have reimagined four of their popular champions – Ahri, Kai'Sa, Akali and Evelynn – as K-Pop celebrities, complete with a debut single, Pop/Stars. As any diehard fan of the genre would know, it takes an incredible amount of time and effort to pull off a successful debut, and K/DA is no exception.
[youtube https://www.youtube.com/watch?v=UOxkGD8qRB4]
Today we'll be taking a look at the amazing talent that helped make K/DA a reality, from initial concept to final outcome.
---
Concept Art
The K/DA skins were designed by two of Riot Games' top concept artists, Paul Kwon and Jesse Li. Kwon is most known for his work on one of League of Legends' most popular skin lines, the Star Guardian series, while Li was the concept artist behind the recently released Divine Sword Irelia.
According to product manager "I Am Carlos", the K/DA skins were considered to be some of the most challenging skins Riot has ever created for the game, with over 70 designs created for the project. Kwon has also stated on Twitter that K/DA Ahri in particular was the most difficult design he had ever worked on in his 7-year tenure at Riot. This was due to the amount of people involved in the project, as well as the constantly evolving nature of the K-Pop genre.
Once completed, the designs were then passed on to Riot's 3D modeling and effects team to prepare for their in-game launch.
https://twitter.com/liyart_/status/1058839359388962817
---
Splash Art
Each skin in League of Legends comes with splash art: A piece of artwork depicting the skin line's characters, that can be viewed when selecting said character to play in-game. League's splash art is always stunning, and the artwork created for K/DA is certainly no exception.
Illustrated by artists Alvin Lee, Bo Chen, Cheng Wei Pan and Anna Nikonova, these pieces don't just entice players to spend money on their accompanying skins – they also helped to establish the characters' personalities during the development of the Pop/Stars music video.
https://www.instagram.com/p/Bp2Jv2InWIG/?utm_source=ig_web_copy_link
---
Music Video
The now iconic music video for K/DA's debut single, Pop/Stars, was created by French animation studio Fortiche Productions. Fortiche is no stranger to creating viral music videos, having been responsible for Gorillaz's Do Ya Thing and Freak Kitchen's Freak of the Week.
A frequent collaborator of Riot's, they have also created several other memorable cinematics for League, such as Rise, Warriors, Get Jinxed and Ekko: Seconds.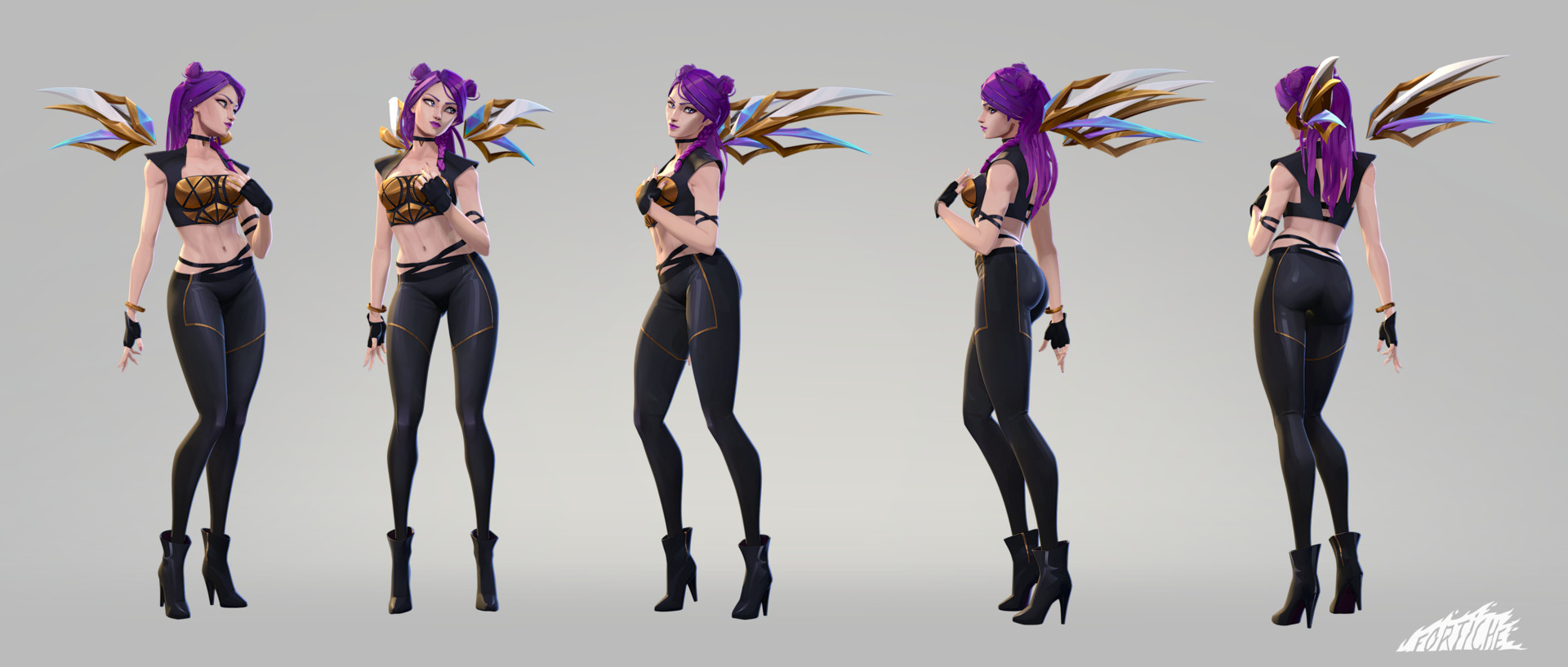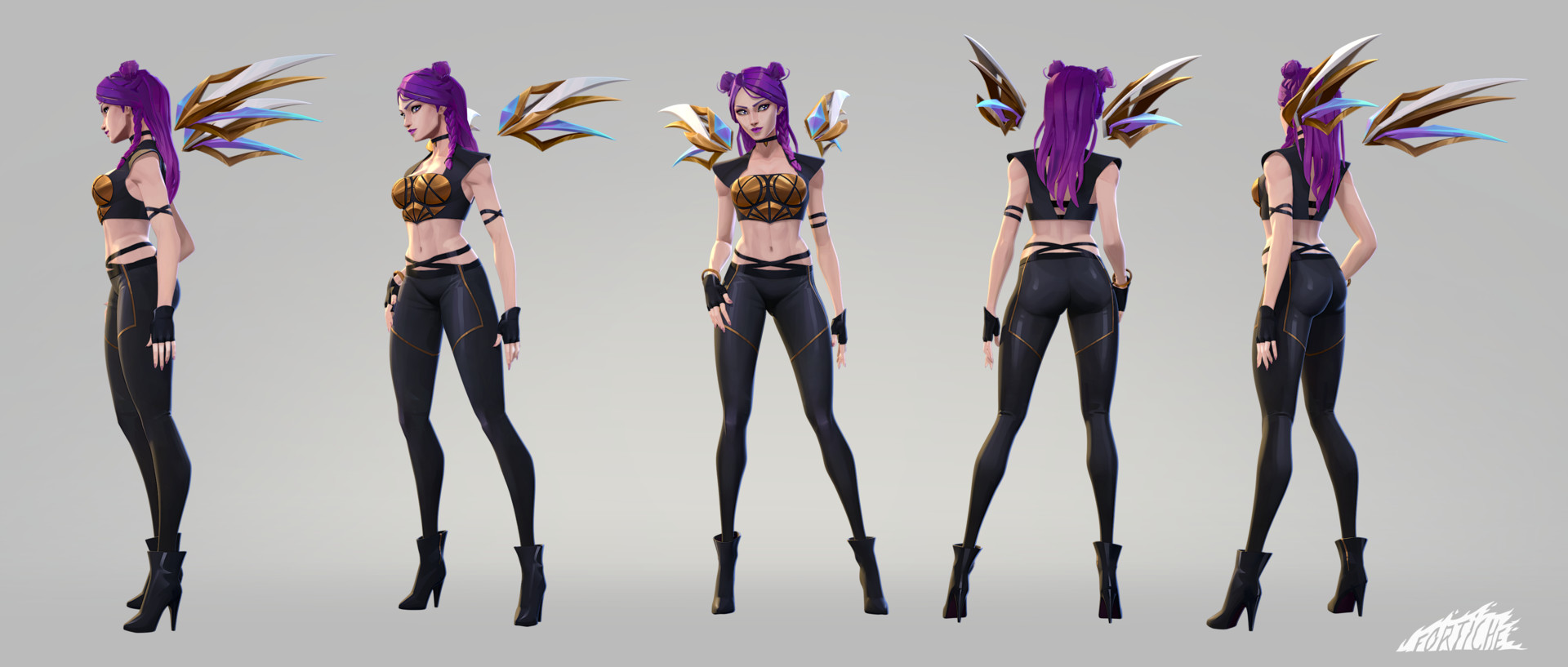 Interestingly, the most popular segment from the music video – the neon subway scene featuring Akali – was created entirely by Fortiche's staff, with little involvement from Riot themselves. Despite this, Riot quickly updated Akali's in-game model to include the neon effect during her shroud ability, in response to the overwhelming demand from fans who had enjoyed the music video. 
---
Stage Performance
By now, most fans would know that the vocals behind K/DA were performed by Miyeon and Soyeon, two members of the K-pop group (G)I-DLE, as well as American pop singers Madison Beer and Jaira Burns. However, you may be surprised to learn that these talented singers didn't just lend their voices to the project – they also recorded motion capture data of themselves performing the Pop/Stars dance.
This data was later incorporated into the AR (augmented reality) portion of their performance at the League of Legends Worlds Championship opening ceremony, allowing the 3D animated characters to move in a realistic manner. The AR effects themselves were controlled and applied in real time by staff in the stage control room.
https://twitter.com/idleguide/status/1060512722914291712
This is the AR work station in the main control room for #WORLDS2018 finals. These guys are responsible for executing the augmented reality effects we used during Opening Ceremony. pic.twitter.com/Nnwq6g4rl7

— Riot Games (@riotgames) November 3, 2018
The dance was choreographed by dancers Bailey Sok, Stevie Dore, Ellen Kim, and Eileen Harman, with a video of the dance available on the League of Legends official YouTube channel. Fans have also been invited to post their dance covers on social media using the hashtag #KDAChallenge.
The hard work Riot poured into creating the K/DA skin line has definitely paid off, with the music video for Pop/Stars exceeding 40 million views on YouTube within a week of its release. Riot rarely disappoints with their cinematics and we can't wait to see what they have in store for us next!
---
What other video games should collaborate with K-pop stars? Let us know in the comments below!