It has been a few years since MGACE's debut in the local ACG scene and they have been steadily improving year by year. The event made its comeback on the 20th and 21st of October 2018 at Evolve Concept Mall with the theme, ~Flowery~, and we were there as their official online media partner!
The first thing that caught my eye in this event was that it had a relaxing atmosphere. It wasn't overly packed with people, so the attendees could take their time browsing through items for sale. As it was a small event, its main attractions were split between the stage, gaming area and the maid café.
The relaxing atmosphere made it great for friends to catch up with one another and enjoy the event. The performances were excellent too, with a selection of both music and cosplay acts from local ACG performers. What I believe excelled the most were their unique and interactive stage activities, especially their charity efforts together with Team HalloWind from Taiwan.
In case you missed the event, here is a compilation of highlights from MGACE 2018 ~Flowery~!
---
Highlights
Cosplay Performance Workshop ft Jacky Dosai
During every cosplay skit competition, you would be able to witness all skill levels of cosplay performances, with some being mindblowing and innovative while some just aren't entertaining enough to attract the audience's attention. There is a reason for that difference and Jacky Dosai's workshop provided tips that would bring your skit performance to a whole new level.
His main focus throughout the workshop was on story and safety. The best thing I've learned from it applied to not only Cosplay Performances but performances on stage in general. We know certain stages are slippery and it hinders us for making sharp and fast movements. Fear not! Spray some hair spray on your shoe's base and you're good to go!
His workshop was highly informative and his witty way of speaking really brought the workshop to life (although his humorous remarks got lost at times during translation).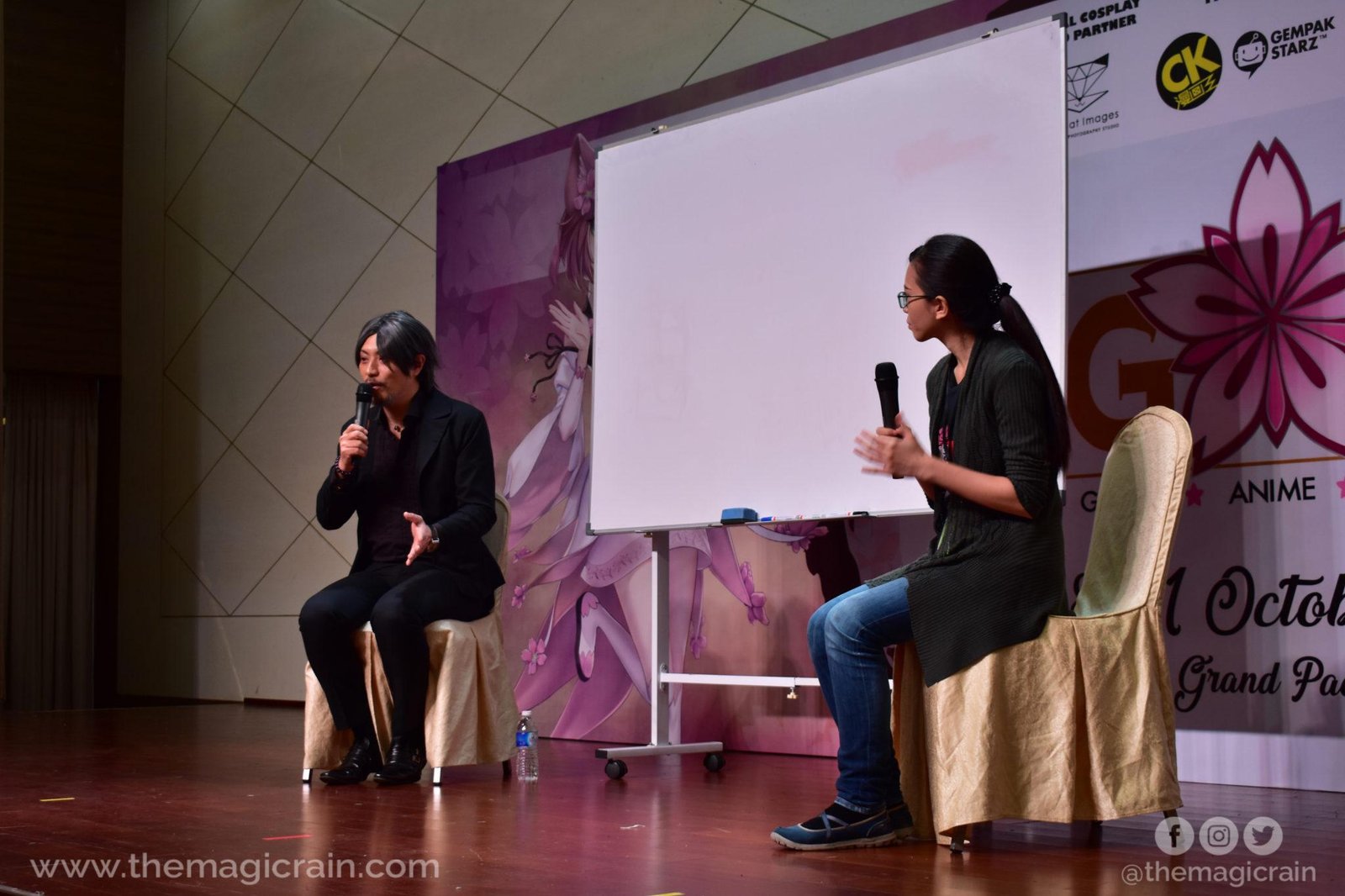 Stage Interactions with Cosplay Team BaLance
Before this event, I've always believed that international cosplay guests would only interact with fans who bought their merchandise. However, Cosplay Team BaLance really changed my perspective on that. They were a really fun group and to see them interacting with their fans and audience was very refreshing. The game sessions they hosted on stage really made the audience feel included in the event, making it one of my chosen highlights.
On Day 1, they brought the audience on stage and played simple games like "guess the character" from their member's drawing and "guess the anime" by said anime's iconic movements. On Day 2, things got a bit more physical and audiences had to follow Kuratsu's instructions very carefully. As a cosplay dance group, their dancing skills were brilliantly executed and captivating as well!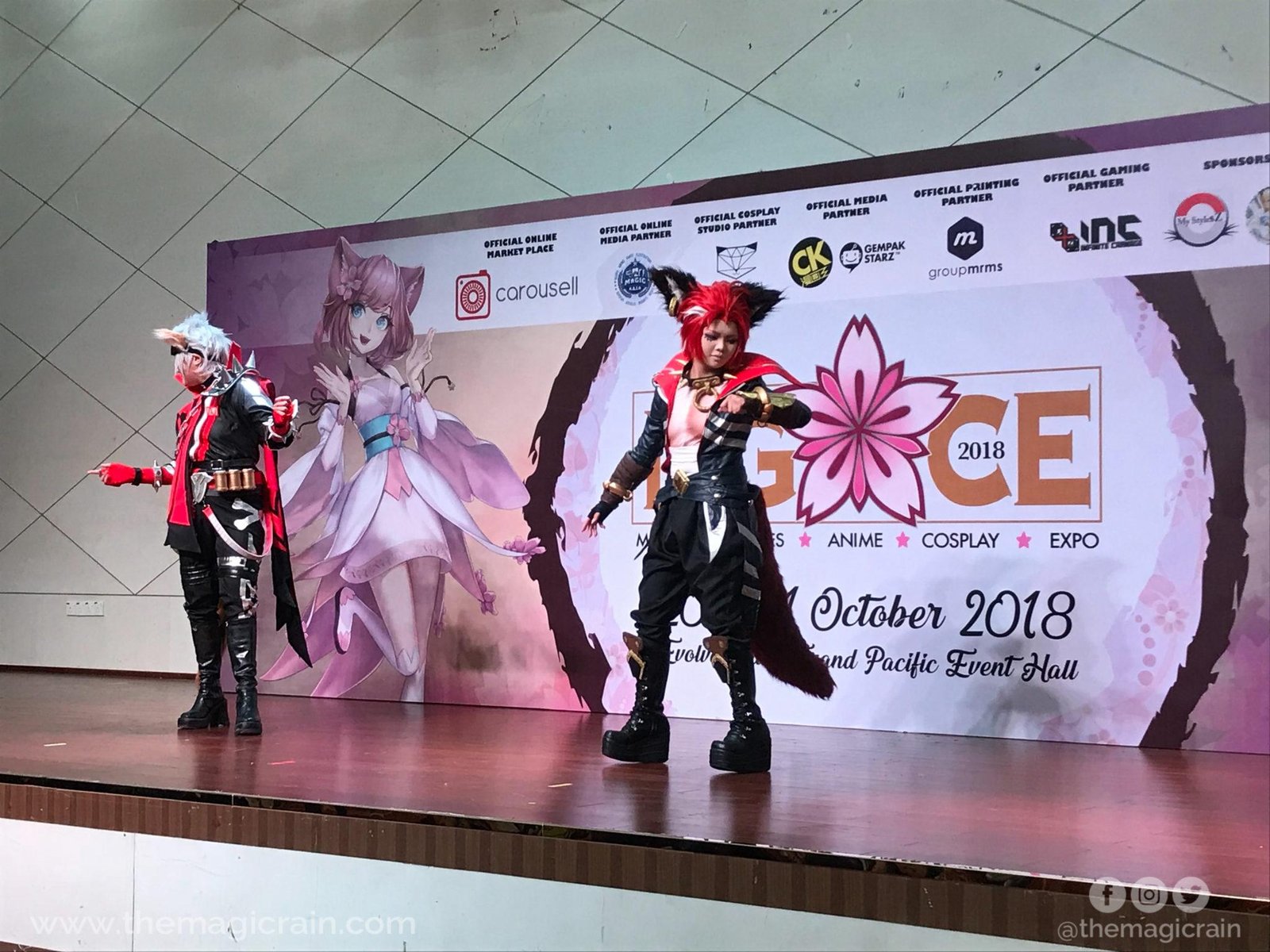 D.A.C.E. (Cosplay Dance) Competition
D.A.C.E has been a recurring competition at MGACE but this was my first time watching it with my own eyes. I was surprised by how entertaining it was, and what made me enjoy it more was seeing some of the audience dance along with the stage performers.
Team Protagonist especially amazed me with their incorporation of props into their choreography. I really hope to see this competition more widespread among our community and to see more and more contestants join the stage to showcase their talents.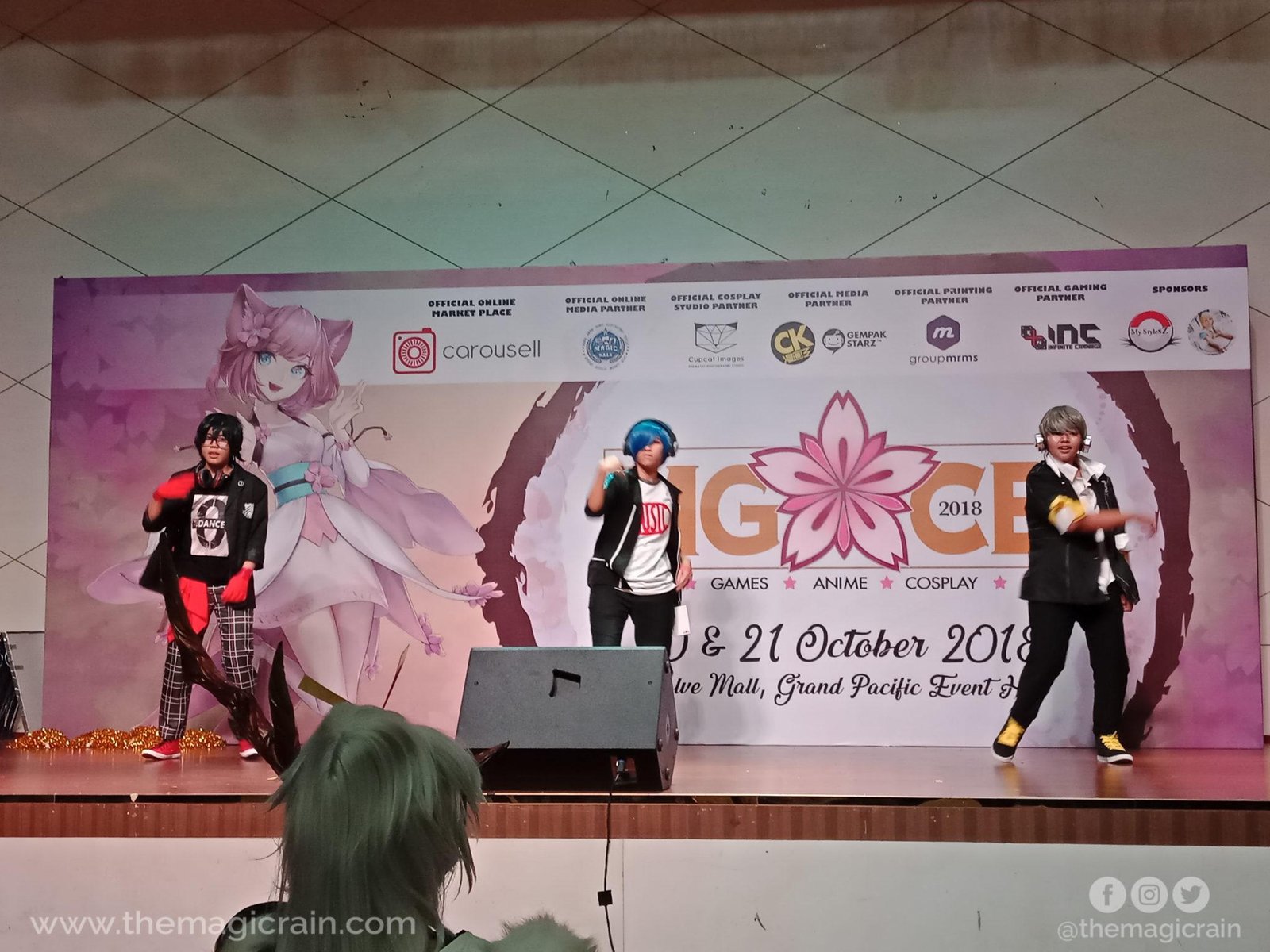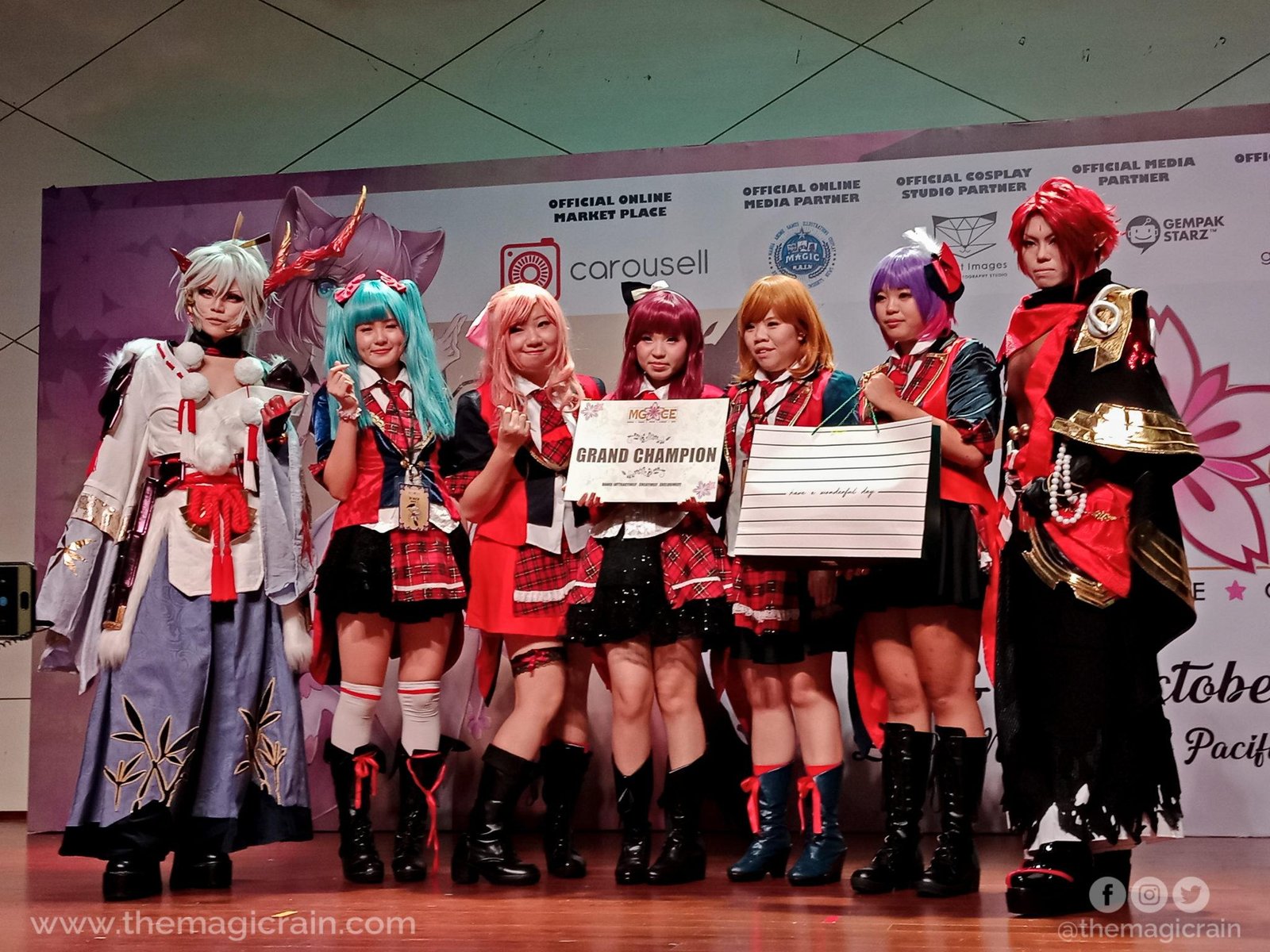 "Adopt, over buy!" – Charity Initiative by HalloWind (represented by Yao & Alma)
It is so heart-warming to see people of influence using their popularity for a good cause. Yao and Alma from Taiwan under the banner of HalloWind came to MGACE with a mission to spread the principle that adopting a pet is better than buying one. They took to the stage to promote their act of love with the other cosplay guests present too.
With a simple question and a game of 'rock paper scissors', fans would be able to win complimentary merchandise from the guest cosplayers. On top of that, all the profits gained from their merchandise sale for the weekends were all given back to PAWS Animal Welfare Shelter in the form of animal food.
Solo & Group Cosplay Competitions
Smaller events like this is where new budding cosplayers can take the stage as a stepping stone to greater heights! The idea of splitting the solo and group competitions was a great idea because it made the cosplayers think of more creative ways to perform alone and it gave them a fair chance when competing against a group cosplay performance.
The only dissatisfaction I had was with the PA system, as there were constant technical problems. Volume control was everywhere as well, and the translator's microphone during the Cosplay Performance workshop made it difficult to understand what Jacky was trying to convey.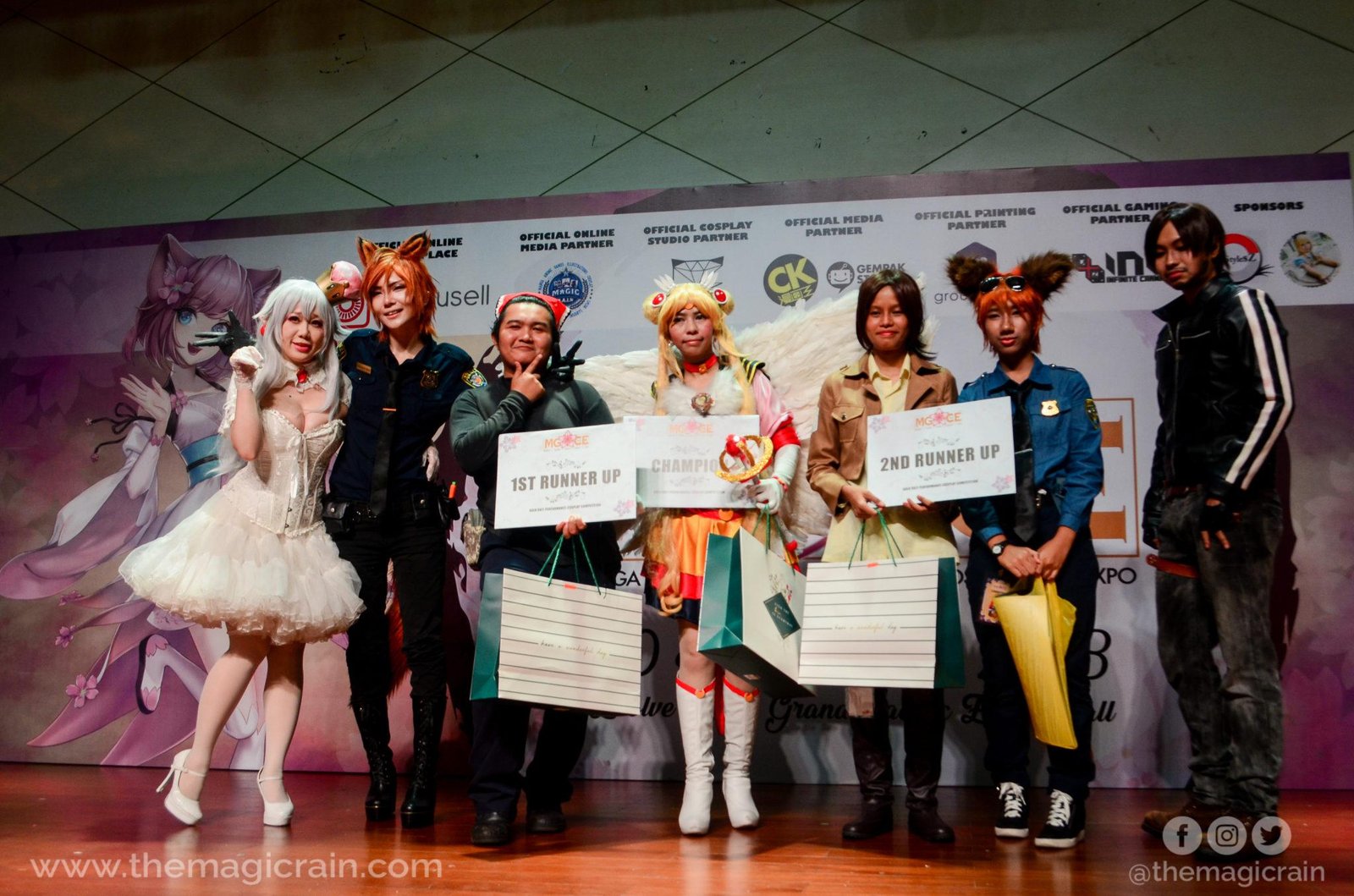 Gaming Section by Infinite Carnage
The gaming section at MGACE this year was run as a collaboration between local fighting game community organiser Infinite Carnage (InC) and ATO, an online game store, along with Melee-sia, Malaysia's Super Smash Bros. community. This meant a huge amount of different gaming activities available for attendees.
First off, one of the highlights of this year's gaming section was a showcase of the Soul Calibur
fighting game series conducted by InC. This showcase was done as a celebration of the recent
release of the highly anticipated latest entry in the series: Soul Calibur VI. InC also hosted a Soul Calibur VI tournament that weekend, the first to ever be held in Malaysia. The tournament, which saw 16 entrants was won by Hiromaxi, a veteran Soul Calibur player.
Besides the tournament, InC's Soul Calibur showcase also included free play stations where attendees could try to play all of the previous Soul Calibur games that have ever been released, from the very first game all the way up to Soul Calibur VI. There was also a Super Smash Bros. 4 and Melee section that was jointly organized by InC and Melee-sia. Participants of all ages took part, including some who traveled all the way from Singapore to participate in the fun.
---
Those were the event highlights that made us fall in love with this year's MGACE! How was your experience at the event? Did you find it as interesting as we did? Leave us a comment below!