The MAGIC RAIN team had the pleasure of interviewing Pugoffka, a cosplay photographer who had come all the way down from Ukraine (Kiev) as a cosplay guest and judge for C2AGE X-Treme 2017 which was held on the 15th and 16th of July 2017.
Hailing from Ukraine, Pugoffka is well-known for her amazing photography skills. She had been invited to many events in various countries before including events such as Photo Exhibition Kjic Comic Con and Game Plan 2015 in Kuala Lumpur. Now, she's back again for a second time at C2AGE X-Treme 2017! I got the chance to attend her photography workshop and I have to say, it was very, very educational.
---
(Disclaimer: This interview has been edited for clarity of reading and comprehension.)
Q: How do you feel about being invited back to Malaysia and how was your experience?
A: I was very excited to be invited back to Malaysia as there's good weather and good food. Well, the weather is a little too hot but I like the people here, they're all so nice and I'm just so glad to be invited back again.

Q: What about the food?
A: As for the food… It's a little spicy and I always make sure that I don't order food that are too spicy. Like yesterday, we went to a banana leaf rice shop and I chose some curries that were a little too spicy, but it was tasty. We also got to try some seafood and I want to eat more before I head home (laughs).

Q: How long have you been cosplaying then?
A: At first, I was a cosplay photographer and after one year or so, I wanted to have my own beautiful photos with beautiful costumes (laughs), so I then became a cosplayer which was around 7 to 8 years ago.
Q: What are some of the limitations of cosplay in Ukraine?
A: I don't think we have any limitations… Oh, for big competitions, you need to wear skin-colour underclothes under your costumes to make sure it's not too revealing. Also, before applying for competitions, you have to submit your scripts to make sure there aren't any bad words as there are a lot of children that comes to conventions. It's also not so good for performances to show kisses. A few years ago, it was fine until some rules were established.

Q: You're known for both your cosplays and photography skills. How do you balance between cosplaying and photography?
A: I actually prefer photography more than cosplaying, because I feel more comfortable as a photographer (laughs). But of course, when I go to conventions, I try to make some new cosplays and also, it's a good thing to know how cosplayers feel. So when I have photoshoots with cosplayers, I know it's not comfortable for them so I try to do it as quickly as possible. I feel that it's great that I can have both perspectives of a photographer and a cosplayer. However, I still prefer photography more as I think I'm better at it than cosplay (laughs).

Q: How long have you been cosplaying then?
A: At first, I was a cosplay photographer and after one year or so, I wanted to have my own beautiful photos with beautiful costumes (laughs), so I then became a cosplayer which was around 7 to 8 years ago.

Q: So just recently, our team (TMR) organized an event called Cosplay Commuter where you do group-based activities along different stops of a railway. Do you think this event would be possible back in your home country?
A: No, I don't think so (laughs). In Ukraine, people are a bit slow in catching new trends in cosplays. So, it'd be best if there's only one type of conventions with the theatre-like performances. Now we also have game conventions with big contests, but cosplayers in Ukraine don't take part in it, and I don't know why. So I don't think this type of event would be possible back in Ukraine at this point of time.

Q: If you could change anything about the cosplay scene/community back in the Ukraine, what would you change and why?
A: I'd like event organizers to invite more international guests from other countries. Now, we only have a few guests that are from Russia and it's not really popular to invite guests like cosplayers and photographers from other countries. So I think it'd be really interesting to see that happening. It's still not that popular in Ukraine and even conventions in Russia only started inviting guests a year ago.
Q: Do you have any pet peeves in terms of photography or cosplay?
A: I don't like too much sexy cosplays. It's okay if it's just a lil sexy but not too much. Now, a lot of cosplayers earn money by opening Patreon accounts, I don't know, it's not for me and my friends. It's okay if others do it, but it's not for me.

Q:  How do you think cosplay alongside cosplay photography will change 5 years into the future?
A: Hmm, I think there'll be more new materials for cosplayers. When I started cosplaying, it was 7 years ago and there wasn't much materials that we could use for costumes so we used everything but now, we can use plastic, EVA foam and many more. You can also order things now from Taobao too because some things are difficult to find.

Q: What was the toughest project that you've done so far?
A: I think group photoshoots are difficult as there are a lot of cosplayers to handle and you need to think of poses for each person. It's also difficult for fandoms like sports or for example, I did a Shingeki no Kyojin photoshoot, there were about 15 people, and you need to think poses for all of them, it's difficult and time-consuming as it takes time to do the photoshoot and also for the editing because you need to edit each face one by one. That photoshoot took me about one week to edit…
It's also difficult to do photoshoots on snow, but you guys don't have snow (laughs). The colour of snow is very light and it's better to use white costumes on white snow but if they use a dark costumes against the white snow, the contrast makes it very difficult to shoot. Another photoshoot that was very difficult for me was a Jack Frost photoshoot. It was -25°C so we had to do the photoshoot in 10 minutes as it was so cold. We chose the coldest day of winter to do it (laughs). We even needed to set up all the flashes and lights first. After that, we drank hot wine to warm ourselves up.
Q: In the future, is there anything that you'd want to achieve?
A: I'd like to try 3D modelling, but it's too difficult for me now (laughs). I need to study it and it's impossible for me now as I have a lot of photoshoot backlogs and can't really do anything new. But I really want to do it in the future, if possible.

Q: Any advice you can give to aspiring cosplayers and photographers?
A: First of all, when cosplayers want to start, they usually try to make difficult costumes but I think they should start simple first like maybe a kimono. The same goes for photography and I always say in all my photography workshops that if you're a beginner, you should do photoshoots on cloudy days so that it's easier to edit.
---
With that, we'd like to thank Pugoffka once again for the interview. It was an honour being able to talk with her as we really admire her photography skills. We had a really great time and we wish her all the best in her future endeavours!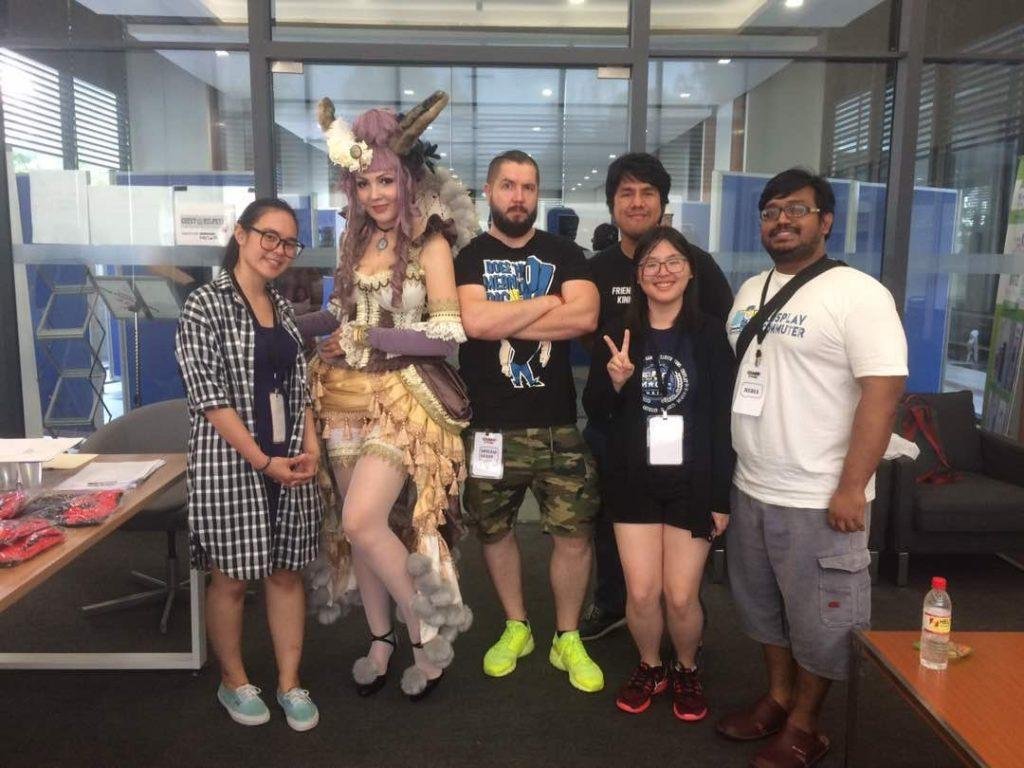 For more of Pugoffka's cosplays and photography, check it out at: –
Facebook: https://www.facebook.com/pugoffka.sama/
Twitter: https://twitter.com/PugoffkaSama
Instagram: http://instagram.com/pugoffka_sama/
Deviantart: http://pugoffka-sama.deviantart.com