AMG-chan happened just last weekend and we can bet you that it was a blast! The event was held on the 26th and 27th of May at South City Plaza, Sri Kembangan with an estimated footfall of more than 5000 people this year and and I can't even begin to describe how great a time I had with the activities and performances. Enough chatter, we've shortlisted a few of all its great highlights so let's get into the real stuff!
Stage Events
The stage was definitely one of the most notable highlights of AMG-chan. Mainly because of all they hype and fun during performances by performers and bands alike and not to mention the various things one can learn about cosplay and art during workshops and panels. The emcees of the event were Minori from The Crestfall Band and Eddie!
Performances
One of the bands that really caught our attention was definitely Miracle Beat. The K-On! inspired band made it's big debut at AMG-chan 2018 with band mates cosplaying as K-On! characters and ultimately rocking the stage! I personally think what really made this band stand out was how natural and casual they were on stage and how they interacted with the audience. Not to mention their ensemble of awesome instrument playing!
We have a few performances to talk about with the first being Ejima Maki's! It was a wonderful lineup of ballads with a great voice to match. Among the songs he sang were WINTER BLOSSOM and even a Love Live! song, Oyasuminasan. His performance was both energetic and touching, even he shed a few tears after the first song.
Amelia Khor's performance was one of the performances that amassed a great number of people with her vibrant and exciting personality as she sang and danced to well-known songs like Crossing Field, Gokuraku Jodo and more!
Next we have Crestfall Shuffle. If you aren't familiar with what Crestfall Shuffle is, it's basically a performance by two members of The Crestfall Band. They had and amazing performance, singing songs like Zen Zen Zense by RADWIMPS and even a Deadpool 2 soundtrack, Ashes by Celine Dion with a Deadpool cosplayer joining in on the fun! They're performance ended with a fun group picture with those in the audience.
Last but not least, we have Dreamin'! Well-known amongst both the Love Live! circle and our local ACG community, fans crowded the stage area with glow sticks and cheering. It was no doubt, a sight to behold. They danced on stage with cute costumes and great moves, it was difficult to not want to cheer them on with the rest of the crowd.
C4 Cosplay Competition Preliminaries at AMG-chan
Surely you've heard of C4 but if you haven't, fret not! C4 stands for Clara Cow's Cosplay Cup, an international-level annual cosplay competition that is held in New Zealand. The selection of Malaysia's representatives for C4 2018 was held on the stage of AMG-chan with Yugana Senshi Uon, Team Manboobs and last year's representatives, Shinku_真紅 and Dovahッ豆花 as the judges.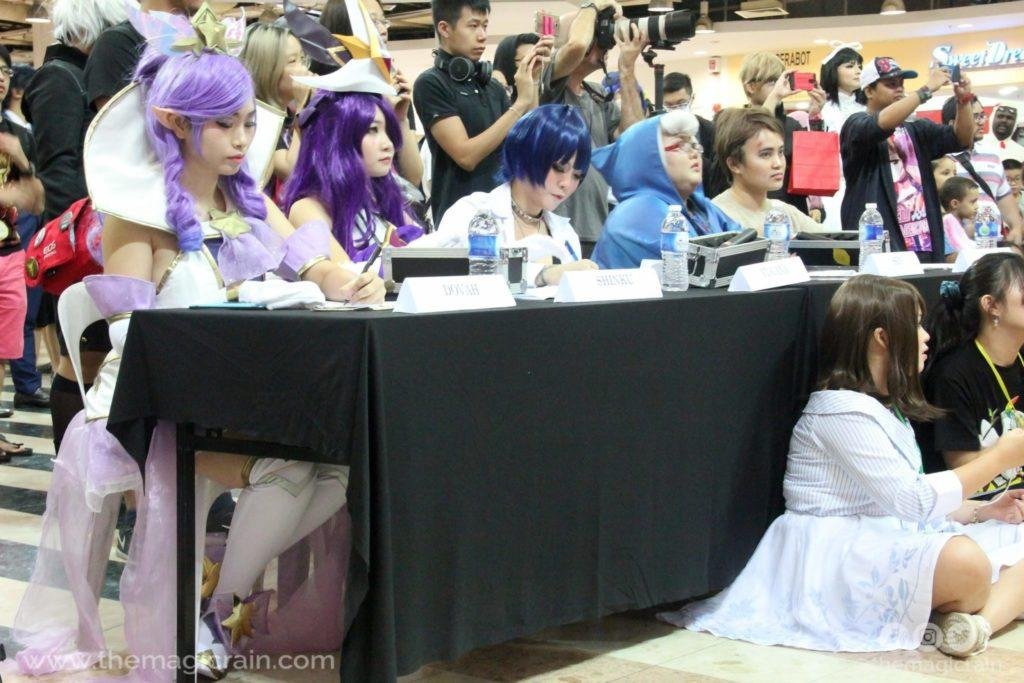 Funny names are definitely not uncommon in cosplay competition team names but I'm sure this takes the cake! Team Buttcheeks is a team made of contestants, Left Buttcheek and Right Buttcheek. They cosplayed as Jeanne d' Arc (Tea Kyandy) and Mashu Kyrielight (Rikka Blurhound). Unlike the joking vibe their team implies, the skit was quite intense with battle scenes, big props and a monster to top it off.
Team Jeng Kreng set the scene with a comical skit with Gudako (Kuinn) and King Hassan (momorex) or Gramps for short from the hit gacha game, Fate Grand Order. The skit seemed to be based off the loving and funny relationship between Gudako and Gramps during battle and I have to say it was super entertaining. Don't even get me started on the full body armour! Team Jeng Kreng emerged as the champion and was selected to be this year's Malaysian representatives for C4!
---
Off-stage Activities
Workshops
On the workshop side of things, AMG Chan had Shinku_真紅 and Dovahッ豆花, Malaysia's C4 2017 representives, talk about how one can make props fast with tips and tricks for both newbies and veteran cosplayers. The pair have been making props together for 3 years and their workshop was based off how they worked around short timelines and personal opinions. It was an open ended workshop so those who attended could ask questions relating to the talk.
Booths
On the rest of the event premise, we spotted a ton of booths selling fan merchandise along with fun activities any anyone could enjoy. Among those were Infinite Carnage and Gamesfusion's booth where people were welcome to game on the consoles set up in their area. Anyone could head in and have their turn at Puyo Puyo Tetris, Dragon Ball FighterZ, Just Dance 2 and more! If that doesn't sound fun, I don't know what does!
Jantzen's booth made sure those at the event stayed hydrated with volunteers walking around, selling bottles of water for only RM1! They even had their own little shooting range where you could win a bottle of water for shooting down 5 bottles or even a water dispenser if you shot down 6.
What the Touhou booth had to offer was very interesting as well. A dance pad and a projector was set up for those who wished to play Stepmania. It attracted quite a crowd with both veteran and new players taking turns on the dance pad.
Not forgetting our own booth, The Magic Rain, along with Her Majesty's Mansion booth where we brought our online confession page, Cosers Confess, to AMG-chan in the bite-sized form of a board and post-its! Her Majesty's Mansion sold various prints of their beautiful maids in yukatas and irresistable merchandise!
Unsurprisingly, this event was an absolute blast to attend. That's not even the end of all the fun! AniManGaki is coming up soon so stick around for more information!