With the conclusion of Penang Anime Matsuri 2018, I'm sure all of us that attended had an awesome weekend with the event's lineup of highlights and not to mention, the concert!
I found the event itself to be a wonderful experience with the abundance of cosplayers and activities for attendees to take part in. What I liked about the venue was that it was planned out in such a way that made it easy to navigate. The booths were spread out across the hall and a divider was placed between them and the stage with just enough room for both areas. The space outside the hall was not only spacious for people to sit and rest but also lit well for pictures to be taken. Not forgetting how the food area was separate from the hall, ensuring that hungry attendees had places to sit away from the crowd and enjoy the variety of foods offered.
---
Highlight
We've decided to focus on one particular highlight for this event and it's the Cosplay Singles Competition! Participants of the competition step on stage and do their best to strut their stuff to impress the judges and I have to say that the quality on stage was astounding. Before we get into that, let's get to know the judges a little better.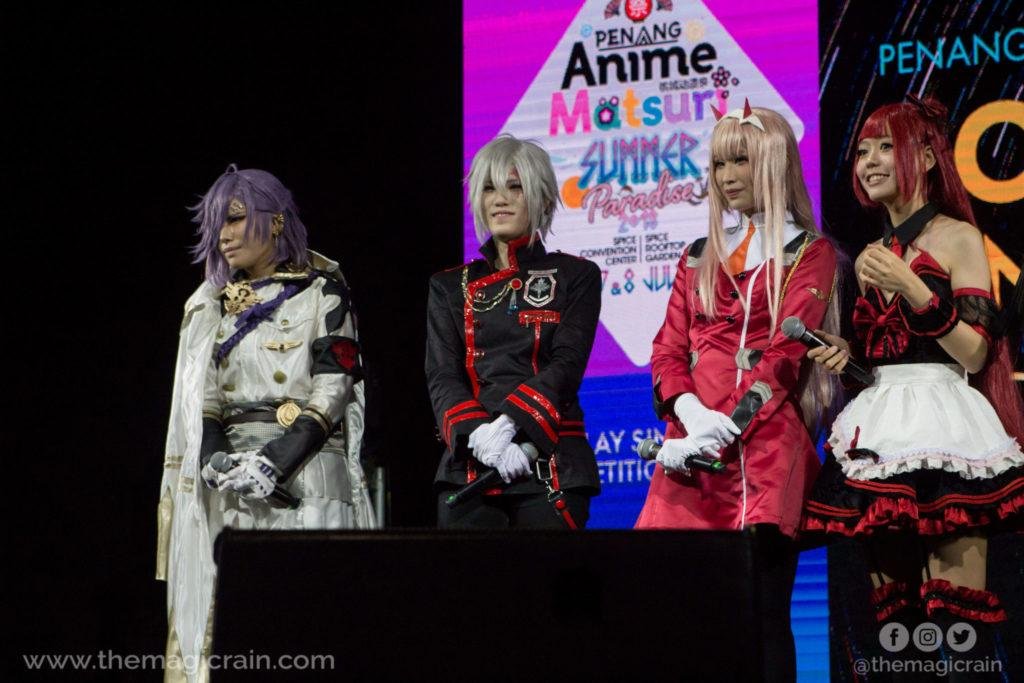 Akatsuki Tsukasa
First off, a well-known cosplayer from Taiwan! Akatsuki Tsukasa shot to fame for her amazing renditions of Boa Hancock from One Piece and Sheryl Nome from Macross Frontier. She has been featured in several Taiwanese and Korean magazines and has also made numerous TV appearances in her homeland.
Heyleydia
Heyleydia is a cosplayer that comes from a place closer to home, Thailand! With a Facebook following of roughly 50,000 people, she has previously been invited as a guest cosplayer by Acolyte Surabaya 2017 in Indonesia and Cosplay Festival 2017 in Vietnam. She's best known for her outstanding crossplays!
Angie
Not forgetting our fellow Malaysian cosplayer, Angie is a rising cosplay star. She has cosplayed more than 100 anime characters since 2008. Currently with a whooping 95,000 Facebook fans, she has attended multiple international cosplay events. Angie proves to hold strong support from cosplay fans in South East Asia with her anime like features.
Lay
Having come all the way from Japan is Lay! Known for her fantastic cosplays of male characters, she is adored by her fans and boasts a Facebook fan following of 19,000. She has recently been invited to aniMUC 2018 in Germany.
Moving on, the competition had a number of 16 competitors up on stage to prove their worthiness of the prizes this competition had to offer. The prize pool consisted of RM250 for 3rd place which went to a Reaper cosplayer, RM500 for 2nd which was taken home by a Zenyatta cosplayer and for the grand prize, RM1000 which was given to a Reinhardt cosplayer whose costume was expertly made! Overwatch came in strong for this competition!
I Love Anisong & Outdoor Matsuri Zone
At the end of the day, con goers were able to enjoy two different concerts which is the Outdoor Matsuri Zone and the I Love Anisong Stage. The Outdoor Matsuri Zone is a free standing concert area where those who did not pay to enter the I Love Anisong Stage are able to enjoy local bands such as PHNX and Flying Pan by listening to their renditions of anime songs of the past and new.
On the other hand, if you're a paying con-goer, you will then be able to enjoy the I Love Anisong stage where performances from Band-Maid, Luna Haruna, Shiena Nishizawa and Konomi Suzuki took place. Day 1 is where Band-Maid and Luna Haruna took the stage, whereas Shiena Nishizawa and Konomi Suzuki dominated the Day 2 performances. Band-Maid was knocking straight out with their heavy hitting songs from their latest album World Domination such as Domination, Dice, Spirit!!! to name a few before capping it off with Choose Me which was such an electrifying experience.
For a J-Rock band who did not have any anisongs, they did a great job in captivating the audience and probably getting some new fans along the way. Luna Haruna's performance, on the other hand, was oozing with confidence and as a veteran to these sort of events, she definitely showed why everyone loves her. She sang songs from Fate/Zero, Sword Art Online and Saekano which made the crowd go wild.
On Day 2, Shiena Nishizawa also gave an electrifying performance and she can really rock it. To name a few, she sang songs from Kancolle and also Asterisk War. She even sang one of her originals to end off her performance for the night. Then came Konomi Suzuki who also let out a stellar performance. She sang songs from No Game No Life, No Game No Life: Zero and also from Watamote. At the very end, her encore performance with Shiena Nishizawa was a real treat as they both sang Redo from Re:Zero Kara Hajimeru Isekai Seikatsu and it was a magical experience. All in all, the performances from these guests were astounding and it was really great to be able to see them live. Will definitely go for next year's concert!