Author: Robico
Genre: Comedy, Historical, Romance, Shoujo
Episodes: 1
Production Studio: Brain's Base
Introduction
If you've watched Tonari no Kaibutsu-kun, you will absolutely love this OVA. I was obsessed over Tonari no Kaibutsu-kun for a really long while and for a good reason. It's one of the few romcoms that drove me to tears, laughing. So since I found this OVA really entertaining, I thought I'd share the love in a throwback anime review!
Storyline Premise
You know what I love more than romcoms? Romcoms set in the Edo period. Tonari no Gokudou-kun brings back our beloved characters from the original series with a twist! Here, Mizutani is a well respected educator known as Oshizu and Haru is the leader of the Yoshida group, known as Harunosuke.
Some things take place as they do in the original series but altered to fit the time periods and circumstances of the characters. Of course, it has it's own story to tell. It has an incredibly sweet ending that I personally loved while recovering from the confusion that occurred during the last few scenes
This OVA has so many twists and turns, it's hard to keep track and I still can't decide which was my favourite. What twist and turns? That's for you to find out!
Art and Animation
I love the artstyle of this series, I think that what really attracted me to the main series in the first place. Call me shallow but I think the art and animation of a series itself is a very important factor for an anime to be well received, of course the plot is important too.
The animation quality isn't exactly top notch but I would say it's quite alright for an anime that doesn't focus too much on special effects.
Characterization
The Yoshi's Second Son aka Nagoya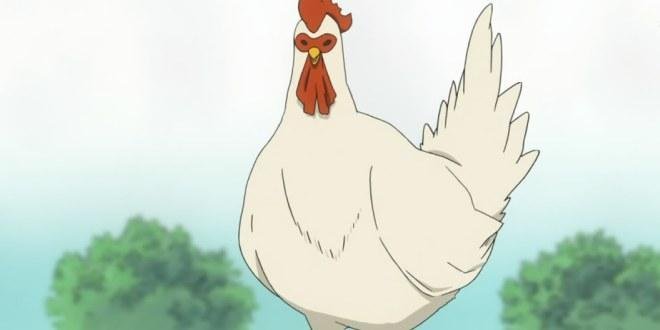 An alien from the chicken planet who is on planet earth to announce that Harunosuke is Prince Chicken. He then brings Harunosuke back with him to planet chicken with Chouji as transport. He is by far, my favourite character.
I really wish I was kidding.
Overall
I think this was a really funny little short that dusted the dust bunnies off the surface of my love for Tonari no Kaibutsu-kun. I would definitely recommend this to anyone who has watched Tonari no Kaibutsu-kun and loved it as much as I did.
Despite the OVA only being an episode long, I can't say I'm not satisfied with the content of it or how it ended. I'll be looking forward to the next Tonari no Kaibutsu-kun spin-off if there ever is one! What are you waiting for? Go ahead and indulge yourself in this romcom jewel!