Are you ready for a day packed with fun-filled adventures and activities? The Japan Culture Club of Taylor's College Subang Jaya will be hosting Taylor's Bunkasai 2017 this Saturday, the 5th of August from 10am to 10pm! If you're an avid anime fan, you might have seen schools in anime organize cultural festivals where students prepare a multitude of events for their guests. Similar to that concept, Taylor's Bunkasai will be boasting a variety of activities that blend anime, cosplay, games and Japanese culture together in one event.
Enjoy the Omatsuri atmosphere!
From Omatsuri games to mouth-watering foods, traditional folk dances and even ninjutsu, Taylor's Bunkasai hopes to bring the feeling of an authentic cultural festival to its attendees! What more, with support from The Japanese Language Society of Malaysia and The Japan Foundation in Kuala Lumpur, there will be Japanese cultural activities throughout the event; from folk dance performances on stage to the Bon Odori dance later in the evening. Make sure to don your yukatas for this occasion!
Exciting stage events!
With emcees Junnie Tsukimiya and Shaun Lopez hyping up the stage, you won't even want to leave the stage area with all the events planned for the day, such as cultural performances that include Chakkiri Bushi, Soran Bushi and Yosakoi as well as performances by Johan Yusof, Suzuya Inami and idol group Dreamin'. Guest cosplayers苹果Ringo and Sally – Dorasnow will be on stage at 4:30pm for their cosplay panel, and they will light up your day with their adorable smiles.
There will also be an exciting cosplay featuring guest cosplay judges Version Fenrir, Rozen Hamanasu and Ken Calvados, as well as a coswalk competition! Come watch the contestants show off the best of your favourite characters in live cosplay action and cheer for them!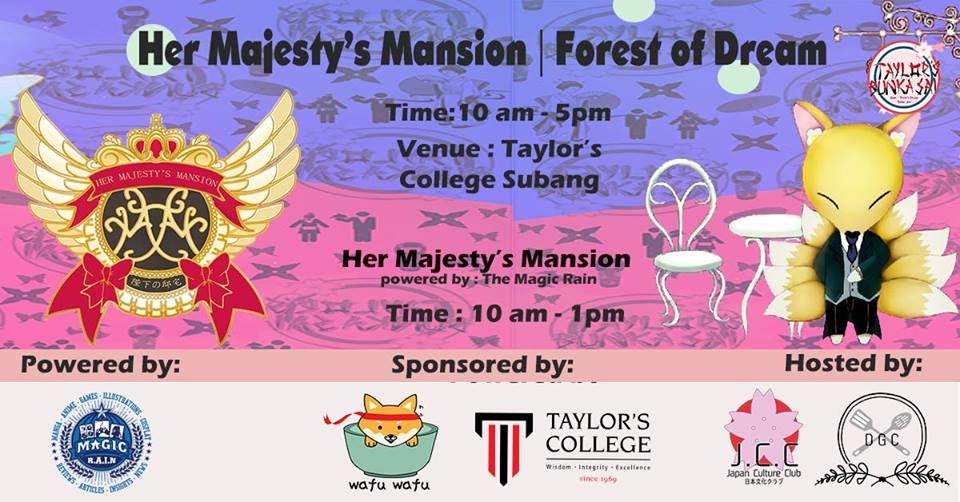 Maid and Butler Café, Forest of Dream – featuring guest appearances from Her Majesty's Mansion!
Bunkasai will also have a maid and butler café, one of the main attractions of the event that you surely can't miss! The café features a one-of-a-kind Yaoi X Dere concept, featuring a roster of maids and butlers ready to serve you.
What more, the café will be featuring a few special guests, including Sally – Dorasnow from Anime Support Kuantan (A.S.K.) as well as the maids and butlers from our very own Her Majesty's Mansion (HMM)! Angel, Reiko, Taufu, and Azu will be there from 10am till 1pm to have fun with all their lords and ladies, so make sure you drop by!
For more information, visit: https://www.facebook.com/events/1659245527443448
Doujin & gaming booths!
Look out for the doujin booths that feature lovely artwork from talented artists and gaming booths to challenge yourselves with your favourite games. The latter is brought to you by Hitbox Gaming and Infinite Carnage, who will be providing both Playstation 4 and Playstation Virtual Reality consoles and games for everyone to experience! (Hint: Apparently a certain summer lesson inspired game will be making an appearance?)
Not only that, AK Centre will also be at Taylor's Bunkasai to bring some TCG (Trading Card Game) flair to the event. If you've ever wanted to get into Pokémon TCG, Magic The Gathering, and/or Force of Will, this will be the best place to begin!
On a related note, make sure to drop by The Magic Rain's own booth at Taylor's Bunkasai where we will be selling Her Majesty's Mansion merchandise and Cosplay Commuter T-shirts. The maids and butlers from HMM will be at our booth after 1pm if anyone would like to take polaroids with them or check out their merchandise. Be sure to drop by and say hi!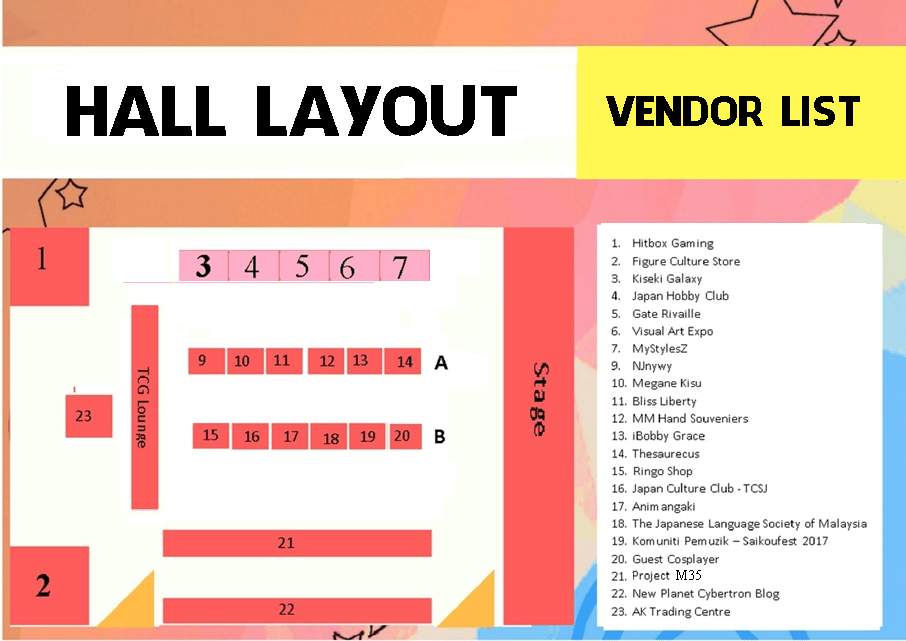 Origami, Cosplay, and Odori Dance Workshops!
There will also be a series of traditional and non-traditional art-making workshops such as an Origami, Cosplay (featuring Abdullah Dora and Version Fenrir) and Bon Odori Dance Workshops happening throughout the day. Registration for each workshop will be walk-in, limited to 20 participants per session, so make sure you register as soon as possible!
Rock the night away with Saikoufest 2017!
After the day events are over, be sure to look forward to Saikoufest 2017, a J-rock gig concert happening at 7:30pm! Organized by Komuniti Pemuzik, this concert will feature an amazing line-up of bands – The Walker, Higashi Kitty, Mystical Mirage, Nandemo Ii, Torque Six, and Kuncistatik! Be prepared to be blown away!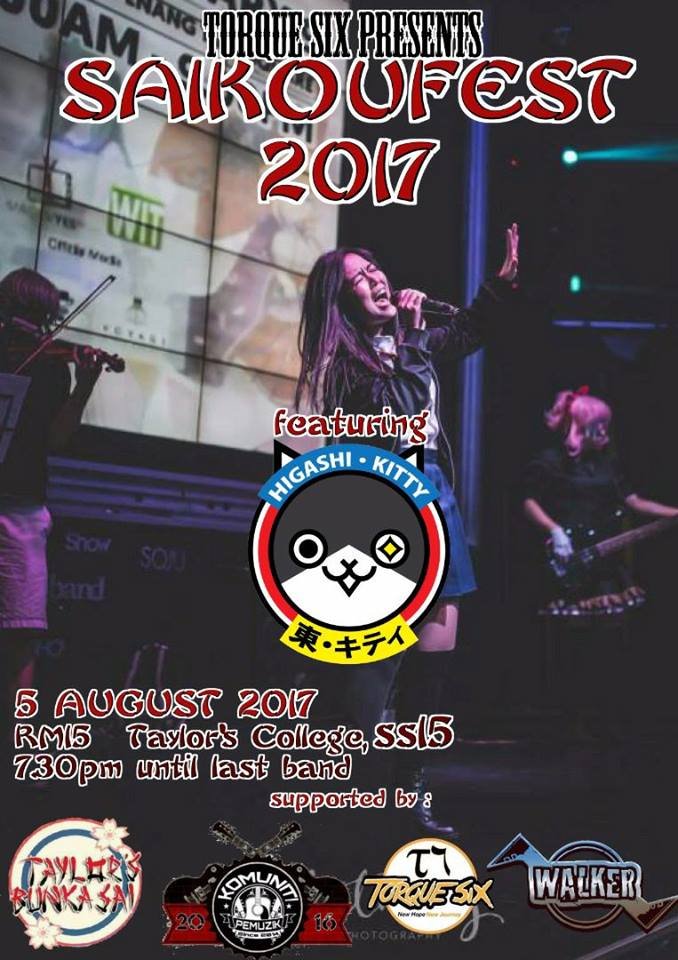 With both traditional Japanese elements and the usual ACG event goodness, you definitely will have a case of FOMO (Fear Of Missing Out) if you miss out on such an amazing event happening this Saturday! Good news? We'll be able to help you out with that.
Thanks to the awesome people at Taylor's Bunkasai, we have TEN event tickets to give out to our lovely readers. All you have to do is…
Like Japan Culture Club and

The Magic Rain

on Facebook
Tag 3 friends in the comments with the hashtags #TaylorsBunkasai and #themagicrain
Stand a chance to win a pair of entry tickets to Taylor's Bunkasai – 2 x tickets including concert and 3 x tickets excluding concert.
We'll be announcing the winners on 3 August 2017, so it's time to get cracking! Good luck!
For more information on the event, visit: https://www.facebook.com/events/287424111691577/