Indonesia-based game publisher studio Toge Productions celebrated its 14th birthday on January 17th, 2023! The celebration opened with an 18-minute video showcasing various announcements including the launch of upcoming games, release dates, and a never-seen-before announcement about a new game made by Toge Productions.
Beginning with A Space for the Unbound, a game by the local youth of Surabaya, Mojiken Studio, published by Toge Productions for PC and Chorus Worldwide for consoles, has finally launched today with a 10% launch discount on PC platforms! The highly anticipated indie title, which showcases the culture and local wisdom of 90's Indonesia, has already won many awards at distinguished game events including Tokyo Game Show.
Toge Productions also announced the release date of Coffee Talk Episode 2: Hibiscus & Butterfly, the long-awaited sequel for Coffee Talk, a game by Toge Productions that has successfully warmed the hearts of global players with its charming story. Coffee Talk Episode 2: Hibiscus & Butterfly will be available on both PC and consoles this April 20th, 2023.
Fans of horror games will love the latest title from Tahoe Games, acquired by Toge Productions in early 2022, Whisper Mountain Outbreak. This project marks the first co-op multiplayer game made by Toge Productions, brandishing a horror survival theme where players become survivors trapped in old buildings in misty mountains, trying their best to survive against monsters threatening their lives.
The anniversary video featured even more announcements, including the release of When the Past was Around by Mojiken Studio on Epic Games Store, Vanaris Tactics by Matheus Reis which will be available on Nintendo Switch and Xbox, and a new trailer from Kriegsfront Tactics by Toge Productions.
Toge Productions also announced the addition of four new teams from Southeast Asia that will be joining Toge Productions' funding and mentorship program, Toge Game Fund Initiative (TGFI). One of the two teams who joined and now graduated from the TGFI program, Ngopi Yuk! by UNIQX Studio, has already gone on to win awards from local game events.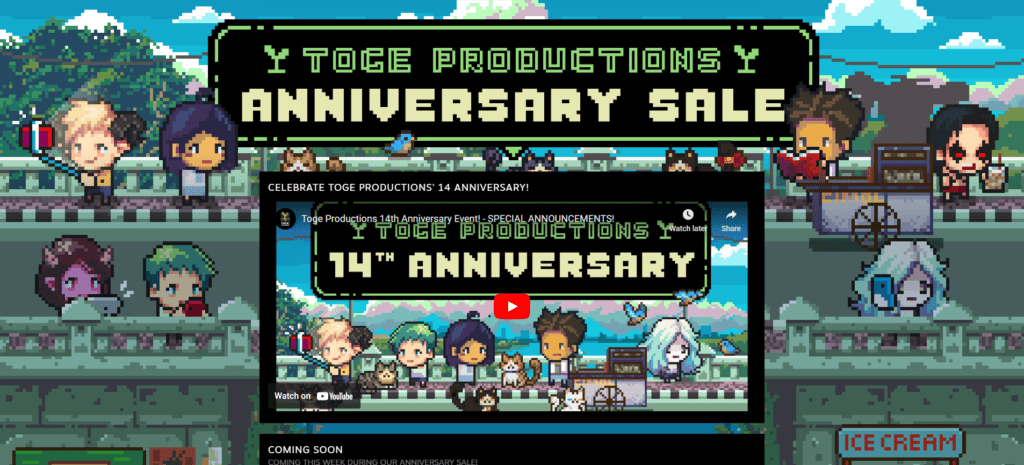 Can't wait to try your hand at these titles? Enjoy special anniversary discounts on the Toge Productions Anniversary Sale 2023 page on Steam available now until January 24th, 2023. You can also snag their newest release, A Space for the Unbound, which will be 10% off from now until January 27th, 2023.
For more news and announcements, make sure to follow Toge Productions on Twitter!