We're one month away from the launch of Atomic Heart — and we have a sneak peek of what's to come! On 12th January 2023, our team flew down to Reality Rift Clarke Quay in Singapore for an exclusive 2-hour hands-on demonstration of the game, where we got to experience different aspects and levels of the highly anticipated debut title from Mundfish.
If you're new to Atomic Heart, this first-person action-RPG is set in an alternate post-WWII world where you explore a twisted sci-fi world, blast rogue robots, giant machines, and even mutants. Adapt your fighting style to each opponent, use your environment and upgrade your equipment to have the upper hand in a visceral, spectacular and unforgiving combat experience. If you want to uncover the truth, you'll have to pay in blood.
Take a look at the game's latest action-packed trailer here:
In the game, a global system failure has occurred at the Soviet Facility №3826 that leads machinery to rebel against the people. You play as Major P-3 and your task is to eliminate the consequences of a large-scale accident and prevent the leakage of classified information threatening to destroy the whole world.
Study the behaviour of your enemies and observe how they relate to each other. Use the varied arsenal of arms and special abilities of your polymer glove. Turn everything into a weapon: environment, objects, your own body, and even enemies themselves! Every fight will be different from the last.
But the enemies in front of you aren't the only things you need to worry about. A neural network named "Kollektiv" unifies ground-based and flying robots alike into a single hivemind. If you are noticed either above or under the ground, the reinforcements from the nearest factory will come to kill you. Use hacking to break in unnoticed.
Atomic Heart arrives to Windows PC and PlayStation platforms across Asia on 21 February 2023. Players can already pre-order the game on both platforms, which will come with pre-order bonuses consisting of exclusive weapon skins, in the form of the Labour & Science Weapon Skin Pack.
On digital platforms, players can pick between three editions:
Standard Edition, consisting of the base game
Gold Edition, consisting of the base game and the Atomic Pass
Premium Edition, consisting of the Gold Edition, an exclusive digital artbook and premium weapon skins.
For the retail version, two editions will be available:
Standard Edition, consisting of the base game and the Labour & Science Weapon Skin Pack
Limited Edition, consisting of the base game, the Atomic Pass and premium weapon skins, an exclusive steelbook case, a beautifully printed artbook, a set of stickers featuring robot characters from the game and a specially designed outer box
The Atomic Pass takes the Atomic Heart experience further with four DLCs, opening up access to new areas and labs as well as new weapons, new enemies, bosses and more!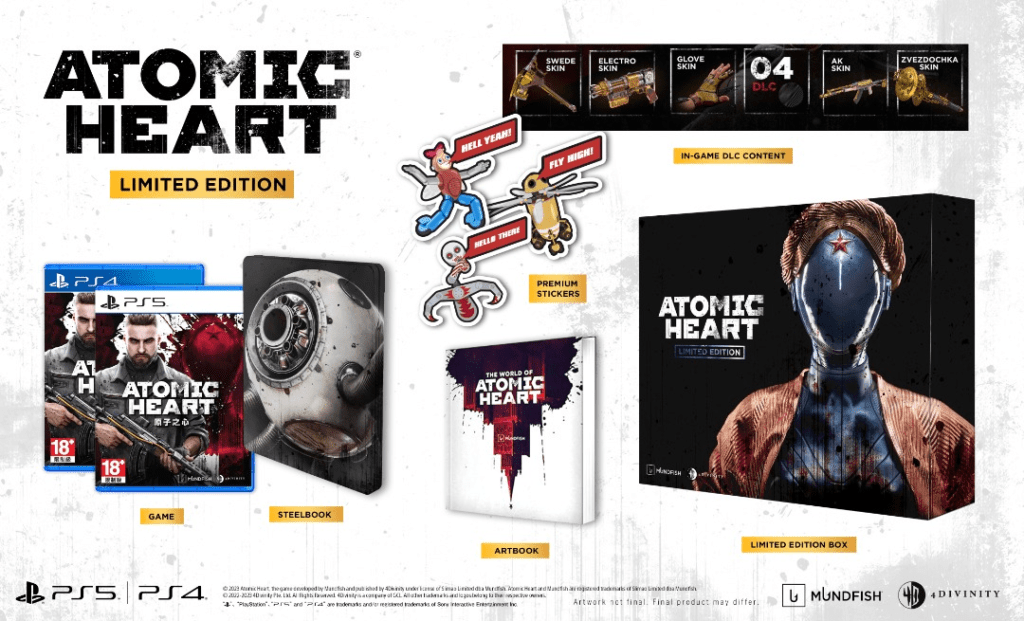 ---
Stay tuned for our review of Atomic Heart when it comes out on 21 February 2023. For more content like this, follow us on Facebook, Instagram, Twitter, and TikTok!